Description
Experience an exquisite selection of the finest French Pâtisserie prepared by our highly creative and talented Le Cordon Bleu New Zealand Diplôme de Pâtisserie students.
Ticket Information

Dates: 28th, 29th, 30th August and Saturday 1st September 2018
Price: $25 per person includes High Tea and complimentary Tea and Coffee. (The first glass of Champagne can be purchased on the day for $10)
Booking Times: 11:30am | 12:00pm | 2:30pm | 3:00pm

Tickets are allocated for specific days and seating times, please ensure you arrive promptly at the time indicated on your ticket. The estimated time to enjoy the full Le Cordon Bleu High Tea experience is one hour. We invite you to sit back, relax and enjoy our students' collection of French Pâtisserie.

Dietary Requirments: Our menu is set and we are unable to make any menu alterations, or cater to any specific dietary requirements (including religious diets) or food allergies. We apologise for any inconvenience this may cause. The menus for service are show below (subject to minor changes).
The below menu will be available during Tuesday and Wednesday's service: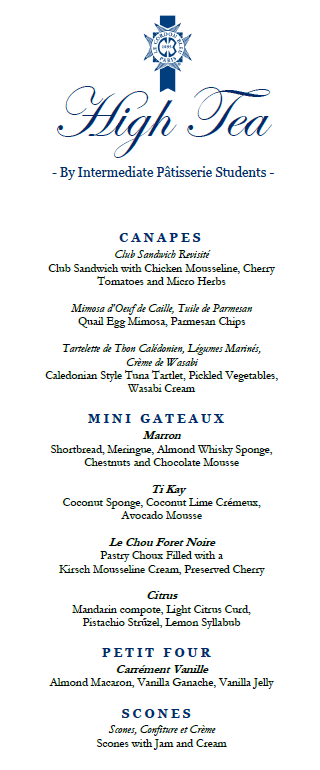 The below menu will be available during Friday and Saturday's service: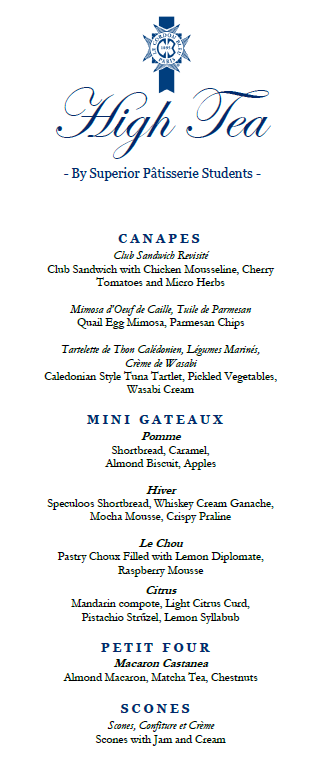 ---
What is Brasserie Le Cordon Bleu?
Brasserie Le Cordon Bleu is our training restaurant where our students get practical experience in a real restaurant environment - all under the expert guidance of their chef lecturers. In the kitchen, we have students from our Diplôme de Patisserie programme who are working towards the completion of their NZQA level 3 and 4. In the restaurant, you will be attended to by our first and second year Bachelor of Culinary Arts & Business students.