The 25km Aotea Track loops the central mountainous area of Great Barrier Island and is a manageable 3 day circuit for reasonably fit newbies
About this event
Aotea Track | Great Barrier Island27-29* December 2020 | 3days/2night tramping | 25KM |
Fee: $275 includes flights, shuttles & huts with Go Great Barrier*Fly in day 1, fly out day 3Informatipn from: Go Great Barrier: https://www.greatbarrierislandtourism.co.nz/packages/the-aotea-track/The 25km Aotea Track loops the central mountainous area of Great Barrier Island and is a manageable 3 day circuit for reasonably fit beginner or experienced trampers. The track offers a combination of easy walking trails, steep climbs, stairways and bridges. You will travel over a range of spectacular landscapes... streams with beautiful native bush, tranquil wetlands and forests of kauri, rimu, kahikatea and more. Discover the historical remains of the early Kauri industry... and the kauri tramline track remnants.
Two well positioned huts allow for manageable walks of 3 to 4 hours over the 3 days.
Mt. Heale Hut was opened in 2012 and provides spectacular views over the Hauraki Gulf & Hauturu/Little Barrier Island. Located on a central ridge, 30 minutes from Hirakimata/Mt Hobson (Great Barrier Islands highest point 621m). This 20-bed hut has excellent sleeping and gas cooking facilities. Kaiaraara Hut is near sea level on the western side of the island. This is a 24 bed hut with a wood burner. It is situated near the Kaiaraara stream beside the Forest Road.What to expect:
To walk 25 to 30 km carrying your pack
Some fairly steep climbs
Lots of steps and stairways
Hot sun and high UV
Rain and colder temperatures
Possible slippery conditions
Spectacular panoramas
Stunning bush, mountain and stream views
What to bring (a more comprehensive list will be sent out via e-mail)
Tramping pack with rain cover (Marose carries a 65L one)
Clothing for hot, wet & cold weather (no cotton please)
Water & wind proofed jacket
Food - 2 dinners, 2 breakfast, 2 lunches + high energy snacks
Cooking & eating utensils (e.g. hiking stove + pots etc - can share between 2 people). Note: fuel canister can't be brought on the plane so we'll just but them when we land)
First aid kit including personal medicines
Sunscreen, hat, sunnies
Insect repellant (very important)
Torch with spare batteries ~ light
Tramping boots (need to be broken in if new)
Sleeping bag
Drink bottle or bladder
Personal toiletries (no showers, only sinks & long-drops available)
What's Included:
Return flights from Auckland Airport
Transfers to and from the Aotea Walk
Hut booking fees
Aotea Track map & info book
More information:
Wilderness Magazine: https://www.wildernessmag.co.nz/trip/ante-track-great-barrier-island/DOC: https://www.doc.govt.nz/parks-and-recreation/places-to-go/auckland/places/great-barrier-island-aotea/things-to-do/tracks/aotea-track/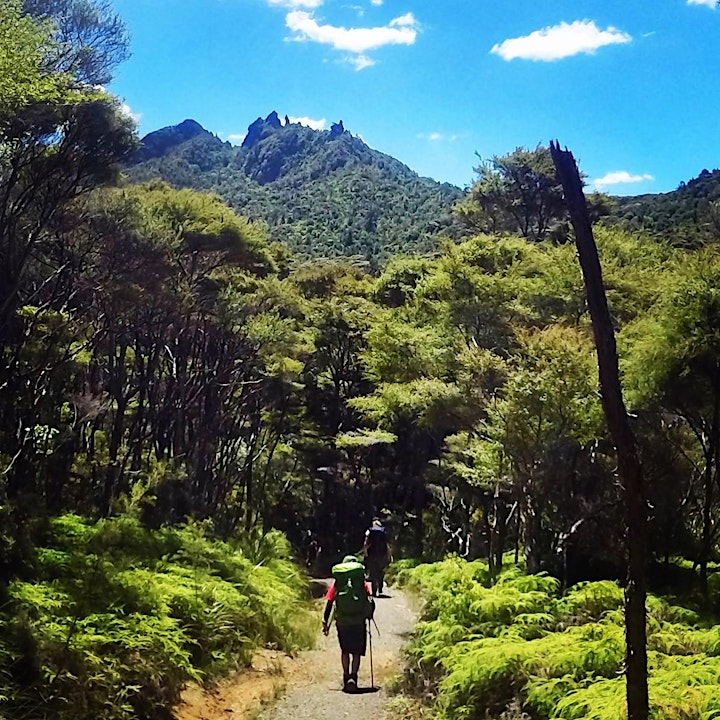 Organiser of HIKE Auckland: 3-day Aotea Track (Advanced)
Anyone is welcome to join the group, whether you're a newbie or an experienced adventurer, regardless of the fitness level and age. We all have to start from somewhere and our group is a perfect place to do so. We've had members join us on trips from 13 to 65 years old. We may have Pinoy on our name, but we welcome anyone who is keen to connect with our Filipino culture through the outdoors, regardless of their ethnicity.
How to join:
You can join us by simply liking our Facebook page Pinoy Adventurers NZ, where relevant information are shared and events are announced. Then, join our Facebook group Tambayan ng Pinoy Adventurers NZ where all the "chikahan" (chats, conversations), sharing of inspiring adventures photos and videos, gear advice, event preparation, etc. happen.