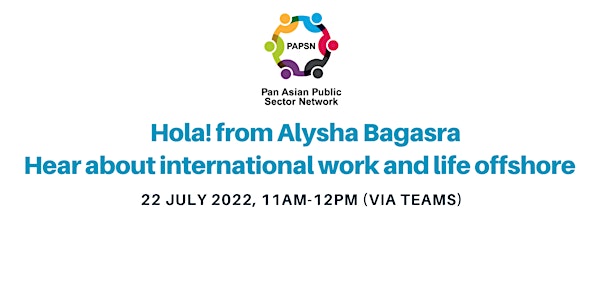 Hola! from Alysha Bagasra: Hear about international work and life offshore
Hear about international work and life offshore from Alysha Bagasra, a PAPSN member based in Mexico City.
About this event
We are delighted to have Alysha Bagasra, Second Secretary at the New Zealand Embassy in Mexico, join us for a korero (conversation).
Alysha will share with us how she got to Mexico City, what she's working on, and what's next. She will also share some reflections and advice for those wanting to know more about international work and provide some comments on navigating her intersectional identities in an international context. We'll also hear a bit about life in Mexico City – a city of about 9.2 million (2020).
You will have the opportunity to ask Alysha some questions, so please get your questions ready.
Please share this invitation with your networks.
REGISTRATIONS CLOSE ON THURSDAY 21 JULY 12:00PM (NZ time). Once closed, we will send the Teams details and a Slido link for your questions.
Contact Farhat Shaikh (PAPSN Co-Chair) for any queries on 021 057 4640
About our speaker:
Alysha Bagasra has been serving as a diplomat at the New Zealand Embassy in Mexico since August 2020. Her previous role in the Ministry of Foreign Affairs and Trade was in the Climate Change Division, working on multilateral climate negotiations. She began her career in the public service with the Ministry for Primary Industries' Graduate Development Programme.
She holds BSc and BA degrees in Biological Sciences and Spanish from the University of Auckland, and has published research on conservation science. She was born in Mumbai, India, and grew up in north Auckland.