Hospice New Zealand Fundamentals of Palliative Care (4 Days - 0830 - 1200)
This is a Hospice New Zealand programme that provides participants with a foundational knowledge and skills in caring and supporting people.
About this event
The programme has been developed for all health care professionals and support workers supporting people with palliative care needs in a hospital, hospice, community, or ARC setting.
This programme is offered over 4 days (3.5hrs per session) to cover the learning modules. Participants must complete all 4 days and need to have a commitment to self-learning through completion of pre & post workshop activities. A Certificate of Completion will be awarded with successful completion of the programme.
Morning tea will be provided. Please advise any special dietary requirements. Light refreshments are available to purchase onsite at our Manuka Café.
Target audience: All staff working in residential care or in the community
Registration is essential as limited attendees
(Attendees must attend all 4 days (3.5hrs per session) to gain the Hospice NZ certificate)
Tuesday 5 October Day 1 of 4 (0830 - 1200)
Tuesday 12 October Day 2 of 4 (0830 - 1200)
Tuesday 19 October Day 3 of 4 (0830 - 1200)
Tuesday 26 October Day 4 of 4 (0830 - 1200)
Further information: education@nelsonhospice.org.nz or phone 03 546 3950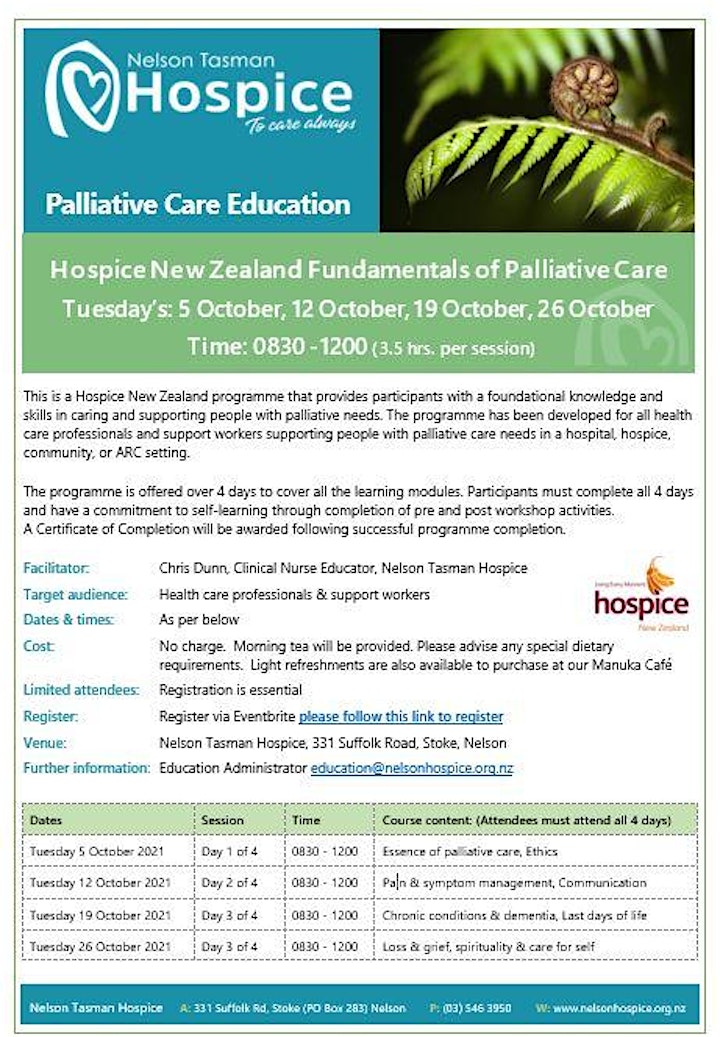 Organiser of Hospice New Zealand Fundamentals of Palliative Care (4 Days - 0830 - 1200)