Event Information
Location
Ellen Melville Centre
2 Freyberg Place
Auckland, Auckland 1000
New Zealand
Refund policy
Refunds up to 30 days before event
Description

This year's Eco Design Advisor Conference looks at the convergence of housing, energy and climate change. The impacts of climate change are becoming increasingly obvious: rising sea levels, increasing number and violence of storms, longer droughts and hotter summers. It is clear that our housing stock needs to respond.
The conference will look at both the contribution housing makes to climate change – from the embodied energy in our homes to the energy choices we make – AND how our housing needs to respond to the impact of changing climate. It will consider both mitigation (reducing energy demand through improved thermal envelope/efficient heating, innovative energy solutions etc. as well as smarter use of materials to embody carbon in buildings) and adaptation of housing stock (response to extreme weather events).
The conference will place housing firmly in the centre of considering the latest advances and research on climate change, and will explore the implications for how we build and design housing now and into the future.
The Hon Dr Megan Woods, Minister for Housing, and Energy and Resources, will open the conference.
Keynote speaker is Professor Janet Stephenson (Director, Centre for Sustainability, University of Otago) who will address 'Climate change, energy and housing - what's the state of play in NZ.'
Speakers include:
Ryan Paulik from the Deep South Science Challenge (which has a mission to enable New Zealanders to adapt, manage risk and thrive in a changing climate) will present on Climate change and flood hazards in NZ – what does it look like and how have our homes coped so far.
Belinda Storey (Deep South Challenge) on climate change and insurance retreat.
Scott Willis (Blueskin Resilient Communities Trust) will present a blueprint for climate safe housing: a community response to the combined climate and housing crises.
Shay Brazier (Revolve Energy) will present on zero energy buildings (Camp Glenorchy and Zero Energy House in Auckland).
Auckland Council will present on the council's plan on climate change energy efficiency and housing
Maria Ioannou (Community and Planning, Dunedin City Council) will present on Enabling Communities to lead their own futures: DCC's innovative approach to talking about climate change.
Jane O'Loughlin (EECA's Communications and Engagement Manager) will present on "Connecting with Kiwis on Climate Change"
Sophie Heighway (Sustainability Initiatives Manager, Auckland Council) will present on extending the reach of home performance advice to Aucklanders and how to include actions for households to reduce carbon emissions without talking about climate change.
Caroline Shorter (Otago University) on 'What we know about mould in our homes'
Paul Davies (Housing and Tenancy Service, MBIE) will present on the experience of Tenancy Compliance and Investigations Team for RTA and preparations for forthcoming changes from Healthy Homes Act.
Eddie Thompson (Manager Warmer Kiwi Homes, EECA) will present on Warmer Kiwi Homes
Julie Villard (Eco-Design Advisor, Christchurch City Council) will present on how to make smart heating choices that are good for you and the planet.
Brian Berg (Building Environmental Scientist, BRANZ) will present on 'Life cycle carbon in buildings: what is it, why is it important, where is it being used internationally, how can it be accurately calculated in NZ, what is a good result, and where does the NOW Home sit in terms of NZ carbon budget?'
Tricia Love on using carbon assessment as a design tool for a multi-unit residential project in Auckland.
Andrew Eagles from NZ Green Building Council on research into the potential contribution of the residential sector to meeting NZ's 2050 zero carbon goal.
And more! More details will be posted on www.ecodesignadvisor.org.nz/conferences as the programme is firmed up.
The Eco Design Advisor conference provides a unique perspective and is highly valued as a multi-disciplinary forum for sharing research, policy, case studies, innovative ideas, and best practice. Professional development for architects and designers, builders, building industry, community housing organisations, council staff, home assessors and advisors, and sustainability experts. NZRAB is offering 80 CPD points (40 per day). ADNZ is offering design and practice management points - see the FAQ for details.
The Eco Design Advisors offer discounted rates to certified Home Performance Advisors, council staff, and tertiary students. Contact the Conference Organiser - conference@ecodesignadvisor.org.nz - for more information.
---
FAQs
What discounts are available?
A discounted rate of $100/day is available for council staff, certified Home Performance Advisors, and tertiary students. Please contact conference@ecodesignadvisor.org.nz for more information.
Are there CPD points?
Yes, NZRAB are offering 80 CPD points for the two full days, and 40 CPD points for each individual day.
ADNZ is offering:
Day 1 (Thurs) - 5.5 Design points + 1 Practice Management point
Day 2 (Fri) - 5.5 Design points
Full conference (both days) - 11 Design points & 1 Practice Management point
What are my transport options from the airport?
Taxis and shuttles leave directly from outside the terminal. Approx. cost is $65-$75 for a taxi and $25 for 1 person in a shuttle.
The Sky Bus departs every ten minutes at peak times and take 40-50 minutes per trip. Get off at stop 7051 on Queen Street. Price from airport to the CBD is $19.00 per person.

What's the refund policy?
We can offer refunds up until 30 days before the conference.
Do I have to bring my printed ticket to the event?
No, you do not need to bring a printed ticket. Please register when you arrive. Registrations open 8.30am each morning.
Can I update my registration information?
You can update the information on your order by clicking your order on the Tickets page. Find out more at https://www.eventbrite.com/support/articles/en_US/How_To/how-to-update-your-ticket-registration-information?lg=en_US
Is my registration fee or ticket transferrable?
No. If you want to transfer your ticket to someone else, please contact Vicki Cowan, conference@ecodesignadvisor.org.nz
Who can attend the conference?
Anyone can attend - this is not an affiliated conference.
How can I contact the organiser with any questions?
Please contact Vicki Cowan, conference@ecodesignadvisor.org.nz
Here are some quick tips to keep the planet happy as you attend this conference
Please offset carbon of your flight (AirNZ and Jetstar offer the option as you book)
Travel into Auckland CBD using the bus
Book accommodation within walking distance of venue
Look at your accommodation's environmental strategy, e.g. Qualmark
---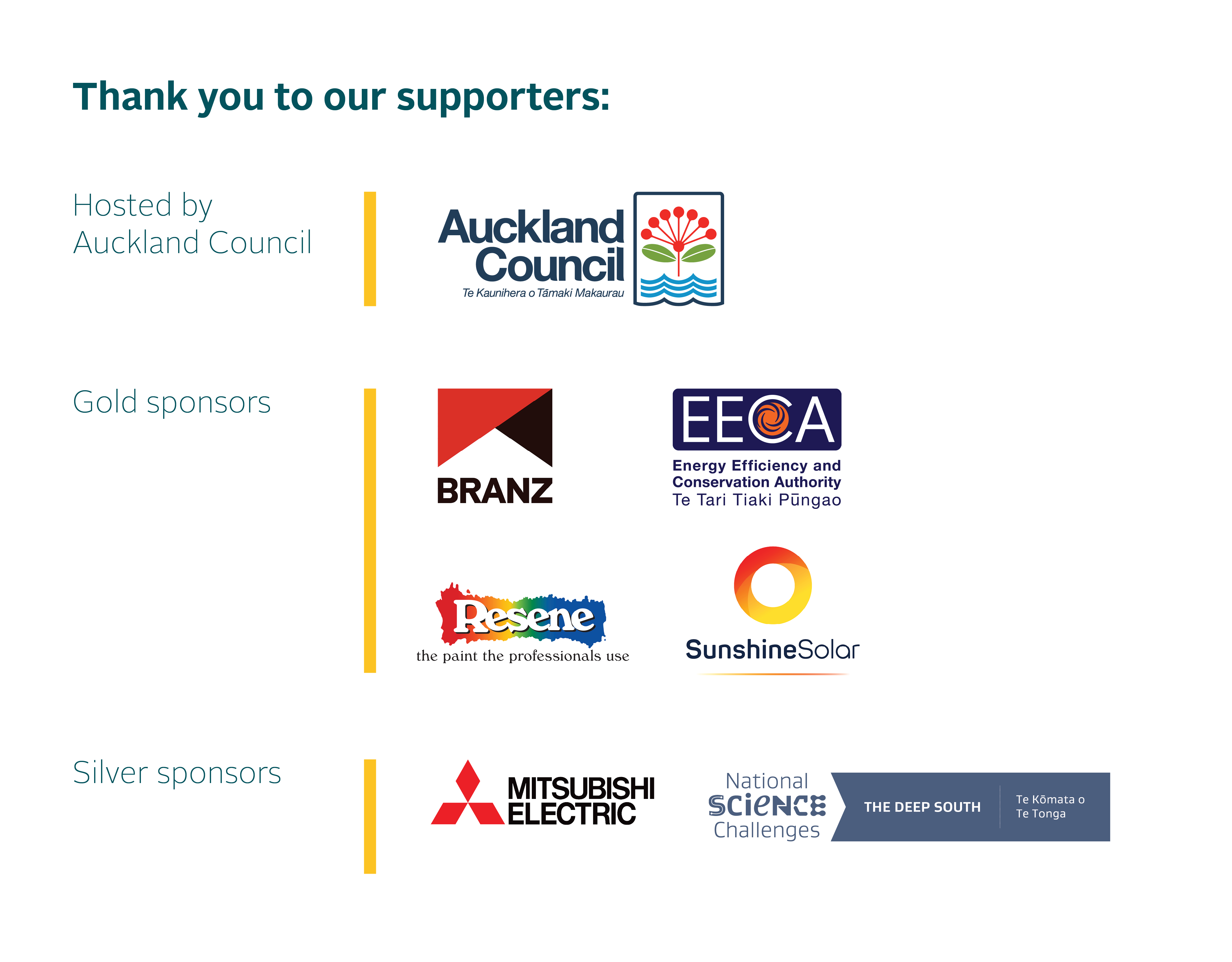 Date and time
Location
Ellen Melville Centre
2 Freyberg Place
Auckland, Auckland 1000
New Zealand
Refund policy
Refunds up to 30 days before event