About this Event
If you are restless, there is an itch in the back of your mind to back yourself, to have a go under your own steam, to step out and become master of your own time - you are not alone.
10's of 1000's of kiwis are proudly self-employed and this business community is the backbone of our incredible country.
How did they get going? All are everyday people who one day decided, it's time. But a thorough understanding of yourself, and the inherent "self-drive" or "hustle" you have are really important.
Join serial entrepreneur and RE/MAX New Zealand CEO, Don Ha, to learn how YOU can make the successful move to self-employment.
With The World's #1 name in Real Estate supporting you, with our 'Rookie Flying Start' program and the chance to WIN a $30,000 Rookie of the Year prize - NOW IS YOUR TIME!!
Learn more in to our FREE webinar.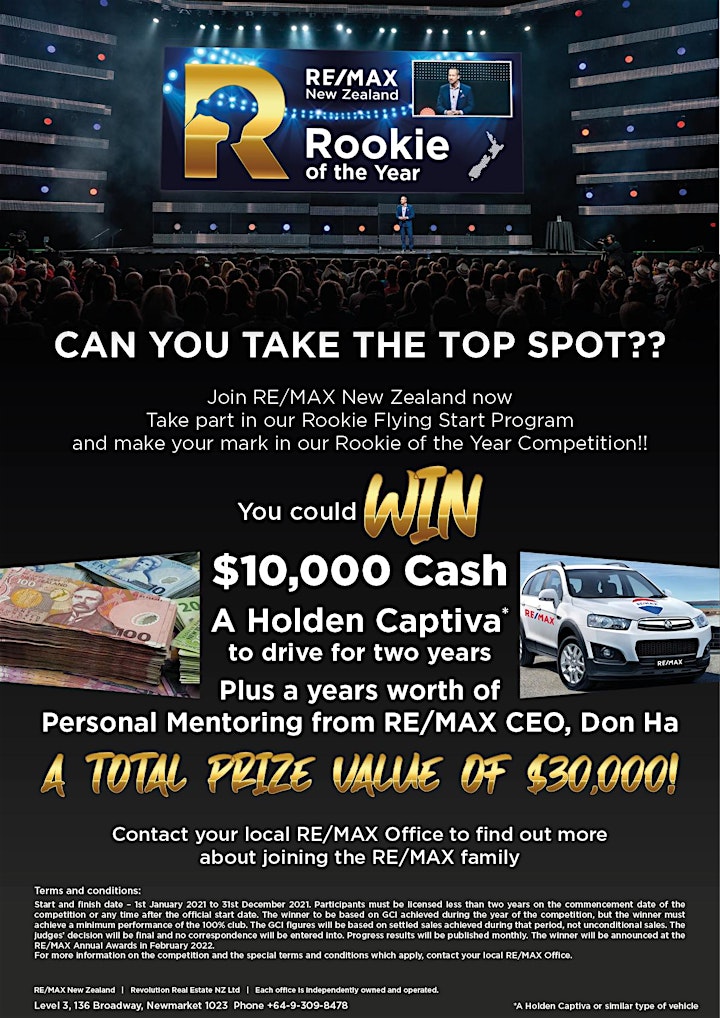 From selling baked beans at the age of 12, to running his own produce business before the age of 16, selling vacuums, network marketing, a Canterbury retail store, bakeries, building, real estate and more, Don Ha has truly tried a swathe of self-employment opportunities.
There have been ups and downs, for sure.
Failure can be a harsh teacher - but it is a teacher.
The most powerful thing that you can do is know that there will be mistakes, there will be issues, but you acknowledge it, you commit to getting back up again afterwards, and you step out and GO.
With so much more money available by being in business for yourself, you owe it to yourself and your family to keep looking for an opportunity that's right for you.
Either way we offer some extremely valuable insight from a serial entrepreneur who has been through the grinder and back out - and wants to pass on those learnings.
Tune in to our FREE webinar and dive into the fascinating world of self-employment with RE/MAX New Zealand.