How To Grow ANY Sized Business In 6 Simple Steps - The Scale System - No 2
Event Information
Refund policy
Refunds up to 1 day before event
Eventbrite's fee is nonrefundable.
How to Grown ANY Sized Business In 6 Simple Steps - "The Scale System No 2". A 6 step system designed to help business owners- THAT'SYOU
About this event
Is This You:
• "I run my own business and I am perpetually busy that is not improving with time"
• I"'m busier than ever before but still making similar money";
• "I'm a business owner resigned to the idea that it would be hard to find decent staff";
• "I'm a business owner and I'm stalled at the same size, despite attempts to grow";
• "I'm a business owner and want to work on my business but I don't have anyone to off-load to".
Growing your business can be extremely difficult. We know this to be true - when we talk to business owners we hear these comments over and over again.
If you want to make a change you can!!
Please join us on Thursday 5th August for a 90-minute workshop, How to Grown ANY Sized Business In 6 Simple Steps - "The Scale System" - Number 2. The 2nd Module in the 6 step structured system designed to help business owners- That's YOU!!
(Since you have completed Module 1: The Role To Recruit, you know EXACTLY which position you should be filling and the core tasks that person will be undertaking. If you haven't completed the first module contact cathy@acceleratebusinessconsultancy.com.au 0407 251 855 to find out how you can access Module 1 FOR FREE)
SESSION 2 The Task Review:
How to build a comprehensive job description, plan out the training, timing and funding requirements and create the ideal organisational structure.
Only limited places available ..............Book Now !!!
With business owners feeling burnt out, tired and frustrated, we've created a
✅ Brand New,
✅ Practical and
✅ Hands On 6 module program designed to help business owners (even the one-man bands) grow their business in a structured and no fuss way with all of the documents and templates that take all of the messiness and distress out of the process.
Here's what Janet Camilleri of Front Page SEO had to say:⭐️⭐️⭐️⭐️⭐️
After 7 years of having my own business, I felt like I was stuck in the slow lane. I was good at what I did, but had no clue about how to run a business, let alone grow it! Since working with Cathy and Geoff, I have been able to see and take small steps towards success - and over the past 12 to 18 months, that's added up to massive growth in my business. I am now achieving my financial goals and have made the leap from sole trader to a team, and am able to assist many more happy customers. To any business owner feeling stumped like I was, I have no hesitation in recommending Cathy and Geoff as business coaches to help you move your business to the next level.
⭐️⭐️⭐️⭐️⭐️
Growing your business is a way to build real wealth for yourself and your family - and the exciting news is that the first session is ABSOLUTELY FREE (if you haven't had the opportunity to attend one of our Module 1 sessions please reach out to Cathy Young, cathy@acceleratebusinessconsultancy.com.au )
Here's just some of what you'll learn in the first free session:
- How to decide what is the very first role to recruit. i.e. Do you need to Magnify/Multiply Replace /Restructure (and exactly what that means to you and your business). This one decision provides massive value to your business AND your clients.
- The most cost-effective, up-to-the-minute Job Assessment Summary - Business owners always ask "How will I know if this new role will be successful for the business?" This Job Assessment Summary answers that question quickly and simply.
- The Talent Toolkit – How to keep your sanity during the hiring process and what you should NOT do before putting on a new team member.
- How to launch this program really quickly. Our record is just 12 weeks from concept to cash!
Book your place now as there are only 10 tickets available to this event this month.
See you there!
Cathy Young
The Local Business Network
PS - this is content we usually only share with our high-ticket coaching clients, so you're in for a treat!
The link to book is above for one of the limited tickets that are available.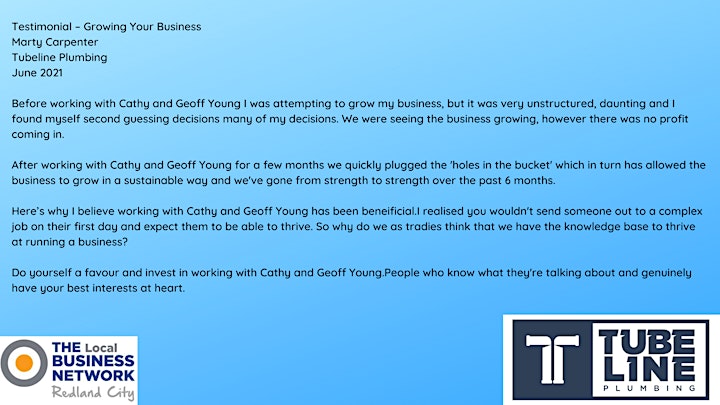 Date and time
Location
Refund policy
Refunds up to 1 day before event
Eventbrite's fee is nonrefundable.
Organiser of How To Grow ANY Sized Business In 6 Simple Steps - The Scale System - No 2