Event Information
Location
199 Rocky Point Rd
199 Rocky Point Road
Ramsgate, NSW 2217
Australia
Are you writing a book or keen to start? Book Writing Workshop & Coaching
About this event
How to write a book in 40 hours
Have you got something brewing in your consciousness of what you wish to share with the world?Getrude Matshe is an international author, speaker, lecturer, academic and incredible full power woman. And she is coming to Australia in August to offer us her wisdom.
This workshop is an opportunity to learn how to bring all of your creative ideas into one project. The workshop will include:
* How to work out the chapters of each book*How to work out the necessary ingredients of each chapter*How to record and transcribe the first draft of your book*How to create a title and subtitle of your book*How to brand yourself as an author*How to create the book cover design*How to secure and work with an editor*How to self publish your book on Amazon and Kindle
As a part of this price of this workshop, you will also receive 10 hours of coaching from Getrude afterwards to support your writing journey.
PLUS the workshop includes the process of birthing your book to life by visualising it and seeing its workbook cover with complete guidance by Getrude.
Cost: $500 -includes 10 hrs of coaching after the workshop
PLUS if you bring a friend you get $100 off.
Questions: Email Getrude if you have any questions or concerns about joining this workshop. getrudematshe@gmail.com
Email Rita if you have questions about logistics: info@barbeebarb.com.au
Who is this Getrude Matshe?
She is an consciousness International guest speaker, celebrated author and Philanthropy Consultant, Rooney International Scholar, TEDx Speaker and Wellington, New Zealand Rotary Member - Getrude Matshe, based in New Mexico.
Watch her TEDx Videos
1. https://youtu.be/BzIyOtusDxE
2. https://youtu.be/4_VQLOuIQYI
Read her Huffington Post articles http://www.huffingtonpost.com/getrude-matshe/
Getrude Matshe is an inspirational speaker who has been described as a vibrant bundle of African energy whose zest and passion for life inspires everyone she meets. She is passionate about helping people achieve their full potential and find their individual life purpose. She is passionate about individuals' success. This makes her an energetic, inspirational and enlightening speaker. Getrude has written several books and is now a book writing coach.
Getrude is a dynamic entrepreneur who has started life in a new country and who has proved that anything is possible if you have a purpose.Testimonials"Be prepared to lose yourself in a story, so inspiring, so sad - yet at times so hilarious, and so completely refreshing. Getrude has the unique gift of universal connection. She is the real thing - not some lukewarm nice speaker who gives you an 8 out of 10. She will rock you beyond your boundaries and open you up to what is really possible if you choose the brand of courage she wields. Settle in for the ride!" - Peter Barr-Thomson, MCC, 2009 ICF
"Every now and then in our lives, we come across a person who is inspirational, who shines above others and leads the way, who captures our hearts and our minds - Getrude is one of those people." – Wellington Mayor Kerry Prendergast
"Getrude is an amazing woman, she is just a light bulb for good in the world. She has absolute and total integrity and she is a woman of deep profound spiritual essence." – Mark Victor Hansen, Co-author Chicken Soup of the Soul
"When it comes to giving, Getrude is an excellent role model and is into a good cause. I think that anyone who gives has an opportunity to give and support her cause". – Bob Proctor – The Secret
"It is my joy to support Getrude and the entire Agape International Spiritual Community love and support the tremendous work she is doing in Africa to uplift humankind. Her cause is calling us all to embrace the children affected by Aids, and calls on us to step up and be the best that we can possibly be." – Rev Michael Bernard Beckwith, The Secret, Agape International Spiritual Center
Watch Getrude speak :-
TVNZ Good Morning Show - http://www.youtube.com/watch?v=NfUDgavhiYUAkasha – Palladium Theatre London http://youtu.be/Vhi1p7QhYq8Hastings District Council – 2009 http://youtu.be/bwK3aoYxmxENew Zealand Dairy Farmers Conference – Invercargill 2006 http://youtu.be/_nMFJ-xWlIgOne Cup of Coffee - http://www.youtube.com/watch?v=ZvsX2Kvxg40Utah Cultural Celebration Center - http://www.youtube.com/watch?v=o__0BCOKNYAWellington City Council – Cross Overs Exhibition – Poem "Beloved Africa" http://www.youtube.com/watch?v=hSOWumDvalk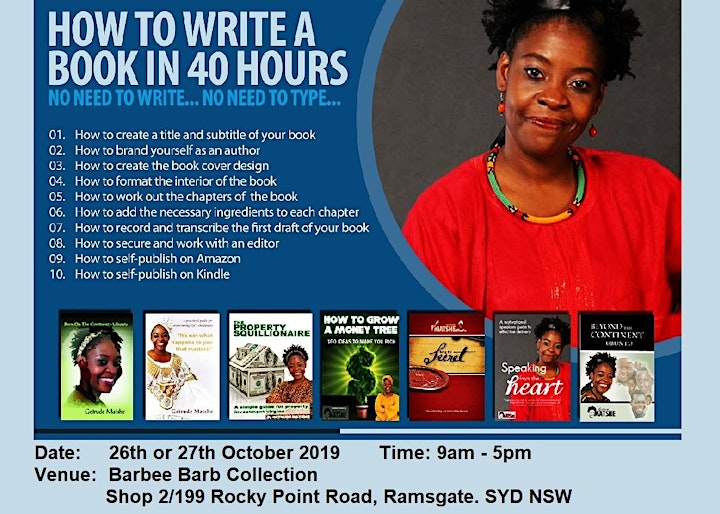 Date and time
Location
199 Rocky Point Rd
199 Rocky Point Road
Ramsgate, NSW 2217
Australia