Event Information
Refund policy
Contact the organiser to request a refund.
Eventbrite's fee is nonrefundable.
Lose Weight with weight loss hypnosis, let go of self-sabotaging behaviours, food cravings and feel stronger emotionally and mentally.
About this event
Gastric Band Weight Loss Hypnosis
6 x Group On-Line Group Sessions (1 x 2 hour session - 5 x 1.5 hr sessions. (May 19th, 26 May, June 2, June 9th, 16, June 23 June)
Six Weekly sessions, Thursday for six weeks, starting 7pm
Hypnotic Recordings each session
Private Facebook Group Support
$250 Goody Bag Prize for the Biggest Loser
Plus On-Line Coaching with daily updates/fitness videos
Gastric band weight loss hypnotherapy is a technique used to help you successfully lose weight, let go of food cravings and motivated to exercise.
Losing weight can be a struggle for most and according to the New Zealand Bureau of Statistics, 67.0% of Kiwi adults are overweight or obese. That's about 2 in 3 people.
I get it, you have a good idea how to lose weight and you consciously try to eat the right foods, "try" to do that exercise but sometimes what you think doesn't match how you feel .It's like there is a subconscious part of you that sabotages your efforts.
This is why, making lasting changes lies at the subconscious .
As a professional practitioner and trainer of hypnotherapy and NLP with 20 years experience. I have treated thousands of people to successfully lose weight through the That's Better - Gastric Band Hypnosis Program.
How this program works, is that I suggest to your subconscious that you have had a gastric band fitted around your stomach. We deal with the real emotional drivers and triggers behind the eating. This program is not a "diet" as they only tend to work short term. This is because the real emotional drivers/cravings/triggers haven't changed. This program is considered to be a non-invasive alternative to weight loss surgery. Having a hypnotic gastric band can have many of the positive effects without the potential side-effects.
READY FOR A BETTER LIFESTYLE?
NO MORE BEING CONTROLLED AND A 'SLAVE TO FOOD'
So if you're over the age of 18 and want to:
STOP emotional eating, comfort eating, food cravings and binge eating AND feel motivated to go and do that exercise.
Feel slimmer and trimmer and buy the clothes you really want to wear
Feel better, healthier and more confident in your body and clothes
Be a great role model and inspire those around you
Develop more self-trust that you will follow through with what you say.
Deepen your self-love/self-care
A great first step to realise the benefits a gastric band, NO need for invasive surgery and to stop emotional eating.
You will realise the benefits of this program for a fraction of the cost and create positive change in many areas of your life.
Most of our clients achieve their weight goals without ever needing to go through with the actual Gastric band surgery.
Do all of this from the comfort and privacy of your own home.
Feel the momentum and power of group motivation, with the privacy of being in your own home.
(1-1 Therapy is available that is tailored to your specific emotional and mental needs)
These techniques have been well proven, you will feel safe and in control every step of the way. This hypnosis Gastric Band program has helped over 1200 Kiwi people eat smaller portions and achieve their ideal lifestyle without surgery!
Each session, we will focus on a particular challenging area and you will learn more about how to control your mind & emotions.
Using a variety of relaxation techniques , I will put you into a state of hypnosis. In this relaxed state, your subconscious is more open to suggestion. At this point, positive suggestions are spoken to your subconscious. With gastric band hypnotherapy, you will have the suggestion is that you've had a physical band fitted.
The mind is powerful, so if your subconscious accepts these suggestions, your behaviour will change accordingly. Usually, along with the 'fitting' of the virtual gastric band, suggestions surrounding confidence, happiness and successful behavioural change will be made to help you commit to this change in lifestyle.
Gastric Band Hypnosis works so well ...
'Those who received hypnosis lost more weight than 90 percent of those not receiving hypnosis and maintained the weight loss two years after treatment ended'
University of Connecticut, Storrs Allison DB, Faith MS. Hypnosis as an adjunct to cognitive-behavioral psychotherapy for obesity: a meta-analytic reappraisal. J Consult Clin Psychol. 1996;64(3):513-516.
HERE'S HOW IT WORKS
6 WEEK GROUP WEIGHT LOSS PROGRAM (1-1 TAILORED SESSIONS AVAILABLE)
REMOVE THE TRIGGERS
Disconnect all the unconscious connections you once had with emotional eating and overeating. All those old childhood programs of "eat everything off your plate", "No desert, until you finish your plate", "Are you full yet".
Triggers that food is a reward, treat, or that it is love, comfort..e.t.c
Break the habit for good & create new beneficial habits that move you in a healthier direction with better food choices and self control.
CREATE NEW BEHAVIOURS
Changing the way you think about food to cement a new lifestyle supported with good habits. Habits of naturally slim people.
Never having to binge or overeat junk food again.
Create a new relationship with food, means you will consume food for its nutrients and energy not comfort and satisfaction.
IMPROVE YOUR HEALTH
Create a foundation for commitment and wellbeing, including proven strategies to remove any food temptations.
Putting the building blocks for sustainable healthy living with each session individually tailored to your specific ideal weight goals.
HOW IS THIS DIFFERENT TO ANY OTHER WEIGHT LOSS METHOD?
We all know that diets only work in the short term, once they're finished the weight that was lost during the process quickly returns.
WHY DO MOST WEIGHT LOSS TECHNIQUES FAIL?
This is because overeating, emotional eating triggers are still there which have nothing do with dieting or working out. Restricting yourself doesn't work, it just produces rebellion and then guilt/shame which may drive more desire to seek comfort from food. Which creates a vicious circle and lowers self-worth, therefore you eat more to feel better. Or make excuses, to start again tomorrow or after the weekend.
These triggers for eating use food as a resource to satisfy emotional needs rather than physical hunger resulting in weight gain reoccurring . . .
That is why hypnosis gastric band is different since its not a diet you won't feel deprived, restricted or constantly hungry. Our tailored program effectively removes all negative triggers leaving a long term lifestyle solution to maintain ideal weight.
Literally changing the way you think and feel about food.
WARNING: Hypnosis Gastric Band is not for everyone. Our program is suitable for people who are:
● Ready to commit to their health and wellbeing and become empowered of their life.
● Ready with no excuses and can commit to the weekly 1.5 hour meetings , listening daily to the recording and 30 mins of daily exercise.
● Ready to be empowered and take positive action give up binge eating
This program may not be suitable if
● If there is an addiction to alcohol, this will need to be addressed first.
OR, if there is a history of childhood abuse. (1-1 sessions available)
● Deep down if you are not ready, or committed to take full ownership of your life and ready to choose a better direction. We cannot make you do what you are not ready to do. You have to be committed to the program and prioritising time for you.
People who achieved their ideal weight with our Hypnosis Program
Here's what some of our happy clients have said about our hypnosis gastric band program.
* Results may vary from person to person. Check out the reviews https://g.page/r/CRti7LNLX60XEB0/review (Exerts edited from google review)
I have lost 10 kilos in 6 weeks
" Lynda helped me to lose 10 kilos in 6 weeks, and she actually pulled out what the real problem was without me even realising. My life has drastically changed for the better. Not only have I physically lost weight but also emotionally and mentally. I cannot thank Lynda enough" - Laura
I have Lost 12 kilos in 6 weeks
" After my very first session with Lynda I felt an immediate change. I sat down for dinner that night and could barely get through a quarter of my plate (completely unheard of). Subsequent sessions saw a paradigm shift in my relationship with food and exercise, and as a result, the weight started coming off. I have lost 12 kilos in 6 weeks and for the first time in several years, I feel completely in control. My journey with Lynda began as a desperate need to lose weight and morphed into something even deeper - healing from the inside. " - Liz
I lost 10 kilos in 6 weeks.
"Lynda's program is a holistic approach that will be with me for life now. The hypnosis was totally effective as I immediately felt like my stomach was smaller. That combined with walking everyday and increased water intake - I have lost 10 kgs!" - Siri
7 Kilos in 4 weeks
" I have never found weight loss easier (7kg so far). The constant food dialogue in my head has all but disappeared and I feel really positive about getting rid of my excess weight once and for all. " Shannon
Now, If you're ready to take control of your weight by changing the relationship with food, and remove all the triggers of food cravings/binge eating to create a new healthy lifestyle. . .
Imagine finally overcoming your weight barriers and achieving your ideal weight, feeling more confident being the best version of yourself.
Tell me more about the program?
The program includes:-
Six Sessions, to educate, support and hypnotically re-programme your mind so that you think and behave like a thin person.
1 x 2 hour session and 5 x 1 .5 hour sessions
Private Group Facebook
Hypnotic Recordings
On-line Coaching Program with fitness videos
This programme incorporates the clinically proven with a 95% success rate with the Virtual Gastric Band programme. This programme uses a psychological hypnotic procedure to re-programme your subconscious mind. Enabling you to eat less and feel fuller, reduce food cravings and binge eating. Statistics show evidence of a 5k weight loss upon completion of the four week programme.
These sessions are delivered to you by leading weight loss experts Lynda Johnson (Hypnotherapist/Coach/NLP Practitioner and Trainer)  
Be Motivated and Supported by the group from the comfort and privacy of your own home.
Weekly Hypnotic Recordings
$250 - Goody Bag Prize for the BIGGEST LOSER
Your Clinical Hypnotherapist and NLP Master Practitioner - Lynda Johnson
Lynda, as seen on Good Morning TV, began training in the field of wellness since 1997. Lynda is a Clinical Advanced Hypnotherapist, Virtual Gastric Band Practitioner, Hypnobirthing Practitioner, Master NLP Practitioner/Trainer, Coach and workshop facilitator. She runs a full time practice on the Kapiti Coast and (Wednesday's) in Wellington.
For more information about the programme contact:- 
Lynda 021 510 378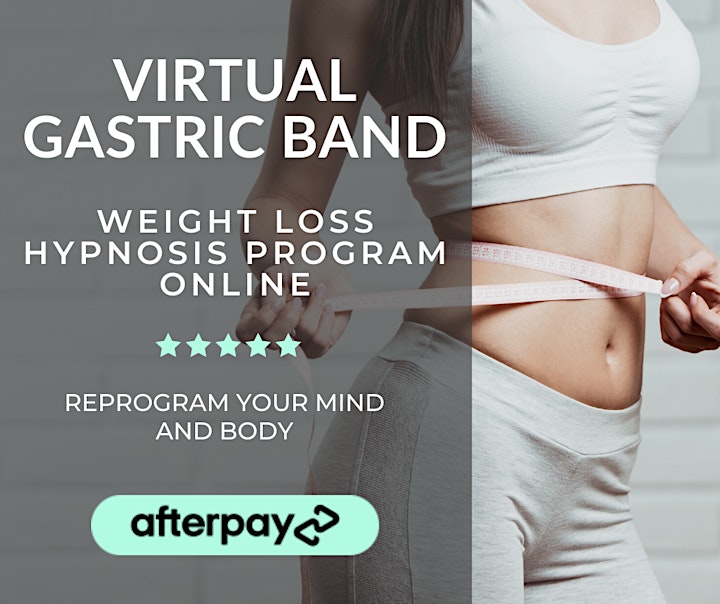 Date and time
Location
Refund policy
Contact the organiser to request a refund.
Eventbrite's fee is nonrefundable.