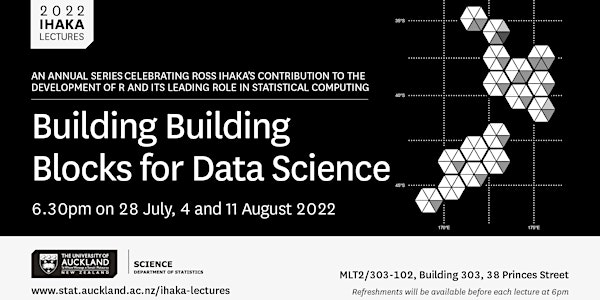 Ihaka Lecture Series 2022: Building Building Blocks for Data Science
Location
University of Auckland Science Centre - MLT2/303-102
38 Princes Street
Auckland, Auckland 1010
New Zealand
2022 Ihaka Lecture Series, hosted by the Faculty of Science
About this event
The field of Data Science is fortunate because the most popular software tools for Data Science are programming languages. This means that most Data Scientists learn to write code.
The availability of such tools depends on people building effective, efficient, and open software tools for Data Science. This means that some Data Scientists are developers. They write code so that other people can write code.
The 2022 Ihaka Lecture Series features three speakers who develop software tools for Data Science, building systems that can be built upon.
There are three lectures in the series on 28 July, 4 and 11 August. It is important to note that the presentation will take place via Zoom, with the speaker at a remote location. However, the presentation will be streamed live in the lecture theatre, and there will be the usual opportunity for Q&A with the speaker at the end of the session. A livestream will be available to people unable to attend in person.
The lectures commence at 6.30pm and will be held in MLT2/303-102.
Please note that we will have refreshments at 6pm, prior to the lectures in the Lift Lobby Foyer (303-B00L2).
Livestreaming will be available for each lecture - links are below and will be sent out in the reminder email prior to each lecture.
28 JULY
The genesis of experimentation
Dr Emi Tanaka
Senior Lecturer in Statistics, Monash University
Livestream Link: https://vimeo.com/event/2213414
4 AUGUST
New Plumbing: Adding a pipe operator to Base R
Professor Luke Tierney
Ralph E. Wareham Professor of Mathematical Sciences, the University of Iowa
Livestream Link: https://vimeo.com/event/2213418
11 AUGUST
Perspectives on the last decade in data science tools
Wes McKinney , CTO and co-founder of Voltron Data
Livestream Link: https://vimeo.com/event/2213421
For more details, please view the Ihaka Lecture Series webpage
Seminars, conferences and events may be photographed or filmed for use by the University and the media in hard copy and electronic publications including in newsletters and brochures, on social media, and posted on the University or conference websites to promote subsequent events and the University. Your attendance at the event indicates your acceptance of the above media statement. Please note all University of Auckland campuses are entirely smoke-free and we ask that all alumni, staff, students and guests comply with this.
COVID-19 Guidelines
The University is committed to protecting you and will follow Public Health guidance in the delivery of events. Please do not attend the event if you are feeling unwell or have cold or flu-like symptoms. We encourage attendees to wear masks at all events.