Event Information
Location
Chicago-Kent College of Law at Illinois Institute of Technology
565 West Adams Street
Chicago, IL 60661
Refund policy
Refunds up to 30 days before event
Eventbrite's fee is nonrefundable.
Join IWC as industry leaders and experts presenting on the evolving opportunities in the regulated cannabis industry in 2022 and beyond.
About this event
The Green Evolution — Cultivating Strength Through Industry Change and Challenges
Join IWC as industry leaders and experts presenting on the evolving opportunities in the regulated cannabis industry in 2022 and beyond.
As Illinois' top cannabis community networking organization, we're proud to bring together cannabis communities and business leaders to celebrate both their success and the budding opportunities for women in the cannabis industry.
Attendees will learn from cannabis business leaders that build awareness for our industry and create jobs to grow our local economies. It's a can't-miss to build connections and knowledge within the cannabis industry.
Program:
10: 30 - 10:50 AM Keynote: Dorri McWhorter, President and CEO YMCA, Board of Directors, Green Thumb Industries (GTI)
Introduction: Silvia Rogel, Chair, IWC Professional Development & Education Committee
11 - 11:50 AM The Art of Advocacy: Community Organizations at the Forefront of Improving Cannabis Policy
The legalization of cannabis (both medical and recreational) in Illinois would not have been possible if it were not for the hard work of local non-profit organizations. To this day, these organizations persist and work tirelessly to make the cannabis industry in Illinois more inclusive, equitable, and accessible to individuals and communities most affected by cannabis prohibition. Join us for a conversation with leaders of some of Chicago's most impactful non-profit organizations in the cannabis industry, to learn how you, as a consumer, supporter, and advocate, can become more engaged as we collectively move this industry forward for future generations.
Introduction: Candace Clark, Founder Hi Tech Consulting
Moderator: Neffer-Oduntunde A. Kerr, Executive Director, NorthStar Minority Cannabis Association. 
Panelists:
Kiana Hughes, Executive Director, Chicago NORML
Peter Contos, Deputy Director, Cannabis Equity Illinois Coalition 
Stephen Philpott, Jr., Co-founder & Chief Visionary, Illinois Minority Growers Association 
Belicia Royster, President, Social Equity Empowerment Network
Nicole Laport, Director of Communications,  Equity and Transformation 
12 - 12:50 PM Why a Comprehensive Compliance Team is Essential to Your Cannabis Business
We've all heard the expression "compliance is key," yet investing in a strong compliance department is one of the last things cannabis businesses do. Hear from experts on how to avoid compliance pitfalls and why it is so important to your business success   
Introduction: Mila K. Marshall, Principal, Herb & Planning Associates
Moderator: Florence Hardy, Esq, MBA
Panelists:
Kristina Dahmann, Attorney, Ice Miller LLP
Ryan Holz, Partner, Greenspoon Marder
Joanne Caceres, Attorney, Dentons
1 - 1:50 PM Founding Female Leaders in Cannabis
Please join us for a thought-provoking fireside chat with Leah Heise & Leise Rosman. Leah is the CEO of Women Grow and also held leadership positions at 4Front and Ascend Wellness Holdings. Leise is one of the original founders of 4Front and has now founded 7 Cities which seeks to support women-owned brands within the cannabis space. Hear about what brought them into the industry and how they have navigated challenges as the industry has evolved.
Introduction: Natsuko Mazany, Sales Coordinator, Green Thumb Industries (GTI)
Moderator: Cindy Kosydor, Marketing & Communications Specialist, Chair, IWC Marketing & Communications Committee
Panelists:
Leise Rosman, Principal 7Cities Group
Leah Heise, Founder & President, Gemini Twin Consulting
2 - 2:50 PM Win-Win-Win: Navigating Corporate Philanthropy and Community Engagement in the Cannabis Industry.
MSOs operate much like traditional CPG companies, but the uniqueness of the product, industry, and regulatory compliance issues make civic engagement more complex. Community engagement is integral to differentiating cannabis companies from each other and establishing them as valuable members of the communities in which they operate. Corporate philanthropy is important for any company but is especially valuable in this highly regulated industry with a complex history with respect to race, socioeconomic status, and criminal justice. This session will address best practices for actively engaging staff, creating a volunteer infrastructure, establishing meaningful relationships with community partners, and navigating the challenges and special opportunities of civic engagement in the cannabis industry.
Introduction: Steven Philpott Jr., Environmental Biology Researcher | Chief Visionary Officer for IMGA
Moderator: Angelyn Anderson, Ed.D. VP of Equity and Community Engagement, HT23 Growers
Panelists:
Tai Duncan, Vice President, Community Integration, Cresco
Jai Kensey, Director, Social Impact, Green Thumb Industries (GTI)
Asya Hill, Social Responsibility Manager, Curaleaf
3 - 3:50 PM Navigating the Murky Waters of Marketing & Branding in the Cannabis Space
Please join us for an in-depth roundtable discussion about how to market in the cannabis space. In this session, you will learn about the nuances of marketing in a highly regulated environment as well as some of the watch-outs that are not present in traditional industries. Hear about what marketing vehicles are accessible in this space and some best practices for creating a cannabis brand. Bring your questions to this esteemed group of marketing executives!
Introduction: Elanta Slowek, MSc, Media Manager at Chicago NORML and Polish American Chamber of Commerce
Moderator: Gina Gault, Field Marketing and Outreach Manager, 1906
Panelists:
Laurie Parfitt, Principal, LKP Impact Consulting
Jeni Cohen, Founder, Flame Princess Confections
Laura Hand, ​​Founder, Laura Loo Experience Design (LLXD)
Vanessa Valdovinos, Co-Founder, Hush Chicago
Shaniece Fullove, MPA, Assistant Brand Manager, Dogwalkers
Breakout Sessions:
2 - 2:45 PM The Cannabis Capital Conundrum: How cannabis businesses can attract funding.
Access to capital is one of the greatest barriers to a cannabis business' success. Hear what investors look for when evaluating cannabis companies and what you can do to secure funding to expand your cannabis business.
Moderator: Mila K. Marshall, Principal, Herb & Planning Associates
Panelists:
Kerry Jordan, CFA Co-founder, and Managing Partner, Supercritical
Akele Parnell, ​​Head of Equity Partnerships, Lantern
2 - 2:45 PM Fire it Up! Get Your Career Started In The Cannabis Industry
From custodian to c-suite, learn about opportunities for employment in one of the fastest-growing industries in Illinois.  Join us for a live Q&A based solely on finding your "in" to the cannabis industry. This session will allow attendees to ask questions directly to industry experts about navigating an entry into the industry.
Moderator: Silvia Rogel, Chair, IWC Professional Development & Education Committee
Panelists:
Shawnee Williams SHRM-CP, Co-founder, Illinois Equity Staffing
Kurt Kufmann, CEO, Seed Talent
Lamar Richardson, Senior Advisor, ICTC
3 - 4 PM The State of Illinois Hemp Industry & Speed Networking
Midwest Hemp Coalition is proud to present Opportunities in Hemp a Crash Course! This session will include a 30-minute State of Hemp lecture discussing some of the hottest topics including obtaining a license and the growing Delta-8 boom. Attendees will then breakout for an interactive speed networking session. Come ready to learn and connect as we navigate this exciting ancillary opportunity and explore how to leverage your existing cannabis experience.
Speakers:
Kalee Hooghkirk, President, Midwest Hemp Coalition
Sarah Sykes, Director of Sustainable Partnerships, Midwest Hemp Coalition
Conference Add Ons:
10 AM - 3 PM Headshots by Nikki Allen Creative
11 AM - 2 PM My Girlfriend's Photobooth: Complimentary printed and digital mementos
11 AM - 2 PM Buffet Lunch by Flame Princess Confections
Thanks to our sponsors:
Curaleaf, Berlin Packaging, Mindy's, Dentons, Greenspoon Marder LLP, Ascend Wellness Holdings,  Hub International, Verano, Crowe, Green Thumb Industries (GTI), Dark Matter Coffee
Become an IWC member today! please click here for more information.
Masks are required while in the auditorium and classrooms only. These requirements are for everyone in attendance –visitors, exhibitors, vendors, media, speakers, and staff are expected to comply with Chicago-Kent College of Law's health and safety requirements. (Updated Friday, March 11)
All sales are final - No refunds will be issued.
For sponsorship opportunities contact us at communications@ilwomenincannabis.org
Illinois Women in Cannabis is a 501(c)(6) nonprofit organization committed to serving, supporting, and advancing the careers of women connected to the regulated cannabis industry. Through education and community building, we fulfill our mission to empower women of all ages and backgrounds to build strong relationships, networks, and careers in the cannabis industry.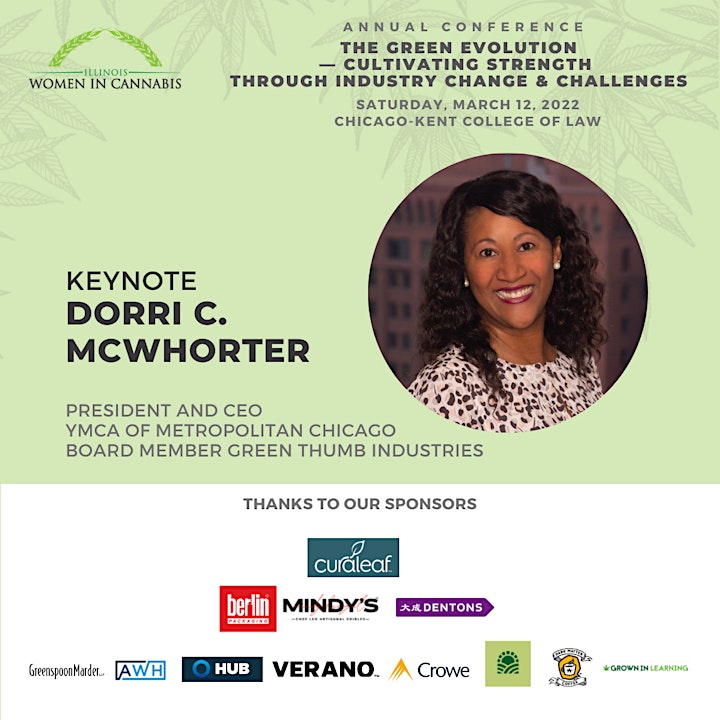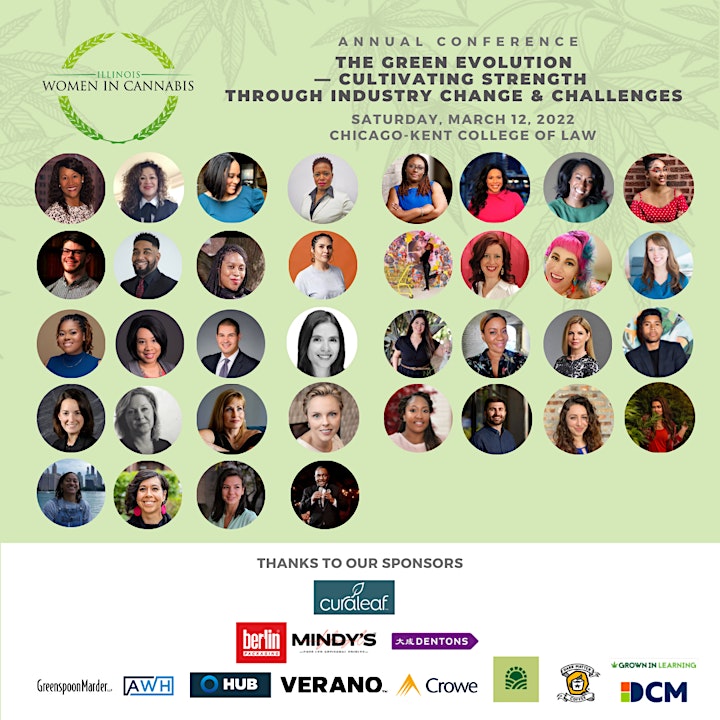 Date and time
Location
Chicago-Kent College of Law at Illinois Institute of Technology
565 West Adams Street
Chicago, IL 60661
Refund policy
Refunds up to 30 days before event
Eventbrite's fee is nonrefundable.