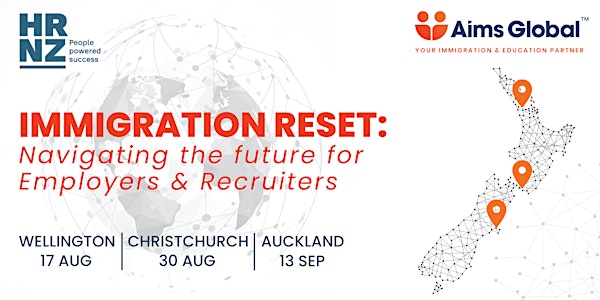 IMMIGRATION RESET: Navigating the Future for Employers & Recruiters (Wgtn)
Location
Beyond Recruitment - Fujitsu Tower
141 The Terrace
Level 10
Wellington, Wellington 6011
New Zealand
HRNZ and Aims Global are excited to bring you this panel session to Wellington.
About this event
Join us for an insightful panel discussion with business leaders and industry leaders from immigration, recruitment and local businesses, brought to you by Aims Global Immigration, in association with HRNZ (The Human Resources Institute of New Zealand).
The New Zealand immigration landscape for employers and recruiters has changed drastically due to the new employer accreditation and work visa scheme. The Government's immigration reset coupled with a deepening talent crisis and global economic uncertainty, has affected every Kiwi business and thousands of migrants.
How will these changes impact our future? What can business owners, HR professionals and recruiters do to overcome the many challenges being thrown their way? Join us as we have our panel of experts share their views on a range of top of mind issues and help us unpack the present to navigate the future successfully.
Aims Global Immigration & Education Services, in association with HRNZ (The Human Resources Institute of New Zealand), invite you for a panel discussion on "Immigration reset: Navigating the future for Employers & Recruiters".
This is a rare opportunity to network with and hear directly from Immigration New Zealand, RCSA (Recruitment, Consulting & Staffing Association) and business leaders in the same forum.
Event Agenda:
10:00 - 10.30am Arrival morning tea and networking
10:30 - 11.30am Panel Discussion
11:30 - 12.00pm continued Networking
Note: Refreshments will be served prior to the panel discussion.
All questions for the panelists must be submitted beforehand. Questions should be sent to events@aimsglobal.co.nz by 12th August (or fill in your question at the time of registration)
Ticket price includes morning tea and 'two for one' ticket - Purchase one ticket and get to bring a colleague along complimentary. Name provided at registration.
Our panel of experts
Hiro Kuroki, Relationship Manager, Immigration New Zealand
Hiro started working for Immigration NZ about 4 and half years ago in the processing office dealing with business applications. Currently, Hiro is a relationship manager in the Sectors and Skills team where he helps employers and industry bodies navigate the immigration system. Hiro is based in Wellington and covers employers and industry bodies in Wellington, Manawatu-Whanganui, Taranaki and Hawke's Bay.
Hiro is originally from Japan and has previously lived and worked in Japan, Germany and Switzerland before coming to New Zealand, so he's gone through many different immigration processes himself!
Liam Hadaway, Relationship Manager, Immigration New Zealand
I am the Relationship Manager for the Immigration Professionals sector, a role which is situated within Immigration New Zealand's (INZ) Engagement unit. The main focus of my role is to develop positive working relationships across the sector and to be the communication conduit between the sector and INZ.
I began in this role in May this year and am based in Wellington while my counterpart Rob Perry is based in Auckland. Together we support, inform and educate the immigration professionals sector across the whole of New Zealand.
Background
I began working for INZ in January 2019 as an Immigration Officer where I processed a range of different temporary visa streams including Essential Skills, Visitor Visas and Limited visas in the Recognised Seasonal Employer space. In the following year, I took up a role as a Resolutions Analyst in the Enablement branch of INZ where I prepared case summaries and reports for the Minister and Associate Minister of Immigration and a small team of Delegated Decision Makers. Following this, I moved into a new role as an Intelligence Analyst for MBIE where I prepared analytical reports and presentations which were used to inform tactical, operational and strategic decision making.
Rebecca Clarke, New Zealand Manager, RCSA
Rebecca is proud to represent RCSA (Recruitment Consulting & Staffing Association of Aotearoa and Australia), the peak body for recruitment and staffing, as NZ Manager.
Rebecca joined the recruitment & staffing industry in 2001 and held a variety of recruitment, sales, HR and leadership roles. As NZ Manager of RCSA, she is a conduit and champion for RCSA member voices across Aotearoa. She works closely with the wider RCSA team of specialists to support and empower their members to lead in the world of work through promoting the recruitment profession, enabling better business, providing networking and celebration opportunities, growing the next generation of talent, fostering pathways to professionalism. RCSA sets the benchmark for professionalism through standard setting, education, research and business advisory support to its member firms and accredited professionals.
Arunima Dhingra, CEO & Principal Licensed Immigration Adviser #200900407, Aims Global
Arunima is an established immigration adviser in New Zealand. As the Founder and Director of Aims Global, she has been providing immigration advice and support to businesses and migrants for over 15 years. In 2017 she won NZAMI's prestigious Immigration Adviser/Lawyer of the Year Award as well as the Community Outreach Award.
For the last few years, Arunima has been serving as a Board Director for NZAMI - NZ's largest association of immigration advisers and lawyers - and is also Chairing the Policy Committee for the association for the third year. Arunima is also the founder of GratitudeNZ (gratitudenz.org) - a charity aimed at empowering the next generation and breaking the cycle of child poverty in NZ.
Zinnia Manchanda, Director & Senior Licensed Immigration Adviser #201600267 & Employment Specialist, Aims Global
After 8 years in the telecommunications industry in sales and management, Zinnia now works as professional in the immigration scene. Zinnia has recently completed her Employment Law paper and provides advice to employers on matters where immigration and employment intersect. Despite the change of careers, her passion for competitive and outstanding service for her clients has remained constant. This service focuses on the total solution, a skill she learnt from telco and transferred to immigration.
She strongly believes that it's not just about bringing migrants to New Zealand, it's about helping them settle into the community and contribute back to the economy and the society. She strives to assist each migrant persevere and overcome the hurdles they will face along their immigration journey
About HRNZ
The Human Resources Institute of New Zealand (HRNZ) is the professional body for human resources (HR) professionals. HRNZ is a not-for-profit membership organisation providing services and support for people who work in HR in New Zealand.
Delivering career defining experiences and leading edge tools to the NZ HR profession through professional development opportunities, progression pathways, chartered membership and Emerging Professional certification. We at HRNZ are passionate about unleashing the potential of the people that power NZ workplaces.
About Aims Global
Aims Global Immigration & Education Services is a one-stop solution for all your immigration and international education needs. Our services range from assisting employers with immigration matters and advising on a range of visas, to admission support, arriving in New Zealand and settling here.
A glimpse of our panel event in Auckland last year
Last year attendees' feedback
"Attending the Christchurch Aims panel discussion was insightful. As a global recruitment agency we have a high level of interaction with temporary visa holders, not just externally as job seekers but also internally as employees. I enjoyed the variety of speakers they organised for the event and the manner in which AIMS asked tough questions to the panel, clearly aware of the concerns facing recruiters and wider business owners across New Zealand.
I would recommend attendance to these AIMS events as they provide a clear breakdown and explanation to ever changing immigration policies.
It was also a great way for business owners and recruiters to connect and learn from each other's experiences." - from our employer partner.
"Basically all of the points that they have discussed here [are] all really informative. And… most of the questions that we had were all ticked… The highlight for me is that Immigration is on a reset button." - from a recruiter.
Pricing
HRNZ Members and Aims Global Clients = $45.00
General Admission = $55.00
Ticket price includes morning tea and 'two for one' ticket - Purchase one ticket and get to being a colleague along complimentary. Name provided at registration. Ticket prices are inclusive of GST
To Register:
HRNZ Members: to receive the discounted Member rates or FREE Member registrations (where available) click on the LOGIN Link under the BUY TICKETS Button, then register through the BUY TICKETS link.
For non members please register via the BUY TICKETS link in the event listing.
Payment
Payment is due at the time of registration. If this is difficult, please email branchevents@hrnz.org.nz to request an invoice.
Cancellations & Refunds
To receive a full refund cancellation must be received by HRNZ by email to branchevents@hrnz.org.nz two working days before the day of the event.
Cancellations after this time and/or 'no shows' on the day will be payable in full.
Appropriate substitutions are welcome - please email branchevents@hrnz.org.nz with their details.
Attending HRNZ Events under the COVID-19 Protection Framework
Please ensure you abide by the health and safety guidelines of the venue. Events are subject to Ministry of Health guidelines and the HRNZ internal COVID 19 Events policy. To view HRNZ's internal COVID 19 Events Policy please click here.