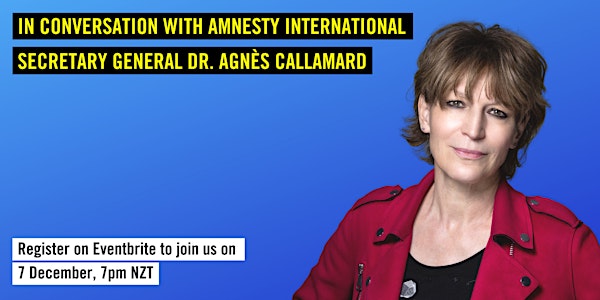 In conversation with Amnesty Secretary General Dr. Agnès Callamard
Join us in conversation with Amnesty International Secretary General Dr. Agnès Callamard
About this event
Join us for a conversation with Agnès, hear about her reflections on her first year in the role, some of the big human rights challenges we're facing and what's ahead for our global movement.
About Dr. Agnès Callamard
Agnès has built a highly distinguished career in the international human rights and humanitarian sectors, working across NGOs, academia, and the United Nations, including as the United Nations Special Rapporteur on extrajudicial, summary or arbitrary executions. In that role, she led ground-breaking investigations including into the murder of Saudi journalist Jamal Khashoggi. She has held the role of Director of the Global Freedom of Expression Project at Columbia University and has previously been the Executive Director of the Freedom of Expression organization ARTICLE 19 and was the founder and Executive Director of HAP International (the Humanitarian Accountability Partnership).
Agnès worked with Amnesty International from 1995-2001, including as Chef de Cabinet for then-Secretary General Pierre Sané. She has led human rights investigations in more than 30 countries and published extensively on human rights, women's rights, freedom of expression, refugee movements, and the methodology of human rights investigations.
Registration is free but required so we know numbers and send you the online event link. When you register you are also able to submit a question in advance for Agnès. We look forward to you joining us for this very special online conversation.