Description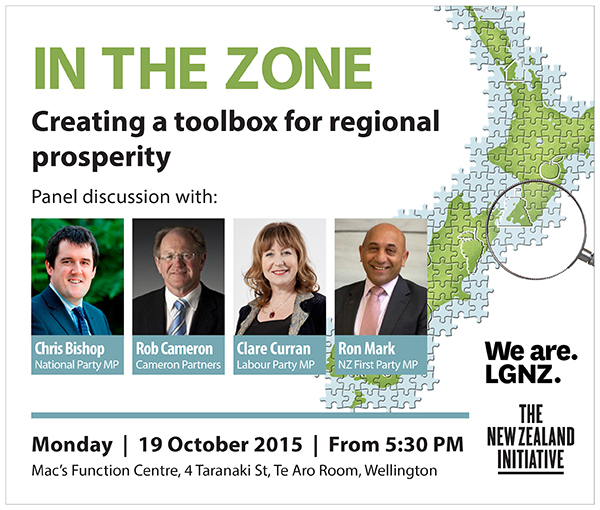 Changing national laws can be cumbersome. Finding central government solutions to local problems can be impossible.
But what would happen if we allowed New Zealand's regions to develop their own answers to their needs? What if we allowed them to opt out of parts of national regulations and legislation?
Join us for a thought-provoking event to launch our new report. We believe special economic zones (SEZ's) are just what we need to promote growth in our cities and regions. But is New Zealand ready for this radical idea?
Discussing the SEZ revolution, we will have:
Chris Bishop, National Party MP

Rob Cameron, Cameron Partners

Clare Curran, Labour Party MP

Ron Mark, NZ First Party MP


Don't miss this event on SEZs. You might be living in one soon.
Kindly co-hosted with LGNZ
Organiser of In the Zone: Creating a toolbox for regional prosperity
The New Zealand Initiative is an independent public policy think tank supported by chief executives of major New Zealand businesses. Our mission is to help build a better, stronger New Zealand. We are taking the initiative to promote a prosperous, free and fair society with a competitive, open and dynamic economy. We develop and contribute bold ideas that will have a profound, positive, long-term impact on the well-being of New Zealand.