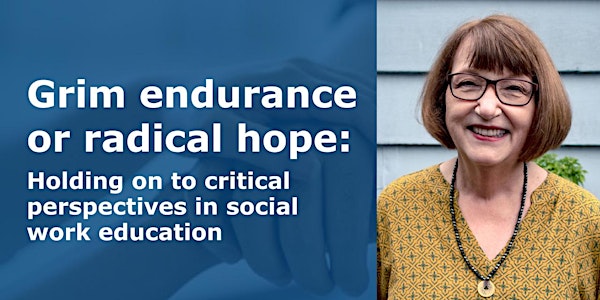 Inaugural Lecture for Professor Liz Beddoe
Event Information
Location
J1 lecture theatre, University of Auckland, Faculty of Education
74 Epsom Ave
Auckland, Auckland 1023
New Zealand
Grim endurance or radical hope: Holding on to critical perspectives in social work education
About this event
Inaugural Lecture for Professor Liz Beddoe
Grim endurance or radical hope: Holding on to critical perspectives in social work education.
Time:
5:30 pm     Drinks Reception            6EA-201
6:30 pm     Inaugural Lecture           6EJ-101
Social work education is responsible for educating social workers for human rights-based practice in numerous complex institutional and community settings. Professor Beddoe's lecture will discuss three interconnected forces that challenge the preparation of social workers in the current socio-political climate. First, the emergence of contemporary populism across the globe; second, the impact of neoliberal ideology on higher education; third, the erosion of confidence in social work as a social justice profession. To counter these forces Professor Beddoe will argue it is necessary for educators to teach critical social theory and instil hope, encouraging social worker activism and political engagement. "It is impossible to be radical without being optimistic" (Giroux, 2020).
Social work education has always been a site of struggle, it is underfunded and at the mercy of government social welfare policies which tend to privilege individually-focused rather than structural, rights-based welfare perspectives and expect curricula to reflect this preference. Social work is characterised as complex and in dire need of regulation and educational prescription, and yet, paradoxically, frequently assumed to be as being grounded in 'common sense' in public discourse. The latter, the belief that simple prescription of the 'right' behaviours will solve complex social problems, is too reliant on a belief in simplistic probability. 'Fixing' social problems requires applying a critical lens to relationships between knowledge, policy and practice. Social work education therefore must equip social work graduates with the analytical tools to contribute to this work.
About Liz Beddoe
Before becoming an academic Professor Beddoe was a social worker in health settings contributed through many formal roles in social work professional bodies. She is currently editor-in-chief of the open access journal Aotearoa New Zealand Social Work. Her research interests include critical perspectives on social work education and supervision; the process of professionalisation; social work professional identity, and the experiences of migrant social workers. Currently she is leading a research project on social work student wellbeing and hardship. She has published widely on the practice of professional supervision and edited several textbooks on social policy, health and well-being in social work and on transnational social workers. Professor Beddoe teaches the discourse of social work, social work in health care and research methods. She is committed to developing positive and creative engagement in social media as a productive space for social work activism, and local and international research and professional networking.
Date and time
Location
J1 lecture theatre, University of Auckland, Faculty of Education
74 Epsom Ave
Auckland, Auckland 1023
New Zealand