International Sheep and Goat Genomics Consortium virtual annual meeting
International Sheep Genomics and International Goat Genome Consortiums combined virtual annual meeting 2021
About this event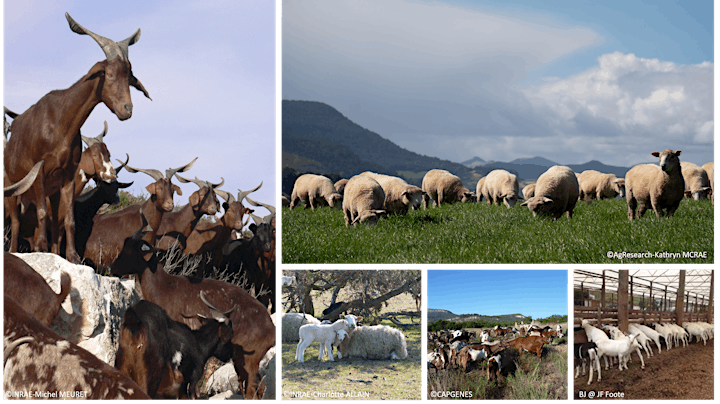 The 2021 annual meetings for the International Sheep Genomics Consortium (ISGC) and the International Goat Genome Consortium (IGGC) have been combined into this virtual conference in the absence of PAG2021.
The long-term goals of the ISGC and the IGGC are to develop underpinning resources for the sheep and goat research community. This has resulted in continued improvement of genome assemblies, development and refinement of various SNP arrays and ensuring whole genome sequence data is captured for variant detection and annotation. Combining these resources with functional sequencing assays will improve genome annotation and ultimately our understanding of genome to phenome for livestock improvement in our changing environment.
This meeting is open to all those interested in the development and use of resources for studying the sheep and goat genome, and provides a forum to present your research to the community.
This event will be in the form of three 2-hour sessions over 3 consecutive days.
June, 9-11th NZ/AU (or 8th-10th in Europe, USA etc.)
The 2-hour sessions will start at 8am NZ time, 6am AU, then previous day 10 pm CEST , 3pm CDT etc.
To submit an abstract (~250 words) please email:
IGGC: gwenola.tosser@inrae.fr
ISGC: shannon.clarke@agresearch.co.nz
Abstracts to be submitted by May 14th 2021
Genes Special Issue "Genetics and Breeding of Small Ruminants": Efforts of global collaboration from both the International Sheep Genomics Consortium (ISGC) as well as the International Goat Genome Consortium (IGGC) have generated these essential resources for advanced molecular studies in the field of genomics and genetics to improve selection of productive traits and animal health and welfare. The success of this recent development and the broad scientific interest into sheep and goat prompted us to open a Special Issue on this topic.
When submitting an abstract to the ISGC/IGGC meeting please indicate your interest in submitting a manuscript to this edition.
Program and meeting link will be provided May 24th for the Microsoft Teams live event.
This event will be recorded and made publicly available.