Introduction to Miniatures for Film and Animation workshop

Saturday, 2 November 2013 at 9:00 am

-

Sunday, 3 November 2013 at 6:00 pm (NZDT)
Event Details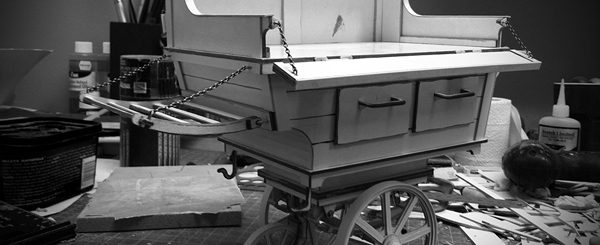 Saturday 2nd & Sunday 3rd Nov, 9:00am - 6:00pm
In this exciting beginners workshop you will be introduced to the fundamental processes and techniques in exploring props, artefacts and sets in miniature for Film and Animation.
The workshop will be taught by Garry Buckley and Michael Scott Jones, two leading concept model makers from Peter Jackson's The Hobbit trilogy, who have a wealth of experience and knowledge of miniatures scratch building, mould making and finishing within the film industry. Past projects also include Avatar, Kingdom Come, District 9 and The Lovely Bones.
In this Weekend, two day workshop, you will be introduced to simple yet effective techniques and applications that will help you to develop your skill sets in producing miniature models and props with film in mind.
Day One: As a beginners workshop, we will begin on day one with an introduction to miniatures in film and animation, materials and process and take a look at some of the work of Garry and Michael. Our first project on day one will be taking you through a simple, effective and versatile modelling material, cardboard.
With our day one project we will build a miniature chair from card where we can explore the basic skill sets required to further construct more detailed and imaginative props and sets.
Day one will follow a fairly structured project with a set goal at the end of the day.
Day Two: On day two, we will have a looser structure allowing students to have the option of continuing with the previous days projects or begin to develop their own model [still using cardboard as a principle material] and explore the more intricate possibilities of building with card.
Garry and Michael will be on hand to deliver advice, guidance and support for your day two adventures.
[Please note that within this workshop we are looking at building models though hand built methods, digital process will not be covered in this beginners workshop]
For more details please visit our facebook page:
https://www.facebook.com/events/705557032792393/
Starter tool / materials kits will be availble for purchase direct from the tutors on the weekend. These are not included in the workshop fees. See facebook page for details
Due to supply issues with materials I have had to limit this workshop to just 10 from the orgininal 15.
Please accept our appologies. We will be anouncing more dates in the near future.
When & Where

The Wellington Makerspace
6 Vivian Street
Wellington, Wellington 6011
New Zealand

Saturday, 2 November 2013 at 9:00 am

-

Sunday, 3 November 2013 at 6:00 pm (NZDT)
Add to my calendar
Organiser
Tanya Marriott is multidisciplinary designer who works in a variety of media including interactive design and play, character and toy design, film and animation. Her work seeks to build meaningful experiences and storytelling opportunities between digital and tangible activities. Marriott primarily teaches animation, play and game design.
She is the President of the  National Institute of American Doll Artists, and a Lecturer in Design at the College of Creative Arts, Massey University. She has been making dolls for over 20 years, and  has a background in Industrial design, interaction design and illustration.