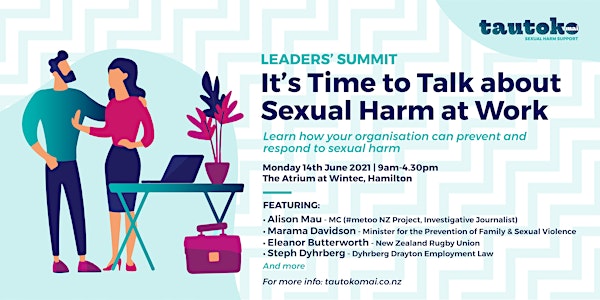 It's Time to Talk About Sexual Harm at Work: Leaders Summit
Location
Waikato Institute of Technology, City Campus
Tristram Street
Hamilton, Waikato 3200
New Zealand
Refund policy
Contact the organiser to request a refund.
Eventbrite's fee is nonrefundable.
Learn more about identifying, understanding and responding to sexual harm at work. This is for all leaders who want to make a difference!
About this event
We now have a HALF DAY OPTION (no lunch included).
Ticket price includes morning and afternoon tea and lunch and an amazing line up of speakers.
Our event will be MC'ed by Alison (Ali) Mau, a senior journalist at Stuff, and Editor of the #metooNZ project, leading a team of journalists investigating sexual harassment in New Zealand workplaces. She also writes a weekly news and current affairs column for the Sunday Star Times. Ali has more than 30 years experience in television, video, radio and print journalism in Australia, the UK and New Zealand and for 20 years was host of a number of national news programmes for TVNZ.
Ali Mau
Alison (Ali) Mau is a broadcaster, journalist and writer with a 30 year career in television, radio and print news and current affairs.
In February 2018, with the support of Stuff, Ali launched the #metooNZ project, leading a team of senior journalists investigating sexual harassment in Kiwi workplaces. The project to date has published close to 200 articles and a number of major investigations. Ali also writes the masthead current affairs column for the Sunday Star Times/Stuff.co.nz
She is the author of First Lady (Upstart Press 2015) the extraordinary story of Elizabeth Roberts, the first person to undergo gender reassignment surgery in New Zealand.
Ali was a finalist in the 2017 Women of Influence Awards for her work mentoring young women in broadcasting, and in the LGBTQI community. In 2018 she won the Leadership Excellence Award at the equivalent WoI awards in Sydney, Australia, acknowledging her work on the #metooNZ project.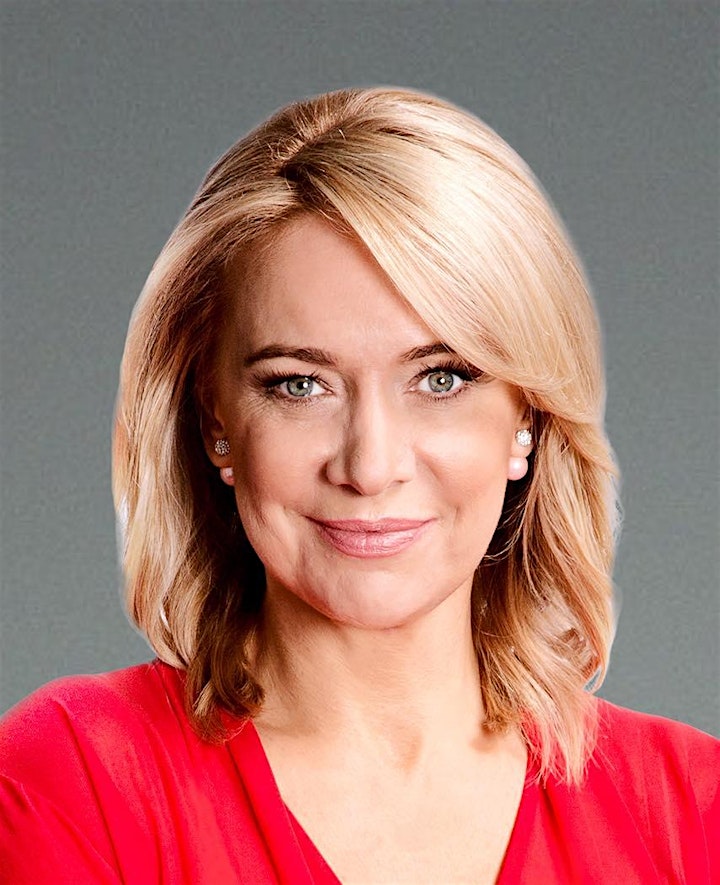 1. Is it the rotten apple or the barrel? Prevention of sexual harassment in the workplace
Rachel Harrison and Melanie Calvesbert from Prevention Aotearoa will draw on their experience supporting organisations and sectors (including the screen and music industries) who are wanting to eliminate sexual harassment from their workplaces. They will talk about how they utilise a community mobilisation approach to identify the dynamics, and develop tailored resources and training which reflect the language and cultural norms of each industry.
Rachel Harrison
Rachel lives on the Coromandel Peninsula and works with organisations and communities across Aotearoa to help prevent sexual harassment, sexual violence, domestic violence and child abuse.
Rachel believes that harassment, violence and abuse are preventable and that the best solutions are tailored to each specific community and workplace, making use of their strengths and minimising specific risk factors.
Rachel started at Auckland Rape Crisis in the 1990's, and since then has worked at Netsafe, the Hauraki Family Violence and Child Abuse Prevention Services Hauraki. She is now self-employed and works with a range of public and private sector organisations including ACC Injury Prevention, the New Zealand Defence Force, New Zealand Rugby, BNZ, and the Screen Women's Action Group as they work toward making their communities safe and free from harassment and abuse.
Melanie Calvesbert
Mel was born, grew up and lives in Te Whanganui ā Tara (Wellington). She is Pākehā and works at the New Zealand Defence Force as one of their small team of regionally based Sexual Assault Prevention and Response Advisors. Moving into this role in June 2016 was a major change for Mel who had previously worked mostly in NGOs including WellStop and the Wellington Sexual Abuse HELP Foundation. Mel was attracted to her current role by the fact that prevention was in the job title and job description. She has enjoyed and been challenged by being able to take prior learning and adapt that in order to be able to play a small part within an organisation which has taken on the challenge of culture change.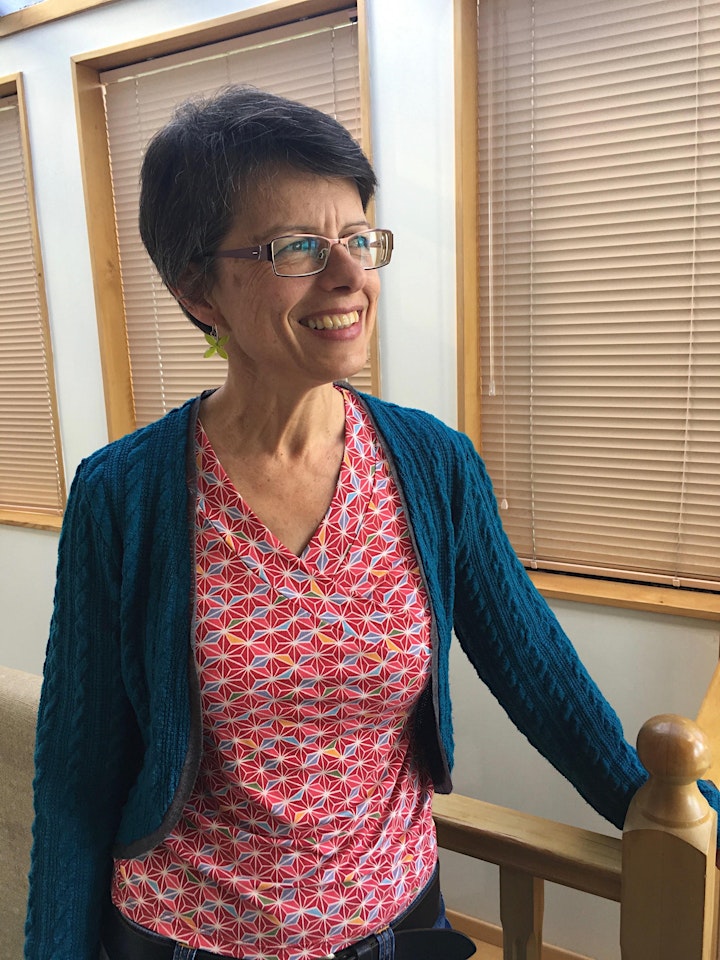 2. How do you eat an Elephant? One bite at a time! Culture change and harm prevention - insights from NZ Rugby's Te Hurihanga prevention programme.
Eleanor Butterworth will share insights from NZ Rugby's Te Hurihanga prevention programme to change cultures and prevent harm. She will explore what organisational change really look like, and how to bring together specialist knowledge with mainstream organisations for change. What role do relationships, resistance and coalitions of the willing play in creating long term organisational change?
Eleanor Buttersworth
Eleanor worked and volunteered for more than 15 years in social services including roles at Rape Crisis, Women's Refuge and Barnardos. She has a passion for ending family and sexual violence and 4 years ago took this interest and experience to NZ Rugby to lead their Te Hurihanga: Create the Change (formerly Respect and Responsibility) harm prevention programme. Here she works as part of a cross cultural team looking to build an inclusive, safe and respectful culture in Rugby.
3. What's the big deal with porn?
Jo Robertson and Nikki Denholm from The Light Project will talk about how porn is currently shaping young people's sexual attitudes and beliefs and hence why it is important for us to help young people think critically and build porn literacy/resiliency now to prevent long term harm.
Jo Robertson
Sex Therapist, The Light Project Training & Research Lead
Jo is from Auckland, and is a qualified sex therapist who has completed her Master of Science in Medicine, with a focus on international consumption rates and impacts of porn on adolescents. Jo has a private therapeutic practice specialising in problematic sexual behaviours, sexual dysfunctions and relationship breakdown due to betrayal. She did a TEDx talk in 2019 titled 'Why we need to talk about porn' and is one of the co-founders of The Light Project, a charity equipping young people, families and wider communities to positively navigate the new porn landscape.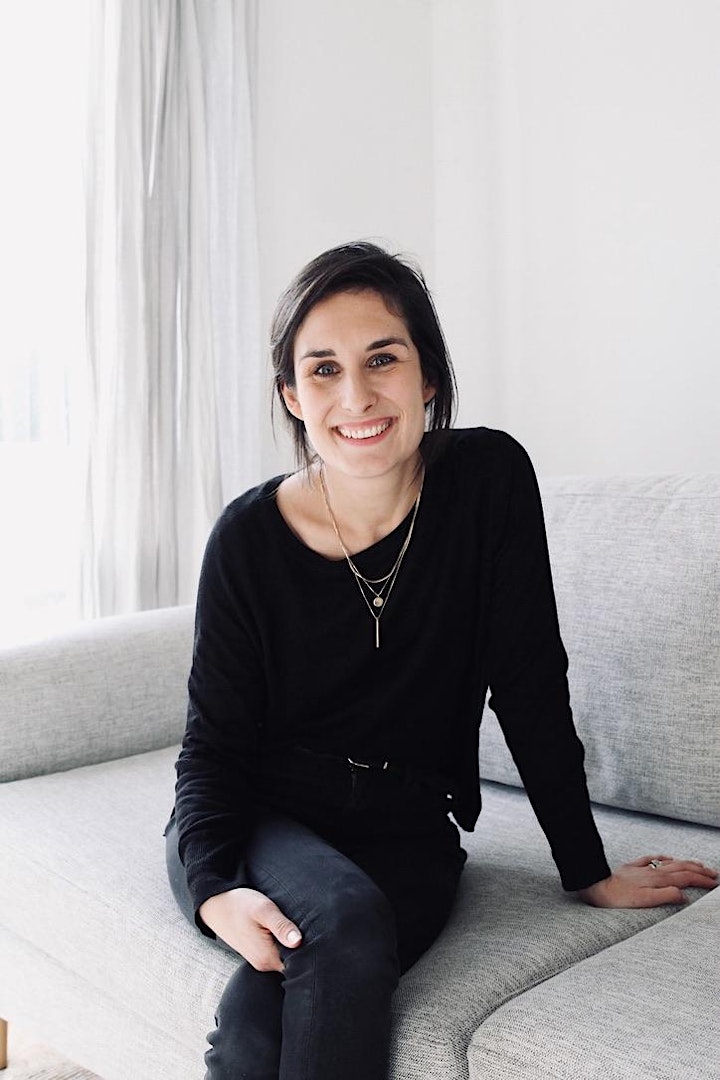 Nikki Denholm
Nikki Denholm has a health background, specialising in sexual health and gender issues. She founded the NZ FGM Education Programme and NZ National African HIV/AIDS Education Project and has led various national sexual health research projects. She has worked widely in the anti child sex-trafficking sector and has been involved in the 'youth and porn' space since 2014, more recently as Director of The Light Project and co-author of www.intheknow.co.nz.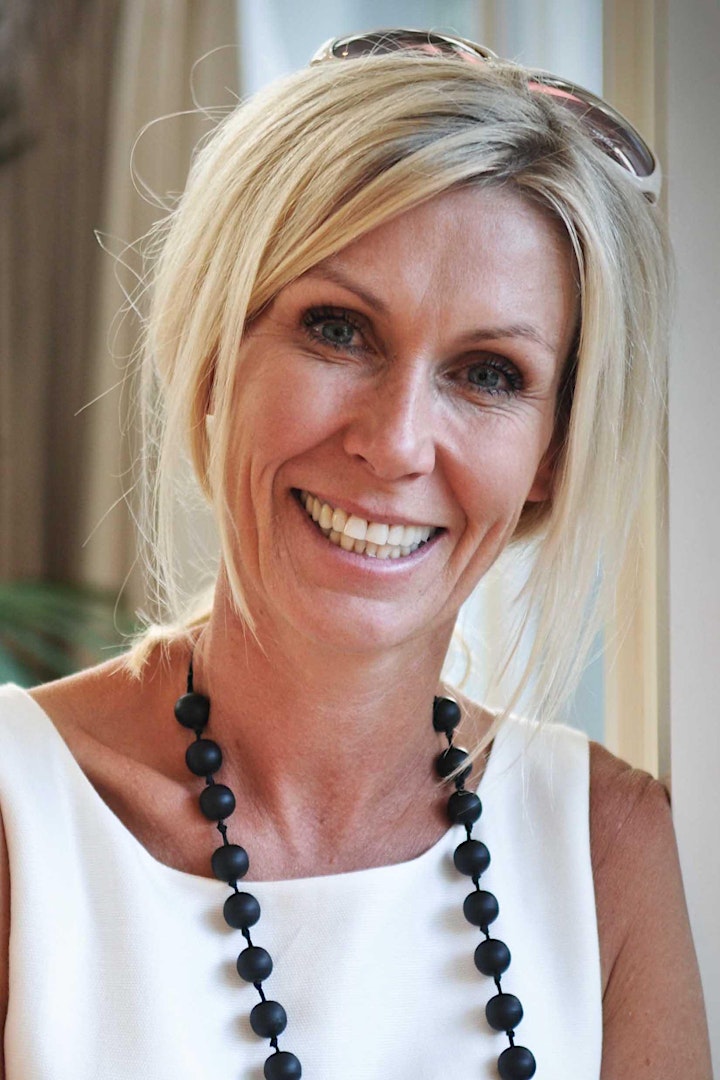 4. Safeguarding women from stalking: Workplace Responses
Dr Natalie Thorburn and Cleo Arathoon from the National Woman's Refuge will talk about the introduction of milestone legislation in 2018 that strengthened the rights of victims of family violence in the workplace. However, making these policies effective requires some understanding of the complexities of unseen abuse that traverse the boundaries of 'work' and 'home'. Stalking is one such way that perpetrators of violence undermine victims' safety and employment stability. This commonly involves utilising victims' work routines to track and harass them; sabotaging their work attendance or performance, and weaponising sexual or personal content to shame and exclude women at work. This seminar uses the example of stalking to look at employers' roles in safeguarding women's vital contributions in the workplace, and offers tools, strategies, and recommendations to combat violence against women and its impacts on the workplace.
Dr Natalie Thorburn
Natalie is the principal policy advisor for NCIWR, and is a registered social worker who has primarily practised in the sexual violence field. She has a PhD in the field of gendered violence and leads NCIWR's research programme into various aspects of family violence.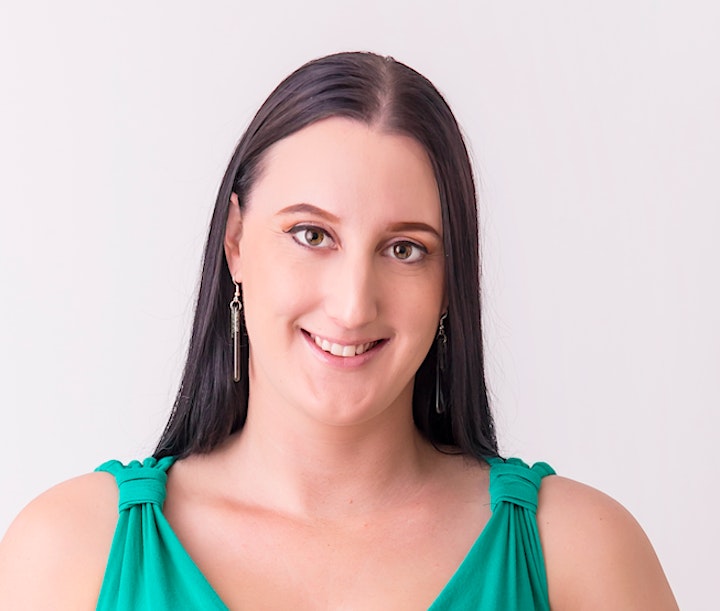 Cleo Arathoon
Cleo is the research and professional development advisor for NCIWR. She is a qualified social worker and counsellor, and her practice background is in trauma counselling with young people who are using substances. Her research specialism is in family violence and its impacts on different groups, especially children and young people. Cleo facilitated NCIWR's responsive workplaces training, upskilling organisations on family violence and their responsibilities to staff under the Victims Protection Act 2018.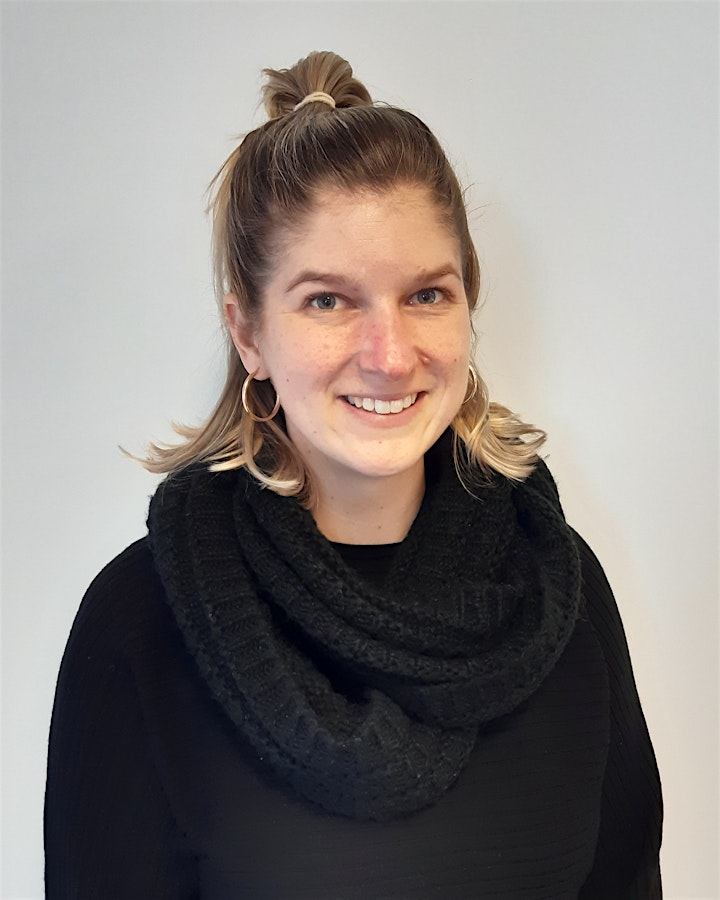 5. People-centred complaints processes – time for a new paradigm
Steph will draw on her experience of investigating and responding to sexual harm complaints to propose a new way of thinking.
Steph Dyhrberg
Steph is a partner at Dyhrberg Drayton Employment Law in Wellington. In 2020, the firm was recognised as the top Employment Law Specialist Firm in the NZ Law Awards.
Steph has nearly 30 years legal experience. Steph previously worked for Russell McVeagh Wellington, Crown Law Office, and Right Management Consultants.
Steph is the New Zealand Rugby Independent Complaints Service Manager and her firm has provided an interim complaints service for High Performance Sport and Gymnastics NZ (for Sport NZ).
Steph was a finalist in the 2018 Women of Influence Awards in the Diversity category, and in December was awarded 2018 Wellingtonian of the Year for her work in tackling sexual harassment in the legal profession.
Steph is a Trustee of Mary Potter Hospice and a member of the judging panel for the Electra Business Awards (Kapiti-Horowhenua).