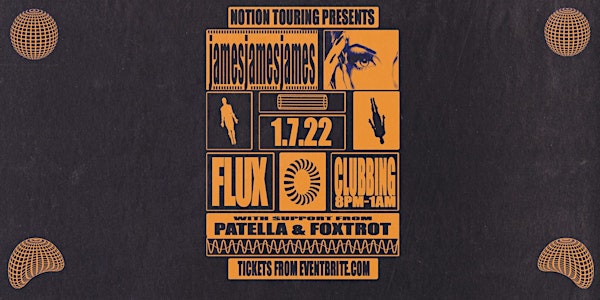 Location
FLUX
270 St Asaph Street
St Asaph Street
Christchurch, NZ
New Zealand
About this event
IMPORTANT NEWS!!!
We are extremely saddened to announce that the Y2K princess jamesjamesjames is unable to perform his scheduled shows in NZ this weekend due to unforeseen last minute passport issues.
We are currently working with him to arrange new dates ASAP. Ticket holders will also have the option to refund or hold onto there ticket for the rescheduled date
James sends huge apologies and love to everyone and promises the rescheduled dates will be filled with even more booty bouncing baselines.
Never the less, the party goes on with @foxtrotoclock , @patellanz , @toronja_music , @ethan.kbps , @joshi_mp3 and @front_axl stepping up!
Otherwise its $10 b4 10
Notion is stoked to announce one of Australia's fast rising 4/4 artists jamesjamesjames start of July as part of their NZ debut.
jamesjamesjames is Melbourne based producer making sexy Y2K house and techno with catchy hooks and pounding bass lines.
Joining them in support we have thee talented Patella and Foxtrot.
Friday July 1st
8PM - 1AM
Tickets via Eventbrite starting @ $15 early birds.