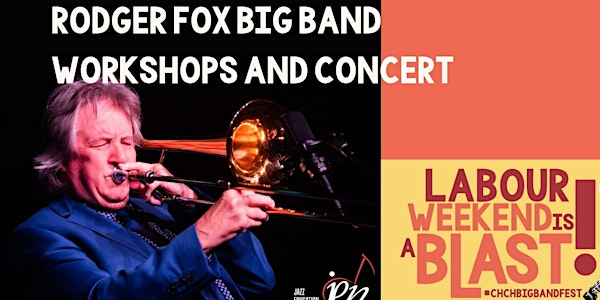 "Jazz on the Road" Rodger Fox Big Band Festival workshop and concert
Location
The Piano: Centre for Music and the Arts
156 Armagh Street
Christchurch, Canterbury 8011
New Zealand
Open rehearsal workshops and concert with the Rodger Fox Big Band and Michael Houstoun and Erna Ferry.
About this event
A LOOK INSIDE THE RODGER FOX BIG BAND…
OPEN REHEARSAL WORKSHOPS AND CONCERT WITH THE RODGER FOX BIG BAND AT THE PIANO
ABOUT THIS EVENT
The workshops are an intensive programme that focuses on the fundamentals of jazz music and its associated business aspects for all musicians.
Participants gather to share, develop and challenge their own ideas and abilities. Our stellar faculty of world-renowned musicians, innovators, leaders and thinkers present master classes, lectures, workshops, informal sessions and a concert
The workshop is open to all musicians and music educators. Participants are encouraged to have their own instruments to participate in the programme, or are welcome to observe.
Subject areas include jazz rhythms, jazz articulation, performance within the band, jazz improvisation, music reality (theory), team building through music, leadership and performance.
The programme exposes students and interested adults to leading musicians and professionals in education, business and performance.
SCHEDULE
2pm Foyer doors open
2:30 Auditorium - Watching an open rehearsal with Rodger Fox directing his Big Band and sharing tips with the audience.
3:00 Move to sectional rooms
3:10 Sectional workshops for trumpets, trombones, rhythm section, saxes and vocals. Participants get the chance to pull out their instrument and do some playing with section members of the Rodger Big Band in separate rooms to learn practical tips. Vocalists get to work with the exceptional Erna Ferry.
3.50 Move back into the auditorium
4.00 Final wrap with questions
4.30 break (time to grab a quick snack from New Regent Street)
5:15 Performance by by the Saturday morning Rodger Fox Youth workshop big band
5:30-6:30PM RODGER FOX BIG BAND CONCERT (A shorter version of the 8pm concert featuring the Rodger Fox Big Band, Michael Houstoun and Erna Ferry).
*Note the Saturday youth band is different to the Christchurch Youth Jazz Orchestra (CYJO plays Thursday evening and Monday of Labour Weekend).