Sales Have Ended
Ticket sales have ended
Thank you for purchasing your ticket/s! Dinner before you dance? There is limited table seating available in the Back Bar & Diner, bookings are essential. Cassels Blue Smoke will be open and offering a pre-show dinner service and doors open from 6:30pm, music from 8pm. Book your pre-show dinner here: https://bit.ly/3dvQLRX If you purchased a VIP ticket we will be in touch with details around the pre-show drink and hang out! Limited seating is available, first in first served. This is mostly a standing concert and dancing is encouraged :) VENUE ADDRESS: Cassels Blue Smoke is located in The Tannery shopping emporium, next door to The Brewery in Woolston, Christchurch. 3 Garlands Rd, Woolston, Christchurch 8024 For any questions please contact info@toppaddock.co.nz www.jodydireen.com www.instagram.com/jodydireen www.facebook.com/jodydireenmusic www.youtube.com/jodydireen
Sales Have Ended
Ticket sales have ended
Thank you for purchasing your ticket/s! Dinner before you dance? There is limited table seating available in the Back Bar & Diner, bookings are essential. Cassels Blue Smoke will be open and offering a pre-show dinner service and doors open from 6:30pm, music from 8pm. Book your pre-show dinner here: https://bit.ly/3dvQLRX If you purchased a VIP ticket we will be in touch with details around the pre-show drink and hang out! Limited seating is available, first in first served. This is mostly a standing concert and dancing is encouraged :) VENUE ADDRESS: Cassels Blue Smoke is located in The Tannery shopping emporium, next door to The Brewery in Woolston, Christchurch. 3 Garlands Rd, Woolston, Christchurch 8024 For any questions please contact info@toppaddock.co.nz www.jodydireen.com www.instagram.com/jodydireen www.facebook.com/jodydireenmusic www.youtube.com/jodydireen
About this Event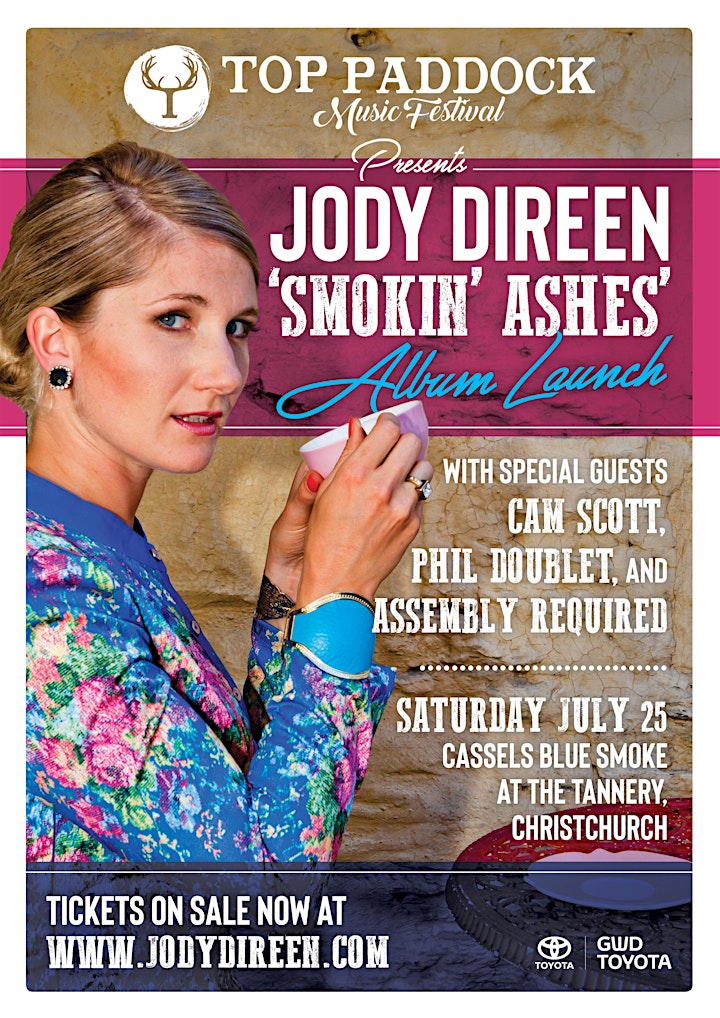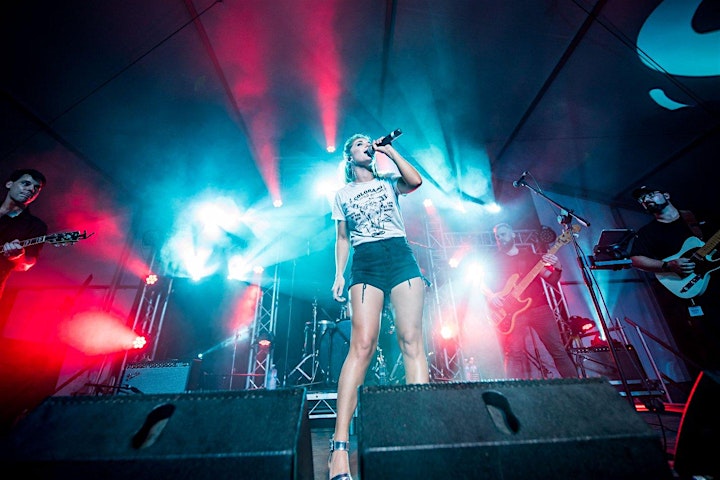 Top Paddock Music Festival presents
JODY DIREEN ALBUM LAUNCH SHOW 'SMOKIN' ASHES' CASSELS BLUE SMOKE – CHRISTCHUCH, JULY 25 | 8PM With special guests Assembly Required, Phil Doublet & Cam Scott (R18)
Dinner before you dance? There is limited table seating available in the Back Bar & Diner, bookings are essential. Cassels Blue Smoke will be open and offering a pre-show dinner service from 6:30pm, music from 8pm. Book your pre-show dinner HERE.
Post-show meet and greet/photo opportunity and signing.
KIWI VOCAL POWERHOUSE, JODY DIREEN, RELEASES EPIC NEW ALBUM 'SMOKIN' ASHES'
Direen is one of Australasia's most vibrant country pop artists and is set to celebrate the launch of her new album "Smokin' Ashes" with her full band, fans and friends on July 25 at Cassels Blue Smoke venue in Christchurch with special guests Assembly Required, Cam Scott and Phil Doublet.
For the past 4 years - since her signing with Australian record label's ABC Music and Universal Music, Jody Direen has been in a whirlwind, clocking up miles on the ground and across the skies touring both New Zealand and Australia.
The Vodafone NZMA Tui winner for "Best Country Album – Shake Up" states that people can expect an uplifting show and that she'll be performing new songs, old songs and some covers. "It's been a weird few months and I'd love people to join me and celebrate, dance, let our hair down and our worries go - music is good for that". Two singles from the new album have already been released including 'All Nighter' and 'My Fire'. Direen says that creating this album took her on a journey she wasn't expecting.
"Whilst writing and recording this album I went through a period of personally 'letting go' of anything that no longer serves me (people, beliefs, thoughts, things). This inspired the album title 'Smokin' Ashes' resembling dying to the past, emerging into a new-me, new love but it also encapsulates a double meaning of 'the end of things'; in one way or another these elements connect to each of the ten songs on the album".
Performing some of Australasia's biggest festivals continue to hold as career highlights for the songstress including supporting Kenny Rogers, Lynyrd Skynyrd and LeAnn Rimes. Touring Australia's first ever C2C Festival last year alongside international greats; Tim McGraw, Kelsea Ballerini, Blanco Brown and more was a 'dreamy experience'.
With multiple hits, stages, nominations and awards under her belt, Direen is set to venture into an explosive new phase of her career with new-found energy within herself and her songs.
"I've never been so excited for a new release and live shows is mostly how I'd love people to experience the new songs. I'm really looking forward to hitting the stage again especially after being in hibernation for a while due to Covid".
Website | Facebook | Instagram
For further information please contact: hello@jodydireen.com
VENUE ADDRESS: Cassels Blue Smoke is located in The Tannery shopping emporium, next door to The Brewery in Woolston, Christchurch.3 Garlands Rd, Woolston, Christchurch 8024