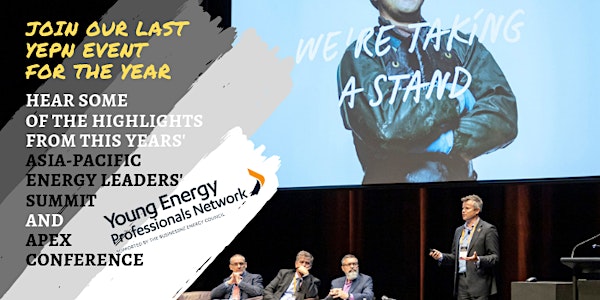 JOIN OUR LAST YOUNG ENERGY PROFESSIONAL NETWORK (YEPN) EVENT FOR THE YEAR
Location
BusinessNZ Energy Council
Jacksonstone House, Level 6
3-11 Hunter Street
Wellington, 6011
New Zealand
Description
Join us for a FREE event, with beer and pizza of course, and hear some of the highlights from the 2018 Asia-Pacific Energy Leaders' Summit and the 2018 APEx conference.
Emily Calvert, Business Analyst – Operations Process & Technology Improvement, Transpower, will share an overview of the Association of Power Exchanges (APEx) Conference and the APEx Bright Sparks Scholarship programme.
Tina Schirr, Senior Policy Advisor – Energy and Innovation, BusinessNZ Energy Council, will share some of the key outtakes from this year's Asia-Pacific Energy Leaders' Summit.
We will also video stream one of the best talks from the Summit.
Doors will be open from 4.30pm and we will kick off the event at 4.45pm.
Background 2018 Asia Pacific Enegry Leaders' Summit
On Oct 31 & Nov 1, the BusinessNZ Energy Council and World Energy Council (WEC) held their second Energy Leaders' Summit in Wellington. Business leaders from around the world gathered to share insights on trends in decarbonisation, decentralisation and digitalisation, new technologies and business strategies from not only the energy sector but other sectors which are strongly influencing the way we consume energy today and tomorrow. The breakdown of sector boundaries and getting an outside point of view were the major drivers of this year's Summit theme: The 3D vision – New Energy Perspectives encouraging delegates to join the dots and think outside the box.
Background 2018 APEx Conference
Transpower hosted the 23rd APEx conference in Wellington in mid-October. Delegates from Asia, Saudi Arabia, Europe and North and South America attended the conference to share information and experiences from electricity providers and electricity market operators around the world. Panel discussions covered topics such as renewables and energy efficiency, efficient price formation, and the future of power exchanges. APEx also offer a scholarship programme to support the development of young energy professionals. This year's four lucky scholarship winners enjoyed a week in New Zealand and as well as attending the conference, had an introduction to New Zealand's industry and a taste of local culture. Emily will talk through her action-packed week of activities and give a brief summary of the conference.
We are looking forward to seeing you.