K-festival in New Zealand
About this Event
​<2021 K-festival has been postponed until further notice due to COVID 19>
We are with a heavy heart as we share very unfortunate news of K-festival postponing once again due to a recent discovery of Variant COVID 19 in our community.
We appreciate your support, interest, and encouragement for K-festival which was to be held on 20th February 2021. However, as members of various communities in New Zealand, we have decided to make this difficult decision to protect our community and the people within. For this reason, the event is postponed until further notice.
Our slogan for K-festival 2021 was better together and we believe that throughout this journey, we have definitely come together to support each other through the difficult times that we have faced. We also believe that we have become stronger and this experience can make it possible for us to make K-festival better and ready when it is safe.
We value the safety of everyone in New Zealand as this should be our number one priority at the moment. We wish you keep yourself safe and stay connected with each other.
We are truly better when we are together.
Best regards,
Kyoung Sook Wilson Byun of the Korean Society of Auckland
Yekwang Lee of the Auckland Korean Students' Association & K-festival Team.
Are you looking for something exciting in February?
We are introducing a must-visit Korean cultural event, "K-festival"
If you are a big foodie, you will love visiting the K-food festival where you can taste Korean tradition, contemporary and Korean fusion cuisine. If you are either a fan of K-pop or heard of BTS, K-pop music shows are must-see at the festival.
Regardless you are a K-culture novice or an expert, K-food lover or experimenter or if you want to have a great day out, this is a festival for you.
See you all at K-festival!
P.S. The event is hosted by Korean-Kiwis, with generous help with the Korean Society of Auckland and Auckland Korean Students' Association (AKSA).
Website Link: https://www.kfestival.co.nz/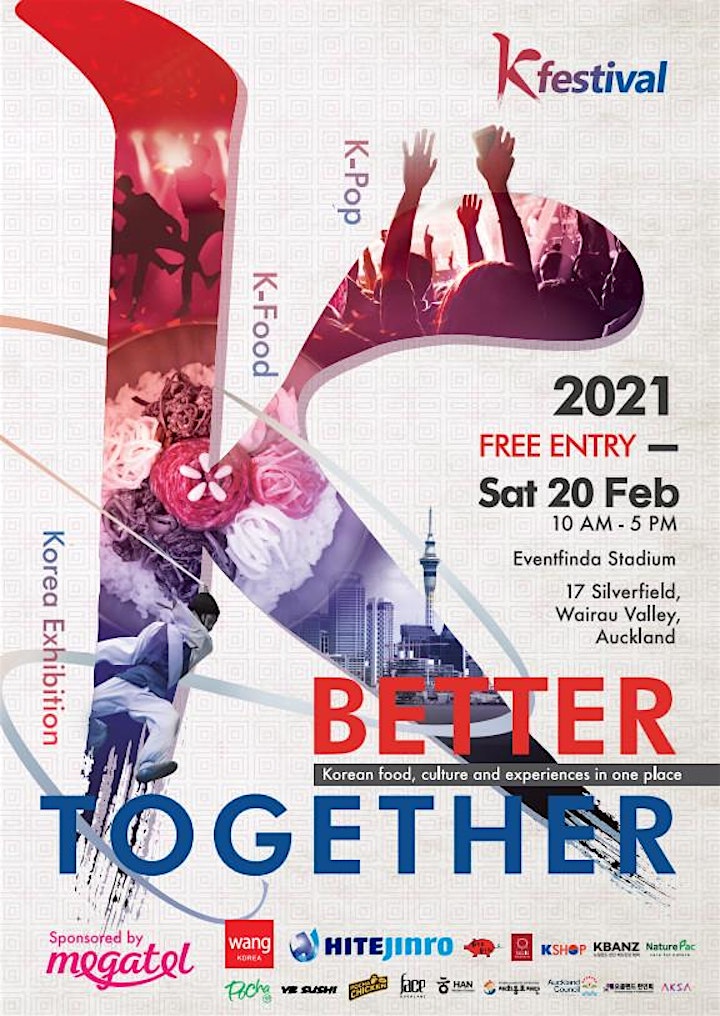 Alexa is a Korean_American singer based in South Korea. After placing in both seasons of the reality television contests Rising Legends, she signed with Zanybros and trained there for roughly two-and-a-half years. During this time, she competed on Mnet's Produce 48 and debuted on 21 October 2019, with the single "Bomb".
Her debut single "Bomb" is reaching almost 20 million views on Youtube and she released her new single called "오랜만이야" (Never let you go) on 17th January. You can check out her new single through the link below!