K-festival in New Zealand
About this Event
We are sad to share the unfortunate news that K-festival has been postponed until further notice.
We appreciate you for all your interests and supports for K-festival, which was to be held on 14th November 2020.
We understand that the news from today regarding community transmission in Auckland CBD has been a surprise and a concern to you.
As we value the safety of everyone, we have unfortunately decided to postpone the event until further notice. Although the New Zealand government has not announced their decision on the next steps, we wanted to take the initiative in following the standards and regulations by the New Zealand government to keep the New Zealand community safe.
We have spent so much time and efforts preparing for the event, but your safety matters the most to us.
Once the New Zealand government has confirmed that it is once again safe, we will bring back the K-festival.
Thank you for showing your interest and supports. We are hoping to go through this together again to be safe and healthy.
Please keep yourself safe during this time.
Best regards,
Kyoung Sook Wilson Byun of the Korean Society of Auckland &
Eunsol Choi of the Auckland Korean Students' Association.
Are you looking for something exciting in November?
We are introducing a must-visit Korean cultural event, "K-festival"
If you are a big foodie, you will love visiting the K-food festival where you can taste Korean tradition, contemporary and Korean fusion cuisine. If you are either a fan of K-pop or heard of BTS, K-pop music shows are must-see at the festival.
Regardless you are a K-culture novice or an expert, K-food lover or experimenter or if you want to have a great day out, this is a festival for you.
See you all at K-festival!
P.S. The event is hosted by Korean-Kiwis, with generous help with the Korean Society of Auckland and Auckland Korean Students' Association (AKSA).
Website Link: https://www.kfestival.co.nz/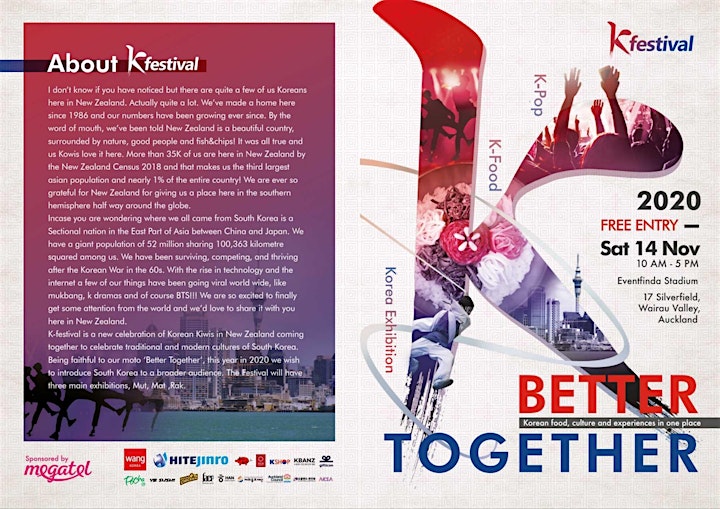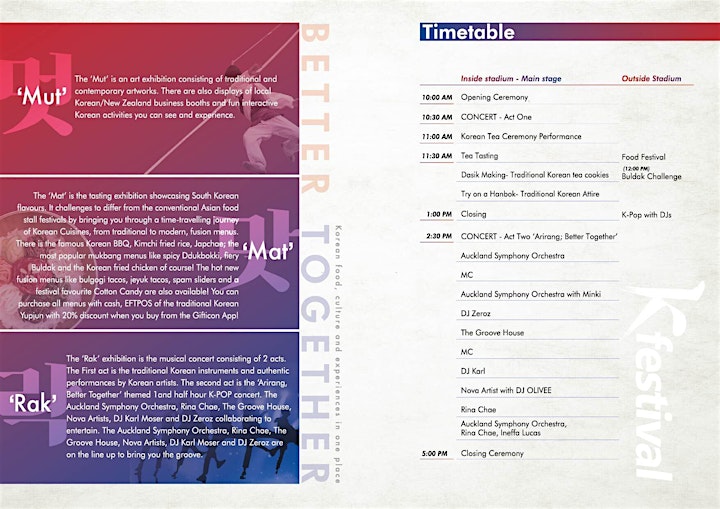 K-POP & NEW ZELAND ARTISTS' JOINT PERFORMANCE:
Rina Chae, Auckland symphony orchestra, Groovehouse, Konstellation, DJ ZEROZ, Elliye, Tteokbokki, Nova Artists