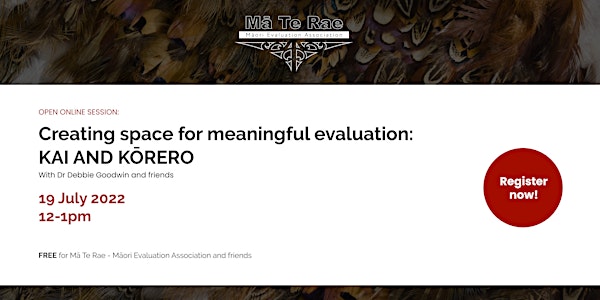 Kai and Kōrero - Creating space for meaningful evaluation
Creating space for meaningful evaluation: Development of a kaupapa Māori evaluation framework for evaluating co-design projects with Māori.
About this event
Co-design is a term and methodology that is being used prolifically across Government sectors and often thrusted on communities, in particular Māori communities, often with good meaning. However, there is a need to look closer at the processes and values behind co-design. What are the conditions for successful co-design with Māori and how might we ensure we are designing for real change?
As part of her PhD research Debbie developed and tested a range of questions, criteria and tools based on the experience and kōrero of Māori practitioners in the health and co-design sector.
Debbie will share an overview of her PhD mahi, culminating in the Tukutuku framework: a collection of evaluation tools to support the evaluation of co-design from a Māori perspective.
What to expect this session:
1. Clarity and perspectives on co-design
2. Hear and learn about the development of a kaupapa Māori evaluation framework
3. Tools for evaluating co-design
4. Connect with other practitioners in evaluation and design

Debbie Waireka Tuhi Goodwin
Debbie Goodwin, Ngai Tūhoe, Whakatōhea, Pākehā (BSocSc, MSW, PGDipPsych (Community)) is a Māori evaluation researcher working with the Tuakana Teina Evaluation Collective. Her background is in social sciences, social work and community psychology. She has practiced as an independent evaluator since 2007 and has completed a PhD in Kaupapa Māori Evaluation in co-design settings. Debbie combines a wealth of community-based work experience with strong research and evaluation skills, and has a particular focus on how the Māori and health, social and community sectors support communities and whānau on the ground. Recent evaluation mahi has involved work with Oranga Tamariki co-design projects, Māori-led co-design, and Healthier Lives co-design research. As a Māori researcher Debbie is cognisant of the issues related to Te Tiriti o Waitangi and research with Māori, Iwi, Hapū and whānau and is passionate about Māori development.
Debbie also has twenty-plus years experience in community organisation, community development, leadership and management, working in DHB, kaupapa Māori organisations, and youth mental health services. She currently serves as a Community Psychology Associate of the University of Waikato Graduate Programme, an Executive member of Mā Te Rae Māori Evaluation Association, and was the Regional Representative for IOCE the International Organisation for Co-operation in Evaluation (2017 – 2020). Debbie has led evaluation projects commissioned by New Zealand government agencies and been a team member on national, local government and NGO evaluations.