HNZ and Mary Potter are committed to ensuring that syringe driver training is available for clinicians working in ARC and Primary Care
About this event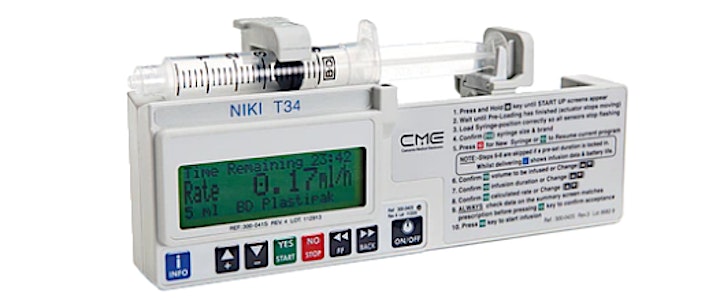 Welcome to the Hospice NZ full syringe driver competency practical assessment
Please read the information below.
If you are looking for an annual update, please click here.
This is a HNZ programme aiming to;
Assist Registered Nurses to obtain the theoretical and practical knowledge and skills they require to manage syringe drivers in their place of practice, and for Enrolled Nurses to be competent in checking.
Hospice NZ full syringe driver competency practical assessment workshop is being delivered in a two-step process:
In-person – practical assessment
Step One:
You will complete a 2-hour online module through PalEd. This an online learning tool that is available to staff in care facilities and community-based providers. The online training consists of 6 modules of theory with short quizzes at the end of each module. You will then complete a theory assessment where you need to achieve a pass mark of 80% and a drug calculations assessment where you need to achieve a pass mark of 100%.
To register for a username and password please click here to sign up.
**Please note: We recommend using a device with a Windows operating system. Some people have reported issues while using Apple devices.
Step Two:
Once you have passed the online theory and assessment you will be required to book with Mary Potter Hospice for a 1.5 hr practical assessment session, these are held on-site at Mary Potter Hospice or at a local care facility.
**Please note: The practical assessment session needs to be booked within 2 months of completing the online modules. You will only be able to book into the practical session once the online modules have been completed and you have passed the assessments.
Step Three:
A certificate will be issued once you have completed both the online theory and assessment, and the face-to-face practical assessment (a total of 3.5 hrs of training).
By booking your practical assessment session you are agreeing to our terms and conditions.
Subscribe to our education eNewsletter Tuia to keep in the loop with our education in palliative care.
Organiser of Kāpiti | HNZ full syringe driver competency practical assessment
Established in 1979, Mary Potter Hospice is a charitable trust. Over this time our values have remained firm – respect, compassion, dignity, hospitality and stewardship. We're committed to providing specialist palliative care for people living with life-limiting illnesses and their families or whānau in Wellington, Porirua and Kāpiti.