Kickon Records Presents: Bru-C
About this event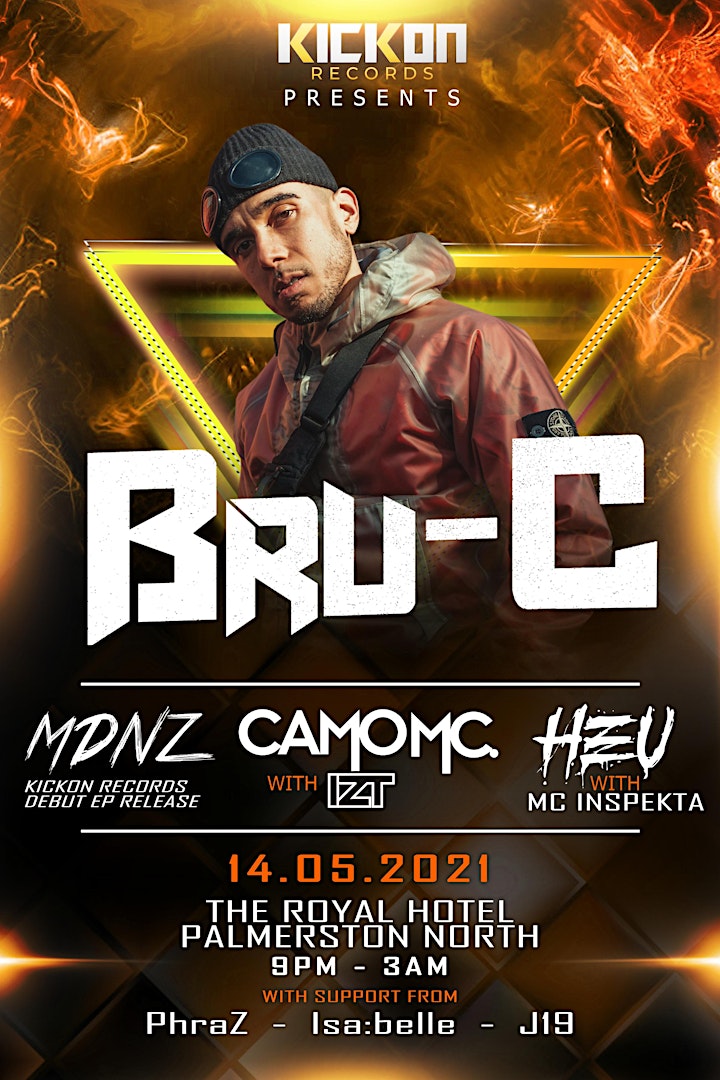 Kickon Records Presents: Bru-C
The legend himself Bru-C hailing from Nottingham, UK. He is an absolute weapon on the mic, and has collaborated with many different producers across the spectrum of bass music, with massive hits such as You & I with Simula, Down For You with Holy Goof and most recently Streetside with Bou.
We're stoked to be doing this first gig under the new name and we cant wait to go hard and enjoy a sick night with you all!
MDNZ
This madman man has been rather quiet lately, and for good reason. He has been in the studio working very hard cooking up fresh new music, and we can tell you for a fact his unreleased track folder is absolutely stacked with quality tunes to shell out. MDNZ will be the first artist
to release music on Kickon Records and we couldn't be more excited to get this out to you all. Th EP will be released on the week of this gig so keep your eyes peeled and we will have more information on this soon.
Heu
Has also been a very busy lad lately and has had 2 track EP released on Terra Firma Records (UK) and one of the tracks Tamepohe was featured on the Skankandbass YouTube page which is awesome! Both tracks are pure quality so go and check them out on Spotify.
Camo MC with IZT
The mighty Camo MC hailing from Christchurch is arguably one of the best home grown MCs in New Zealand and has done numerous headline shows with the biggest djs and producers in the country and has headlined gigs at venues such as Neck Of The Woods in Auckland. He has a single with Diligent Fingers dropping April 13th and the mighty DJ SS is dropping a remix of one of his originals at the end of April. IZT as most locals who have been attending these gigs at The Royal will know of will be coming in hot and heavy and throwing down a gritty fast paced set Palmy styles! These 2 have been matched up as they both compliment each others performance styles.
Also on support we the have local dons:
PhraZ who will be on the 1s and 2s for the man himself Bru-C.
J19 who has been smashing it lately with his sets, always bringing the vibes and having a lot of depth in his track selection and always keeping things intresting.
Isa:belle who is somewhat of a new comer but shows a huge amount of promise with her djing and has recently played at Love Not Lost in Wellington for the Kali collective and absolutely smashed it!
R18 Event