Kirtan Training with Sri Jagaran Mahato

Saturday, 21 March 2015 at 10:00 am

-

Sunday, 29 March 2015 at 1:00 pm (NZDT)
Event Details
Event Postponed due to Indian Travel Visa delays
Exclusive First New Zealand Tour 
The world of kirtan will never be the same after you have experienced this training with the kirtan master, Shri Jagaran Mahato of Purulia, an expert from a region called Rarh, the homeland of the kirtan tradition in India. Sri Jagaran has been performing and training kirtan groups for over 20 years. His traditional way of teaching kirtan, via direct transmission, has inspired countless students from all walks of life, and transformed many in the process.
Whether you are an experienced kirtan musician or an appreciator of kirtan, everyone is welcome to join us for this once in a lifetime experience.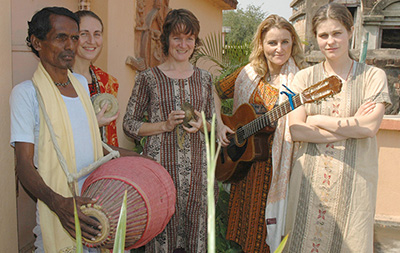 Testimonials
Six students attended the kirtan training at Dabar village in India with Sri Jagaran Mahato. They came from the USA, Ireland/London, Italy and New Zealand. Kavita and Tinku took up the khol playing, Mahajoy, Latika and Melani were the cymbal kartal players extraordinaire and Chorus singers. I was singing and playing guitar. The whole experience was incredibly transformative, singing with him for two hours every day, watching, following his signs, his singing, his beats, without talking.. without writing, just singing, playing, and repeating again and again until it sinks in and becomes you. – Jyoshna La Trobe (PhD), Director of Rarhi kiirtan training school.
Sri Jagaran Mahatos teaching method is possibly the most effective teaching method I have experienced. It involves no talking and no explanations. It is based on capturing every ounce of attention from the student, full alertness of all the senses and your intuition. Once he has that, he simply feeds you melody and rhythm and draws music out of you. – Lidia, Italy
Sri Jaragaran Mahato is constantly aware of everything going on, and doesn't allow us to miss a beat. I am always confident that he will direct me to the right rhythm because the kīrtans we are learning are complex and elaborate. – Mahajoy Laufer, USA
Venue: Kawai Purapura Retreat Centre, 14 Mills Lane, Albany, North Shore, Auckland
Book Now for once-in-a-lifetime kirtan experiences!!
Early Bird Prices: 2-Day 21-22 March ($99) or 5-Day 21-25 March ($299) 2015
PLUS! Selected students will accompany Sri Jagaran performances at the Yoga Festival 27-29 March
When & Where

Kawai Purapura Retreat Centre
14 Mills Lane
Auckland, 0632
New Zealand

Saturday, 21 March 2015 at 10:00 am

-

Sunday, 29 March 2015 at 1:00 pm (NZDT)
Add to my calendar
Organiser
Festivals at Kawai Purapura - Key Benefits 
15 minutes from Auckland CBD - by car or bus

40 minutes from Auckland International Airport via motorway

19 acres of native New Zealand bush

Bush walks, swimming pool, spa and sauna

On-site accommodation - single, twin, triple, marae-style

10 minute walk to Albany Westfield Mall

15-20 minute drive to East Coast Bays - Long Bay, Browns Bay, Takapuna, Devonport