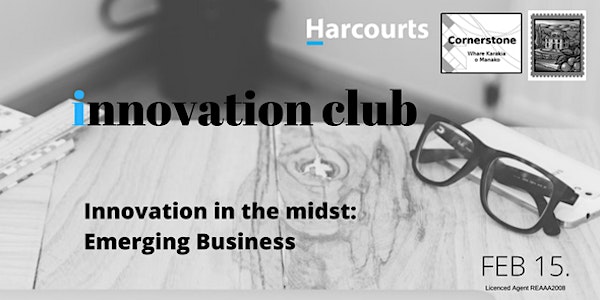 KKDBA Presents; The innovation Club: Innovation in the Midst - Proudly Spon...
Location
Cornerstone Event Center & Church
146 Kerikeri Road
Corner of Heritage Bypass and Kerikeri Rd
Kerikeri, Northland 0293
New Zealand
Description
Innovation in Northland: A panel discussion and Showcase of Local Emerging Business
Speakers:
Young Enterprise Trust - Fostering Local Entrepreneurs and Innovation in Northland
Olivado - The only provider combining olive & avocado, a global company passionate about local communities
BIZ SPACE - The start up for start ups...

.....and one more surprise panellists...
With the opportunity to work globally from your living room, local Northland business have been making a dent in world markets. This Innovation Club focuses on local business striving for innovation, and will provide up and coming emerging business the opportunity to showcase their "something new".
What is The Harcourts Innovation Club?
Networking and Professional Development. The Harcourts Innovation club is aimed at building on Judy Hylands B after 5 events. It is aimed at giving KKBA members the opportunity to network and to learn from one another. It is run by the Kerikeri Business Association and Proudly Sponsored by Harcourts Bay of Islands Realty & Far North. They will run quarterly. We look forward to seeing you there!
We thank our sponsors greatly for their contribution.