Location
Spark City
167 Victoria Street West
Auckland, Auckland 1010
New Zealand
Join the Kōkiri team and the current cohort to celebrate the end of the 2022 programme by attending our Showcase event
About this event
DATE | Thursday 23 June 2022
SCHEDULE
12pm - Nibbles and Networking
1pm - 3pm - Showcase event
3pm - 4pm - Networking with the teams
LOCATION | Invite-only event at SparkNZ, 167 Victoria Street West, Auckland CBD
This year we have the opportunity to celebrate the end of the 2022 programme and show the world our 2022 cohort teams. We'll also take the time to acknowledge our amazing funders, sponsors and support crew that make the Kōkiri kaupapa possible. Please reserve your tickets as soon as possible.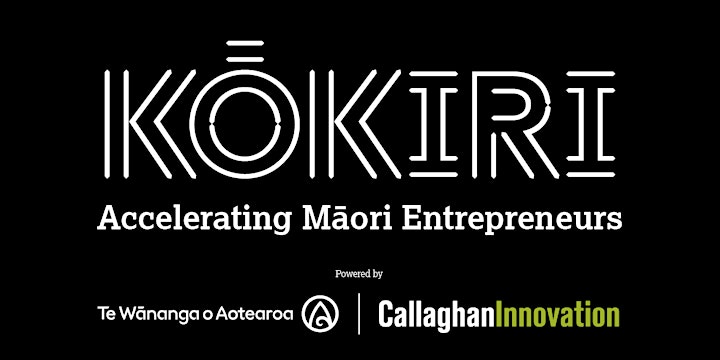 Kōkiri 2022 Teams and Founders
Twenty Tu - Based in Waikato, Tāmaki Makaurau, Bay of Plenty & King Country
Nau mai ki to mātou waka tauā, te waka o Toa. He whenua hou kei tua tawhiti e tipu matomato ana I ngā rourou ma te katoa e taria ai he tapuwae Māoei, Māori ake nei. Welcome to TOA, who are on a mission to bring truly authentic Māoritanga in all its mana to the digital world through NFTs.
Founders | Michael Poipoi (Ngāti Kahungunu, Ngā Puhi) Peke-Tupaea Manawaiti (Maniapoto) Taumata Soloman (Ngāi Tūhoe) 
Seasick Sunscreen Co. - Based in Te Whanganui-a-Tara , Wellington
Founded on a mission to protect people and the planet, Seasick Sunscreen Co. seeks to provide high quality sun protection, whilst reducing ocean pollution through harmful sunscreen chemicals and single-use plastic.
Founder | Natalie Jones  (Ngā Wairiki, Ngāti Apa)
Māoriverse - Based in Whangarei & Te Taitokerau  
Diving into the digital space, Māori Verse is a marketplace, directory and central hub for Pakihi Māori. A online space that connects consumers with Māori products, services, courses and events.
Founders | James Sigley (Ngāti Awa,Ngāti Kahungunu), Edith Davis (Ngāti Korora, Te Waiariki, Ngā Rauru), Donnella Piripi (Ngāti Korora, Te Waiariki), Wiha Hiku (Te Uri o Tai, Ngai Tūteauru), Taite Raniera (Ngāti Hine)
iRangatahi - Based in Waikato and Tāmaki Makaurau – Auckland  
iRangatahi is an edtech platform that looks to bridge the diversity gap that exists in the tech sector, opening the doors for rangatahi māori (youth) to explore careers in tech.
Founders | Dawson Marama (Ngāti Whakaue, Tuhourangi, Te Arawa), Cam Te Paa (Ngā Puhi)  
TAIORA – The Kindness Institute | Based in Tāmaki Makaurau, Auckland  
The Kindness Institute are leaders in youth mental health and their new partner service "TAIORA" is an edtech, evidence-based resilience and mindfulness teacher training program that will have lasting benefits for youth, teachers and health professionals in Aotearoa.
Founders | Kristina Cavit, Brady Polkinghorne (Ngāti Tamaterā), Te Aorangi-Kowhai Morini (Waikato, Tainui, Ngāpuhi) 
Let's Get Building - Based in Tāmaki Makaurau, Auckland  
Let's Get Building is a digital networking tool centred around the trades industry. Designed to connect those in the industry to support future growth, development and career opportunities.
Founders | Tamati McLeod (Te Atihaunui a Pāpārangi), Astrid van Uden
Ao Tiakarete - Based in Tāmaki Makaurau – Auckland
Decadent and luxury chocolates, created from the heart of Polynesia. Ao Tiakarete incorporates high quality ingredients sourced from across the Pacific, to serve their customers, and has aspirations to build the world's first Polynesian cacao school and apprenticeship programme.
Founder | Thomas Hilton (Ngā Puhi, Ngāti Whatua, Whakatōhea)
Culture Snap - Based in Kirikiriroa, Hamilton  
A stock photography/videography platform that provides representation of Māori and Pasifika cultures. A game changer for businesses in Aotearoa looking for diversity and inclusion in their brand imagery.
Founders | Tainui Berryman (Waikato), Kimberley Berryman (Ngā Puhi, Ngāti Raukawa)
Green Light Escrow - Based in Tāmaki Makaurau, Auckland
Green Light Escrow is taking a fintech solution to the trades industry, to support tradies to have better access to fair and on-time payments.
Founder | Max Semmons-Russell (Te Rarawa / Te Arawa)