See www.kundaliniyogafestival.com.au for the incredible lineup of presenters, teachers, workshops, meditations, yoga classes and live music
About this Event
So exciting to announce we will be holding space as part of the 2020 Kundalini Yoga Festival Sunday 29Nov - 7am to 7pm (NZtime) at the beautiful Savitri Temple in New Zealand.
See www.kundaliniyogafestival.com.au for the incredible lineup of presenters, teachers, workshops, meditations, yoga classes and live music available all day.
Tickets are only AU$65 or AU$44 Concession, for a full day pass and there are FREE tickets to join in part.
How to book your tickets:
PARTICIPATE AT HOME VIA ZOOM:
Purchase your festival ticket (AU$65 or AU$44 Concession) via the festival website above (No limit on tickets)
PARTICIPATE IN COMMUNITY AT SAVITRI TEMPLE KAREKARE, AUCKLAND NZ:
Reserve your place in the Temple by contacting Rayna directly, when we confirm your registration (only 15 places available in total) please purchase your festival ticket (AU$65 or AU$44 Concession) through the website link above.
So...
Create your own temple space and join from the comfort of your own home, or come to the beautiful Savitri Temple studio with breathtaking views of Karekare Beach and the Tasman Sea beyond, and join us for a group experience.
We will be live streaming with the rest of the world via ZOOM on a large screen.
A sumptuous banquet of fresh organic and lovingly hand made fusion and traditional Indian meals will be available at lunch and dinner. So very tempting and nutritious. Information and cost available at time of registration.
Savitri Temple is located at Sacred Earth Retreat, 122 Lone Kauri Road, Karekare, West Auckland (Off Piha Road).
Places are strictly limited to the first 15 confirmed registrations.
For any questions at all please contact Rayna Love mob 0274640691 or rayna@thelightroom.co.nz
We look forward to sharing this very special occasion with you.
Sat Nam
THE HEART OF KUNDALINI
NEW GENERATION
An online experience + gathering with your local yoga community to live-stream the event
Sunday November 29
7am Sadhana + Music free!
11am - 7pm Festival Talks, Open Conversations, Healing Kriyas & Meditations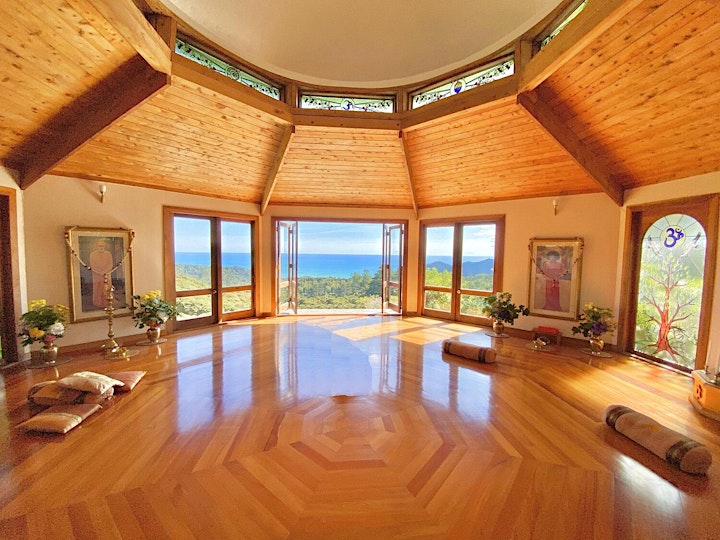 Savitri Temple, Sacred Earth Retreat, 122 Lone Kauri Road, Karekare, Auckland