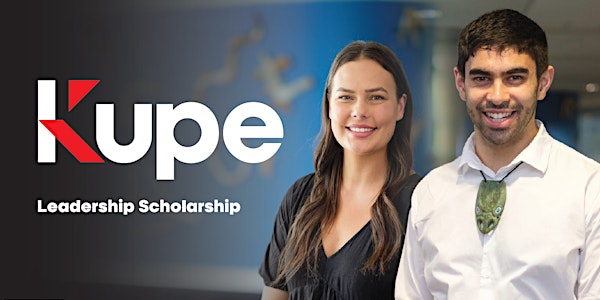 Kupe Leadership Scholarship Online Information Session - 27 July
2023 Kupe Leadership Scholarship Online Information Session
About this event
Interested in applying for a 2023 Kupe Leadership Scholarship?
Take this opportunity to meet the programme team and an alumnus to find out everything you need to know about this fabulous postgraduate Scholarship opportunity. Take up the chance to ask any questions you may have about the Scholarship and Leadership Development Programme.
The prestigious Kupe Leadership Scholarship offers a unique opportunity for exceptional students from all faculties to enrich a year of postgraduate study at Waipapa Taumata Rau, University of Auckland. The scholarship is for aspiring leaders who care deeply about Aotearoa New Zealand and who have a strong desire to serve.
The programme includes:
• Bespoke leadership programme
• Personal mentor connected to your area of interest
• Leadership speaker series
• Stipend of $22,000 (or a $10,000 stipend plus on-campus studio accommodation)
The Scholarship offers a cohort of Scholars an exciting experience of personal growth and challenge alongside their Masters, final year Honours or Postgraduate Diploma courses at the University of Auckland.
Read more about Kupe Leadership Scholarship here
Read more about the 2022 Kupe Leadership Scholars here
For full-time study at Waipapa Taumata Rau, University of Auckland in 2023. To be eligible for the scholarship you must be you must be a Citizen or Permanent Residents of New Zealand and must have lived in New Zealand for at least five years in the ten years preceding the year of application. See the regulations for further information.
Applications close midday Thursday 25 August 2022.
A link will be sent to registered attendees prior to the session.