Land, Law and Te Tiriti o Waitangi: Climate Mobility to Aotearoa NZ
Online talanoa about an Indigenous response to migrating to Aotearoa New Zealand in the context of climate change
About this event
In Aotearoa New Zealand, public and political discussion of climate mobilities generally focuses on the Pacific. Aotearoa New Zealand has expressed a responsibility towards supporting our Pacific neighbours, and is a likely destination for future climate migrants due to political and relational connections with the Pacific.
Accordingly, the New Zealand Government is preparing to develop an 'action plan' to respond to Pacific climate mobilities, and has already committed to providing offshore Pacific-focused aid. Yet, onshore, there remains no formal policies to facilitate climate-related migration.
Further, the role of tangata whenua and Te Tiriti o Waitangi in climate mobilities governance is rarely mentioned. This raises questions about who are the true 'hosts' of climate migrants, the place for self-determination, and the potential for a whakapapa-centred action plan.
Join knowledge holders from across the Pacific and Aotearoa as they share their visions for a reimaged, reindigenised response to climate mobility in the Pacific. This talanoa is hosted by the Centre for Asia Pacific Refugee Studies at the University of Auckland as part of the talanoa series, "Across the changing shores: Climate Mobilities in the Pacific".
Speakers include:
Vaeluaga Iosefa (Nukulaelae, Niutao, Tuvalu; Atafu, Tokelau)
Johnnie Freeland (Ngāti Te Ata Waiohua, Ngāi Tūhoe), Mana Whenua Kaitiaki Forum; Senior Māori Advisor for Oranga Tamariki
Tihau Bishop (Rakahanga, Cook Is), CLIMSystems, Pacific Atolls Survival Trust
The talanoa will be guided by Lisepa Paeniu (Nukulaelae, Tuvalu), Crown Counsel of the Attorney General of Tuvalu.
You will be sent a Zoom link for the webinar closer to the time through the email address that you provide to Eventbrite. Or, click this link: https://auckland.zoom.us/j/98158187942
4th OF AUGUST , 7:00 - 8:30 pm NZST ||, 08:00 London / 13:00 Dhaka / 17:00 Sydney / 19:00 Auckland, Suva, Majuro / 20:00 Apia, Nukuʿalofa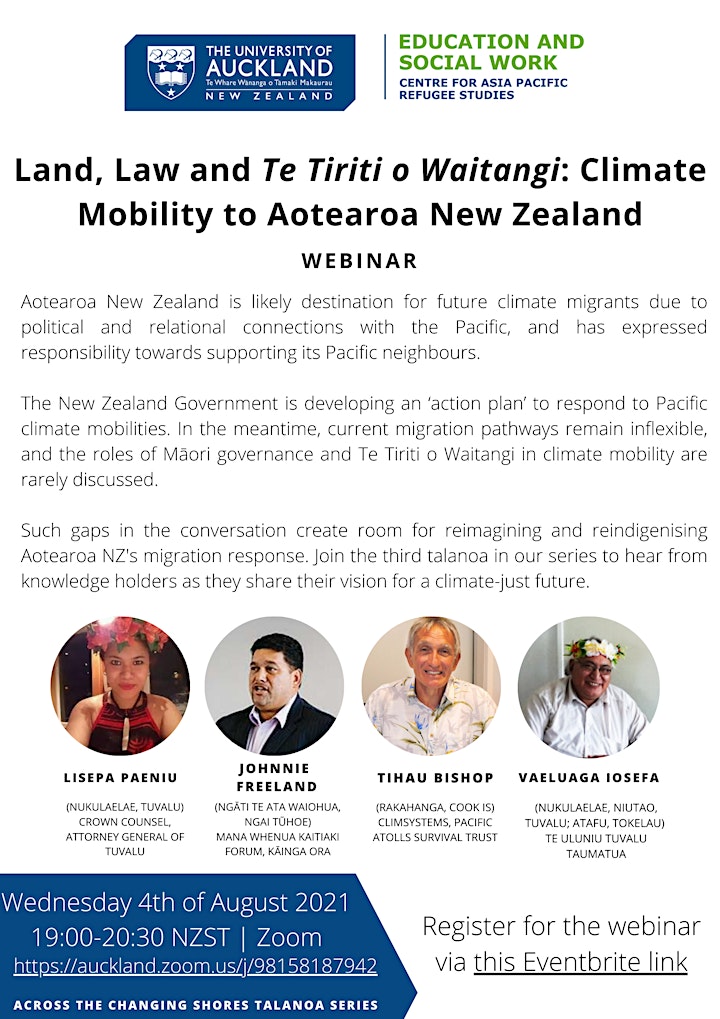 Organiser of Land, Law and Te Tiriti o Waitangi: Climate Mobility to Aotearoa NZ