About this Event
This event has been rescheduled to 18th October. Thank you for your understanding.
Programme
#Beethoven200
#Chopin210
Bach: Prelude and Fugue in B-Flat Minor, WTC I, BWV 867
Haydn: Sonata in E-flat Major, Hob. XVI:52
I. Allegro (Moderato)
II. Adagio
III. Finale: Presto
Gao Ping: Distant Voices (1999)
I. Nostalgia
II. Lovesong of Kangding Town
III. Blue Flower
INTERMISSION
Beethoven: Sonata in A-Flat Major, Op. 110
I. Moderato cantabile molto espressivo
II. Allegro molto
III. Adagio ma non troppo – Allegro ma non troppo
Chopin: Ballade in F Minor, Op. 52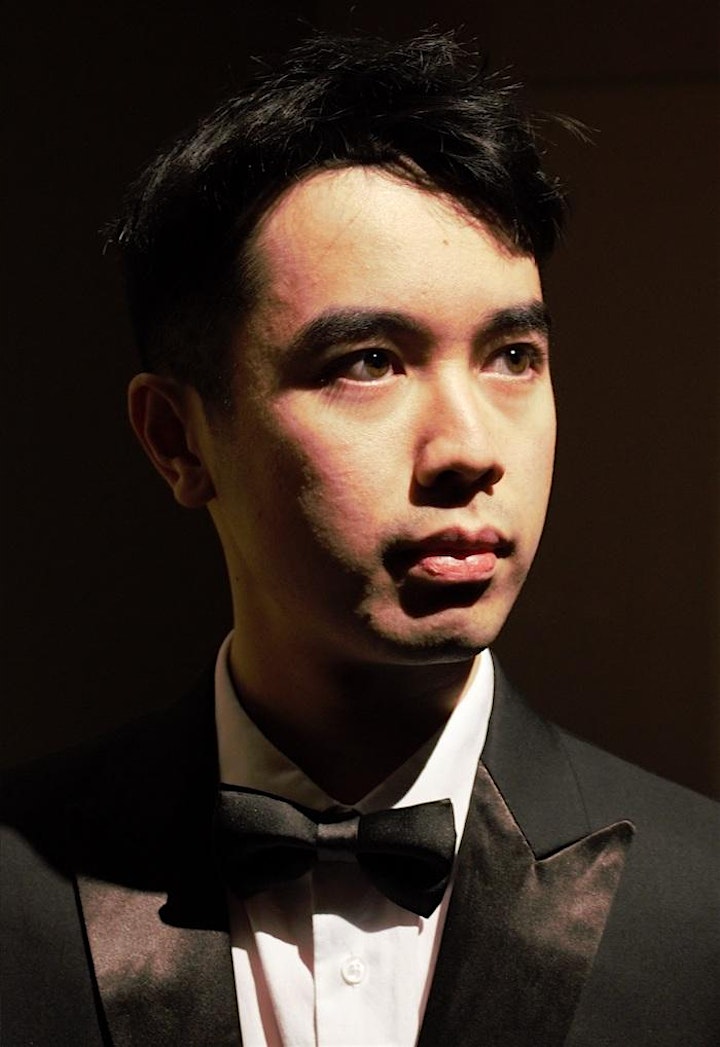 Lawrence Wong, piano
Born in Hong Kong and raised in New Zealand, Lawrence Wong recently graduated with a Performer Diploma in Solo Piano Performance at Indiana University Jacobs School of Music studying with Professor Emile Naoumoff. He previously completed his BMus (Classical Piano Performance)/ BSc (Medicinal Chemistry) conjoint degree at the University of Auckland under the tutelage of Qu Yong and Bryan Sayer, and last year he completed his MMus degree with a Distinction Award at Lee University with full scholarship, studying under Professor Cahill Smith.
Over the past few years he has won several prizes and scholarships in regional and national competitions in New Zealand. In addition, he has competed in several Australasian and International Competitions, notably the Kerikeri International Piano Competition 2010 (Prize-winner), Lev Vlassenko Piano Competition 2011 (Semi-finalist), 6th China International Piano Competition 2013, the 3rd Asia-Pacific International Chopin Piano Competition 2015 (Semi-finalist), the 14th International George Enescu Piano Competition 2016, and the 4th China Shenzhen International Piano Concerto Competition 2017.
He has participated in masterclasses by Hiroko Nakamura, Michael Houstoun, Christopher Elton, Natasha Vlassenko, Ilya Rashkovskiy, Kalle Randalu, Pei-Chun Liao, Chih-Long Hu, Cathal Breslin, and Guillermo Gonzalez. In addition, he has received private lessons from notable pedagogues such as J.Y. Song, Gabriel Kwok, MinJung Baek, Daniel Shapiro, Roberto Plano, Natalya Antonova, and Jerome Lowenthal.
Recipient of the Lewis Eady Emerging Artists Award in 2014, he was invited by the Hong Kong Economic and Trade Office to perform in February 2016. He was awarded second prize at the University of Memphis International Piano Competition and Festival in 2017. Last year, he was awarded seven institutional acceptances in the USA with substantial scholarships (Cincinnati College-Conservatory, Cleveland Institute, Indiana, San Francisco, Manhattan, Mannes, Peabody). Recently, he was awarded several institutional acceptances (Eastman, Indiana), and will pursue an Artist Diploma in Solo Piano Performance at Indiana University Jacobs School of Music with full scholarship and Graduate Associate Instructorship, continuing studies with Prof. Emile Naoumoff next fall.