Learn How To Make $100,000 In The Next 12 Months Using the Internet.
Description



THE HOME BUSINESS SUMMIT: Learn How To Make $100,000 In The Next 12 Months Using the Internet (April 07-09, 2017)
---
Learn How To Profit From The Internet Right Now!
You Will Leave This LIVE EVENT Knowing Exactly What You Need To Do To Make $100,000 In The Next 12 Months Using the Internet.
The Home Business Summit is an "international event tour" where you will learn the insider secrets on what is working RIGHT NOW (not 6 months or a year ago) in online marketing and how to profit from the internet.
Every single speaker is an "in the trenches" online marketer – they are DOING what they teach – and they will show you exactly what you need to do to make $100,000 in the next 12 month using the Internet.
We have hand-selected the finest instructors so that you'll receive outstanding training through their knowledge and experience. It doesn't matter what your current level of online marketing is. Your trainers will be teaching you the techniques and strategies you need to become successful. The MOBE team will show you steps so you can minimize your risk and maximize your profits.
At The Home Business Summit you will learn the TRUTH ABOUT TRAFFIC and the "missing half" of the equation that separates the Internet Millionaires from the Internet Failures.
… and WITH the confidence of knowing exactly what you need to do to "flip on the switch" and start making $5,000 to $10,000 every single month from home in your spare time.
At The Home Business Summit, we will distill over 60,000 hours of knowledge into 3 days of simple how-to, step-by-step training.
We will take EVERYTHING we've learned over the years about what REALLY works when it comes to making life-changing money online and give you the "golden nuggets" you need to succeed.
You'll learn the exact steps you need to take in order to get $5,000 to $10,000 coming into your bank account every single month.
The Home Business Summit is for EVERYONE… even if you've never made a single dollar online.
We will be covering basics, like:
How to build an email list and turn it into a

non-stop ATM.

The traffic & lead-generation secrets

of the super-rich.

How to CONVERT leads into buyers

and bring in consistent, recurring cash flow on auto-pilot.

Which products to promote

to maximize your commissions.

How to get your FIRST SALE online

(this is one of the best feelings in the world if you haven't experienced it).

How to automate your entire business

, so you can make MORE money in LESS time.

How to engineer your "dream life."

How to setup your business so you can travel

when & where you want to and have the time and freedom to enjoy your new-found income.

What terms like PPC, CPC, AVV, EPC, and SEO

stand for and (more importantly) how to employ the concepts behind them to make thousands of dollars per month.
And more...
PLUS… a "secret weapon" that will allow you to start making $10,000 a month online WITHOUT creating your own products, WITHOUT dealing with customers, and WITHOUT doing any selling.
You'll leave the event WITHOUT confusion, WITHOUT wondering what to do next, WITHOUT self-doubt…
This Can Change Your Life In A SINGLE Weekend, Like Our Events Have For So Many Others....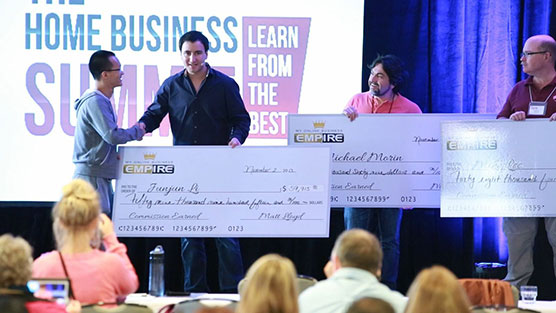 The one-time fee for The Home Business Summit is only $497 for a 2 person ticket.
These prices are really NOTHING compared to what this event can do for your financial future.
Think of it this way… if you make just ONE high-ticket sale from what you learn at the event, then you could potentially earn $5,000 in commissions…
(Don't worry…we'll show you a simple "easy to implement" secret to start making $5,000 commissions like this over and over again and how anyone can do it (even if you've never made a sale online before in your life)).
If, at the end of the three days you don't feel 100% confident that you can implement what you have learnt to earn your first $100,000 online over the next 12 months, MOBE will refund your full investment in The Home Business Summit.
You really have nothing to loose and everything to gain!
Why You're Really Getting This For FREE...
If you make just 1 sale from what you learn at The Home Business Summit, you'll MORE than cover the cost of your ticket. So in a way, you're not really "paying" for it at all… it's more of an investment in your future.
There is NO OTHER EVENT engineered for people just getting started that will share as much real-world, "what actually works" information as The Home Business Summit.
Decide right now that you will have a highly profitable online business. Then register today for MOBE's Home Business Summit.
Get the right training in online business fundamentals. Prepare yourself for a smooth ride to $100K per year.
N.B. Please reserve your seat via this Eventbrite page and then proceed to the following link to confirm your booking and make payment.
Your place will not be secured until you confirm your booking and make payment HERE
Date and Time
Location
Millennium Gloucester, Kensington
4-18 Harrington Gardens
Kensington
SW7 4LH
United Kingdom