POSTPONED LEARNING SPACES AOTEAROA 2021 Researching and Exploring Contemporary Learning Environments
About this event
Learning Environments New Zealand regret to inform you that, as a result of the ongoing uncertainty of the impact of COVID-19 restrictions, we have decided to postpone Learning Spaces Aotearoa until the first term of 2022.
The genesis of the conference is to create an event that brings us together, from across the country, to enable us to be in schools and other learning environments as part of the experience, hence an online option for this conference is not appropriate.
Postponing until early next year will hopefully allow us to provide the full opportunity to all participants.
All tickets which have been booked, and paid for, will be reimbursed in full.
We are still working on a new date in 2022 and very much hope you will be able to join us then.
LEARNING SPACES AOTEAROA  2021                                                                                                                                            
Learning Spaces Aotearoa is a one day conference aimed at connecting those passionate about designing spaces and transforming the lives of the people that use them.
Hosted at Wellington East Girls' College, MC Derek Weymouth, will guide delegates through a full day of talks and site visits showcasing the best of what contemporary learning spaces can offer.
This year's event begins with our Keynote speaker entrepreneur Charles Ma who will discuss the importance of building diverse communities among other thought-provoking topics.
The day will continue with a series of Mini-Talks by industry experts in education, design and research. Each talk is designed to provoke and stimulate thinking around cultural influences, school wide learning culture, climate change, collaborative pedagogy and the ways in which we involve tamariki in the design process. In addition to our speakers we also have site visits - an opportunity to explore some of Wellington's newest, unique and contemporary learning spaces.
The day will conclude with Bookend speaker Principal and disrupter in education, Nicola Ngarewa.
The full programme is available here
TICKETS:
Non-member: $250
LENZ Member: $200
Educator/Student: $150
LENZ Members and Educators/Students wishing to attend should e-mail nzadmin@a4le.org.nz for the promotional codes to receive their discounted tickets.
*If you wish to receive the discount for this event and also join us for free at one or more of our 12 nationwide events throughout the year become a member and write to nzadmin@a4le.org.nz
Note: each ticket must be booked separately. At check out every participant will  have the opportunity to select the tour of their choice while also nominating specific dietary requirements for catering purposes.
Registered architects can claim 60 CPD points for attending the conference (40 design, 20 core professional development), registering through the NZRAB CPD website under Contact>Claiming Points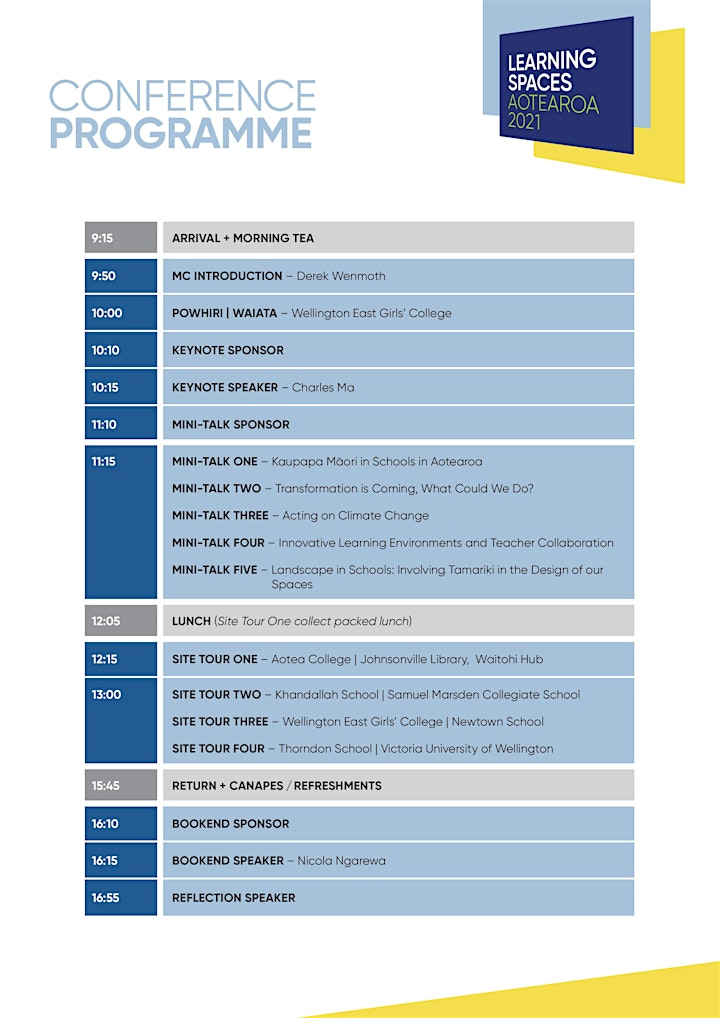 Learning Spaces Aotearoa 2021 is kindly sponsored by: