Celebrating excellence in Educational Facilities, an event to announce the Winners of the LENZ AWARDS 2020
About this Event
Join us to celebrate excellence in innovative learning environments, as Learning Environments New Zealand announce the Winners of the LENZ AWARDS 2020.
Come along to hear our speakers, Robyn Phipps and Mikael Boulic, illustrate some of the latest research and reflections in the educational realm.
Robyn Phipps is the Professor in Construction and Director of Research for the School of Built Environment at Massey University. She has extensively researched the performance of homes and schools, including heating, ventilation and energy efficiency. She is a Director of the New Green Building Council and a Trustee of the Property Foundation and founding member of the Indoor Air Quality Research Centre.
Mikael Boulic is a lecturer in building technology at Massey University Auckland Campus. He is also researching on air quality in the classroom and occupants 'wellbeing. Through two MBIE funded Unlocking Curious Minds grants, he has contributed to increasing the occupant's awareness around the importance of a healthy classroom environment. He has led the team who designed the SKOol MOnitoring BOx (SKOMOBO). SKOMOBO, an air monitoring platform, was awarded the New Zealand Institute of Building Innovation Excellence Award in 2018.
Presentation:Children spend the second-largest proportion of their time at school, so providing a good-quality environment in their classrooms is essential for their health, well-being and performance at school.In the last six years, as part of the Healthy School Research Programme (He Wharekura Oranga), Massey University (in collaboration with partners from New Zealand Universities, Crown Research Institutes, Construction Industry and Building Research New Zealand) have led a few research projects in New Zealand schools.He Wharekura Oranga is looking at understanding the current classroom air quality and how it could be improved with measures like better ventilation practices, to increase well-being and cognitive performance. Some projects were also designed to raise awareness of air quality and empower people (students and teachers) to take action to improve it. Robyn and Mikael will discuss challenges, opportunities, and how can the research results be translated into practice. A few developed products used during these school projects will be demonstrated.
Following the presentations, the announcement of the LENZ AWARDS 2020 Winners will be made.
In a year of challenges, it is opportune and important to celebrate the achievements of educators, policy makers, project managers, together with architects and designers, who have delivered excellence in educational projects.
In the inaugural LENZ AWARDS 2018 edition, the Overall Winner was Cathedral Grammar Junior School, in Christchurch, by Andrew Barrie Lab and Tezuka Architects.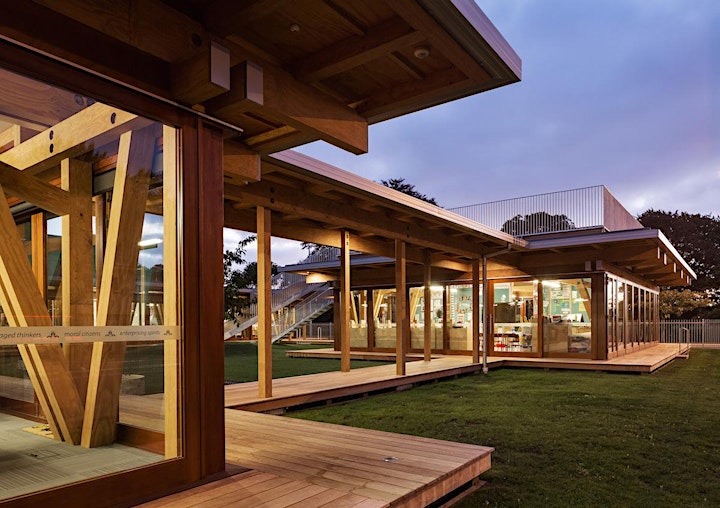 The event starts at 5:30pm with some networking time as attendees gather, followed at 6:00pm by the presentations and at 6:40pm LENZ AWARDS announcements.
Refreshments will be provided.
COST:
- All non-LENZ members - $20.
- Learning Environments New Zealand members - free.
Members please e-mail nzadmin@a4le.org.nz for the promotional code to access your ticket discount.
* If you are interested in becoming a Member and enjoying our events and excellent networking opportunities without charge please send a message to nzadmin@a4le.org.nz
Registered Architects can apply for 5 CPD points for attending this event.
At our face-to-face events, LENZ will be following NZ Government guidelines.
LENZ ask you to not attend the event, if you are feeling unwell, reflecting the "Stay home if you're sick" best practice policy.
The event is kindly sponsored by: