Description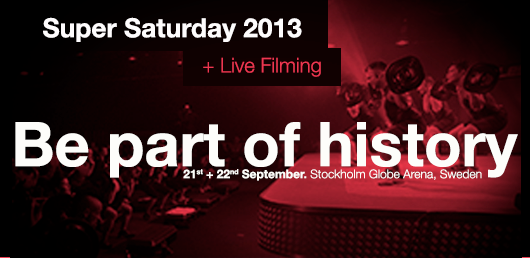 Love Les Mills group fitness classes?
Then don't miss this exclusive opportunity to
experience the latest releases filmed live at Super
Saturday!
You have already booked your Super Saturday package? Enter your Nordic ID in the promo code field first!
Who said you need to be an instructor to attend to the filming of the coolest new releases? We are opening our doors to everyone on Sunday! Be part of the filming of your favourite program and, while you are there, try 2 or 3 new ones. Exercise with our choreographers and be part of the biggest Les Mills fitness class ever made! Please note that BODYPUMP™

is sold out.
Come as a group, bring your friends with you and represent your club!
FAQ:
- I have a ticket for Saturday, should I purchase a ticket here? You can do so only if you are already registered with us. Otherwise, you need to visit www.lesmills.com/supersaturday to access the webshop.
- I would like to attend the SuperSaturday workshop or a filming class on Saturday too! Great!! visit www.lesmills.com/supersaturday. Note that Saturday filming classes cannot be purchased alone: you need to purchase a ticket to the workshop and add your filming classes for the Saturday.
- Is this event only for instructors? No, all classes during the weekend are open to anyone. NOTE: If you are an instructor, it will be counted toward an attendance to a quarterly workshop only if you attend on Saturday.
- Why is it more expensive on the eventbrite platform? There is a small price difference from the Les Mills Nordic webshop as you don't have to purchase an access to the SuperSaturday quarterly workshop when buying classes for Sunday here.
- Will I be filmed? It's up to you: If you want to have a chance to appear on our Instructor DVD, position yourself in the first few front rows. Les Mills DVDs are an education tool for our instructors and are not available to the public. Our camera crew will focus mainly on the presenters and take a few shots of the participants.
Note that the production crew might decide to relocate some participants in the first few rows. Some images might also be used for marketing purposes..
- Why do I only see some programs on the eventbrite platform? We are filming BODYBALANCE™, SH'BAM™, BODYJAM™, BODYVIVE™ and RPM™ on Saturday. Only registered participants for the Saturday can purchase those classes. You are welcome to participate in the filming of those classes but you will need to purchase your classes along with access to the Super Saturday Quarterly workshop (this will also give you access to 20 other classes on Saturday). Visit www.lesmills.com/supersaturday to purchase this package. Note that the filming of RPM™ on Saturday and BODYPUMP™ on Sunday are sold out.
- I heard there is a discount on flights to Stockholm? Yes, we have partnered with the Star Alliance network for this event. Many Airlines like SAS, LUFTHANSA, SWISS and TAP in Europe will fly you to the event with a discount. Click here for the details of the offer
- Do I need my instructor ID number to purchase a ticket? No