Celebrating the incredible milestone that is Lewis Eady's 140th Anniversary, with special guests NZTrio.
About this event
Update 15 October: This event is now SOLD OUT. Please email lectadmin@lewiseady.co.nz to be added to the waiting list.
We are delighted to announce NZTrio as our Mystery Guest Ensemble for the final instalment of the Lewis Eady 140th Anniversary Concert Series. NZTrio has long been friends of Lewis Eady and performed in our showroom for our 130th Anniversary in 2010. Join us on Sunday 22 November and let's celebrate together the incredible milestone that is Lewis Eady's 140th Anniversary!
Sunday 22nd November, 7:30pm – 9pm
(Doors open at 7pm | Complimentary drinks & nibbles)
Lewis Eady, 75 Great South Road, Epsom
LEWIS EADY - CELEBRATING 140 YEARS
Established in 1880 by Lewis R Eady, Lewis Eady was the oldest family-owned and operated music business in Australasia until its acquisition by Chiron Group New Zealand in 2019. Today, Lewis Eady specialises in pianos, guitars and music education. Lewis Eady's love and devotion to music has been the driving force of the business for 140 years and has undoubtedly instilled a genuine appreciation of music to generations of New Zealanders.
OUR MYSTERY GUEST ENSEMBLE: NZTRIO
Described as a "national treasure" and "New Zealand's most indispensable ensemble" (William Dart, NZ Herald), NZTrio is renowned for its eclectic repertoire, outstanding talent and warm kiwi stage presence. The trio smashes outmoded preconceptions of classical music being stuffy or intimidating by presenting a fresh and approachable style that appeals to listeners from all walks of life. Every NZTrio performance reaffirms the importance of a live musical experience in today's digital world. The group curates a powerful audience experience by pairing intimate, acoustically dynamic venues with unique and engaging musical programmes that challenge, move and inspire.
Amalia Hall, violin
Ashley Brown, cello
Somi Kim, piano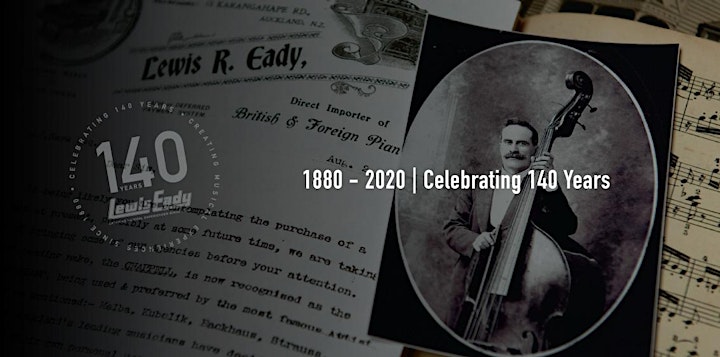 LEWIS EADY | CREATING MUSICAL EXPERIENCES SINCE 1880
The iconic music business, Lewis Eady is celebrating its 140th anniversary in 2020. From July until November, Lewis Eady will host an array of events in celebration of this milestone. Find out more at www.lewiseady.co.nz/140th-anniversary-events
All media enquiries to gemmaleepiano@gmail.com.
Organiser of Lewis Eady 140th Anniversary Celebrations with NZTrio
LEWIS EADY | CREATING MUSICAL EXPERIENCES SINCE 1880
Lewis Eady has been in business for 140 years so we know a thing or two about quality instruments! Visit our Auckland showroom to see our premium range of Steinway, Boston, and Essex pianos. Book a piano tune or servicing from our Steinway Piano Technician and keep your instrument in tip-top condition. We also stock quality acoustic guitars, including Martin, Fender and Alhambra, ukuleles, and also offer guitar maintenance services. Home to New Zealand's leading Music School, we now also offer Live Online Music Lessons so you can learn an instrument from wherever you are in the country.
Whether you're looking for an instrument or keen to develop a musical talent, Lewis Eady is here to help! Contact us at music@lewiseady.co.nz or see you at 75 Great South Road.
Lewis Eady is a part of Chiron Group New Zealand, a private music education business in Auckland dedicated to fostering a lifelong love of music.