As part of Netsafety Week, we have gathered a variety of individuals to share their experiences of being LGBTQIA+ in an online setting.
About this event
Netsafe is hosting a range of webinars between 10am and 1.45pm on Tuesday 26th July. Please register your interest and we will send you the event links closer to the time.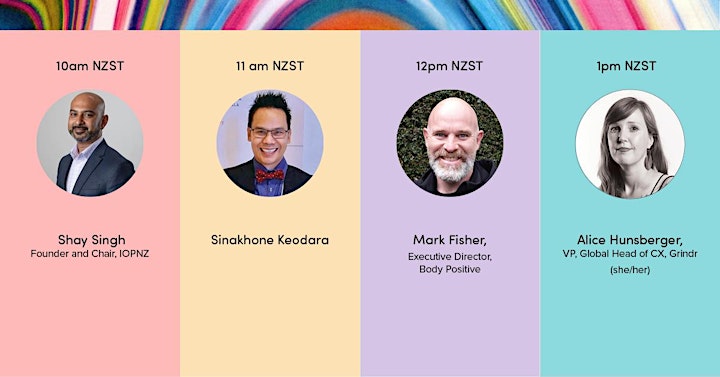 10 AM to 10:45 AM
Shay Singh, co-founder and chair Indian Origin Pride New Zealand (IOPNZ): Rainbow online safety from a cultural lens.
Shay Singh is the co-founder and chair of Indian Origin Pride New Zealand, which raises awareness of the rainbow community within Indian cultures.
Shay is a PACENation Fellow. He is currently leading the PACENations-Growing the international market project and coordinating activities outside the United States to promote broader awareness of Property Assessed Clean Energy (PACE) Finance internationally and support the adoption of PACE programs (or the establishment of an equivalent financial instrument) in countries around the world. Shay is also a highly experienced leader of environmental upgrade and sustainable finance programs across Australia and New Zealand.
11 AM to 11:45 AM
Sinakhone Keodara: A threat to sue that changed the dating game.
Sinakhone Keodara has volunteered his time and lent his talents to various social justice causes ranging from advocating for removing Unexploded Ordnance from the Vietnam War era from his home country to the gay marriage fight in America to other multiple social justice issues. Sinakhone founded BodiGuard in 2021 in response to an onslaught of anti-Asian hate attacks. His mission is to provide protectors for vulnerable individuals and small businesses as they move through their lives.
In 2018, he threatened to sue Grindr for allowing the proliferation of sexual racism against gay Asians that culminated in the dating app industry changing its user guidelines to ban discriminatory language from their user profiles.
12 PM to 12:45 PM
Mark Fisher: Misinformation and homophobia – Get the facts straight
Mark is a highly regarded and hugely capable leader with significant experience internationally in the HIV sector. Before moving to New Zealand in 2013 Mark was a Director at The Ontario HIV Treatment Network in Toronto Canada for 8 years and prior to that spent 10 years working at Ontario Public Health Laboratory. He utilises his background in technology and passion for the HIV Community to manifest change. Being grounded in the public health and not-for-profit sector he rises to the challenge of working within limited budgets whilst making a significant impact that is soundly based on scientific evidence and community values.
1 PM to 1:45 PM
Grindr: Safely connecting the queer community
With 11 million LGBTQ+ users logging on from every country in the world, Grindr is the largest social network for the queer community.
Since its launch in 2009, Grindr has grown to become a fundamental part of users' daily lives globally.
With a mission to connect the queer community with one another and the world, Grindr has regularly taken steps to foster a more inclusive and welcoming environment for all of their users, from creating progresssive, power-dynamic aware community guidelines, enforcing thoughtful behavior policies, and consistent awareness campaigns to model better behavior for users on the app.
Alice Hunsberger, VP, Global Head of CX at Grindr joins us to talk about taking steps they're taking to encourage a kinder, more respectful queer community.