It's that time again, time to cleanse and upgrade your physical being.
About this event
We are so excited to be running this cleanse around the theme of light and frequency. The cleaner our body, the more open we become to freedom of movement, thought and energy. In this amazing body-focused cleanse we will be making major enquiry into the state of our nervous systems (our energetic body) and will discover how we can sooth ouselves into a coherent state which is receptive to higher frequencies and deeper states of awareness. This cleanse has so much.
- A food plan
- Several flexible baseline diets to choose from
- Daily Yoga
- The support of an experienced guide
- A community of like minded people and so many hot tips.
We explore what its like to live more conciously with technology, engage more in nature, cleanse the body with healthy food, explore what hydration feels like and settle the mind with a multitude of practices.
This is the most holistic and intimate cleanse programme in the world - your kind and experienced host is there with you every step of the way and this programe will change how you feel about life and the experience you have in your body.
By joining us you will transform and upgrade your life as it is, to what you want it to be.
https://myjoybody.com/cleansing/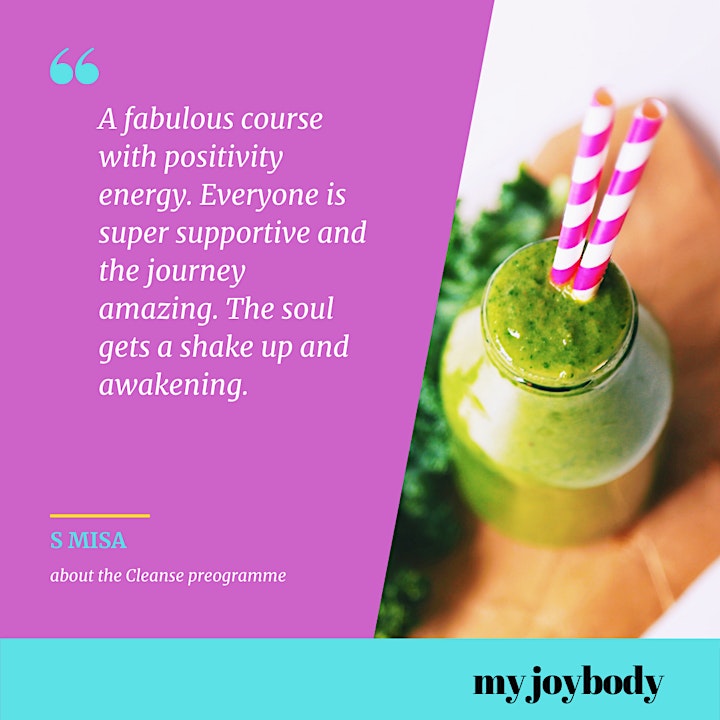 Date and time
Location
Refund policy