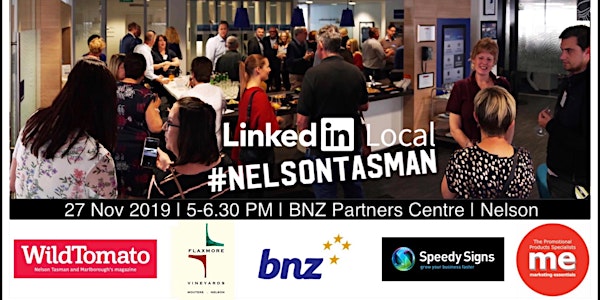 LinkedIn Local Nelson Tasman - November 2019 - SOLD OUT!!!
Location
Bank of New Zealand Partners Centre
226 Trafalgar Street
Nelson, Nelson 7010
New Zealand
Come and be part of a global movement! Connect with & expand your local network. Get to know the people behind their LinkedIn profiles.
About this event
THIS EVENT IS SOLD OUT! In case you missed it, we hope to see you in 2020.
Those of you who registered in time: please have your tickets ready at the entrance.
***
The topic: Expand your Local Network. Behind each business are the people. And we all know - people do business with people. So let's get together, let's get to know each other, and let's cooperate within our local community.
People worth meeting | Stories worth sharing | Collaboration, Not Competition
Following our three sold-out events in Nelson-Tasman, we can't wait to bring you the fourth edition! Come and join us to meet the real people beyond the profiles, to have a good conversation, through and beyond your network. We are all about bringing the local community together to connect, to collaborate, to share, to inspire.
There will be a special surprise for you for this event, 100% fun guaranteed!
We will also have the chance to exchange best practices for using LinkedIn, and discuss the latest trends, so if you would like to make the most of your LinkedIn profile, and get ideas on how you can make the most of it, you don't want to miss this!
To get a taste of our last event read this article here and see the wonderful videos made by Bryce Wastney here & here.
Schedule
5.00 pm - Event starts
5.15 pm - Welcome by your LinkedIn Local co-hosts & BNZ Partners Centre venue hosts
5.45. - Special Surprise
Networking till 6.30 pm
What is LinkedIn Local?
#LinkedInLocal started off with a local initiative in Australia to connect people in their local environment, through LinkedIn, and bring their online network offline, face-to-face. The movement has taken the world by storm, fast becoming a thriving global community of professionals making genuine connections, with over 360 cities, 60 countries and 1000 events!
These meetups are organised by members and are encouraged and supported by LinkedIn. We see these events as great examples of how members can build their professional community on LinkedIn.
The event is not sponsored, endorsed, or operated by LinkedIn.
Sponsors
We would like to thank our amazing sponsors, it's with their help that we can bring you such a special evening, with unforgettable moments to remember, and without a charge.
Contact us directly if you are interested in becoming a sponsor of our next event.
Whilst this is a free event, there will be an opportunity for the participants to make a donation to support the Music For Life Charitable Trust. Please bring some cash if you would like to support this cause.
So it's that time of the year again - time to meet our LinkedIn Local network, get together and meet the people behind the profiles.
Please register by clicking the RSVP as tickets are limited and are likely to sell out again.
We are looking forward to seeing you soon!
Bea, Gina & Wayne