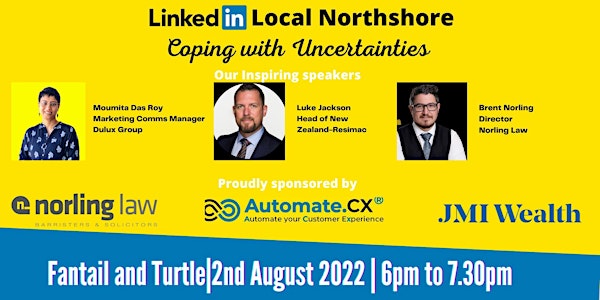 Linkedinlocal Northshore -Coping with Uncertainties
Location
Fantail & Turtle
72 Taharoto Rd
Fantail and Turtle
Auckland, Auckland 0622
New Zealand
Refund policy
Contact the organizer to request a refund.
Eventbrite's fee is nonrefundable.
Linkedin Local Northshore is back for 2022
About this event
#LinkedInLocalNorthshore next event is back for winter 2022. The last 12 months have been a real challenge for people and we are blessed to be able to meet up with locals and also get to see your LinkedIn people behind the profiles and connect face-to-face as it's been a while.
As an extension to this, we are in interesting times whether you are in business, employment, or family and everyone is "Coping with Uncertainties" and this is to show you that you are not alone.
By getting to know the people behind the profiles you strengthen these online community relationships through meaningful interactions and also might learn some tips as well.
Today we have three expert guest speakers who have all had or experiencing different uncertainties in their lives and wish to share their experiences of what they have been through. (remember every one of us is different)
The speakers are graciously donating their time to help educate us on the good, bad, and the ugly.
Let me introduce the speakers one by one:
•Moumita Das Roy - Marketing Communications Manager for Dulux Group
•Luke Jackson - Head of New Zealand for Resimac New Zealand
•Brent Norling - Director and Solicitor for Norling Law Head of New Zealand for Resimac New Zealand
This will be done informally as a fireside chat and will be 'short, sharp and shit hot'. This allows for quality information sharing and maximizes quality networking time, which is the real point of #LinkedInLocalNorthshore.
This is a mix of free and purchased tickets, if for whatever reason you can't make it on the night, please contact the hosts so they can re-release the ticket. (Note that you need to be registered for this event for recording purposes)
The event is catered to and sponsored by a local business. So, enjoy beer, wine, wisdom, and nibbles and leave with new insights and a new 'real' connection. Please note that we take Host Responsibility seriously and note there is a limited number of one drinks per person policy. Note that masks will not be given out at the event.