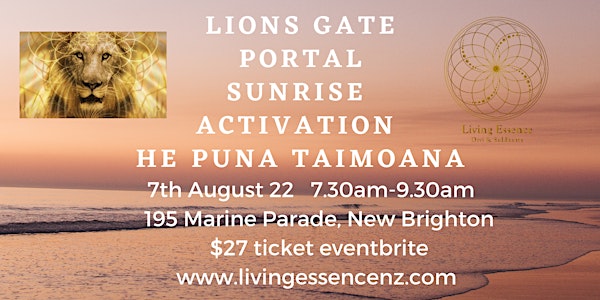 Lions Gate Portal Sunrise Activation at He Puna Taimoana Hot Pools 7.8.22
Location
He Puna Taimoana Hot Pools
195 Marine Parade
Christchurch, Canterbury 8083
New Zealand
Lions Gate Portal - Sunrise Activation in hot pools Enjoy chilled house music and an energy transmission for this portal of light waves.
About this event
The Lions Gate Portal 8.8.22
This astrological event is a huge phenomenon. The portal presents the chance to experience a positive force of energy and manifestation of your greatest desires.
The rising frequenices start a few days before and afterwards, you can bathe in intentions through out this time space matrix.
Devi & Saddhanta are excited to offer a nourishing sunsrise blissful soak and healing transmision at He Puna Taimoana.
Chilled House Music - Healing Transmision - Sunset Bliss
Invite your whanau and friends for this special occasion of light frequency and manifestion of your lifes desires.
Organiser - Devi Ananada- 0276434447
E: livingessencenz@gmail.com
W: livingessencenz.com
*Conditions apply - children welcome with supervision from parents. *Refund Policy