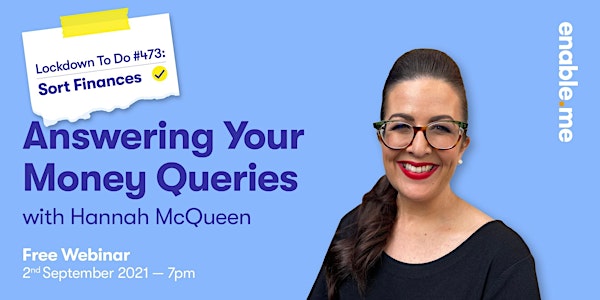 Lockdown To Do #473: Sort Finances - Answering Your Money Queries
Lockdown To Do #473: Sort Finances - Answering Your Money Queries with Hannah McQueen
About this event
If you're storming through your lockdown to-do list, let us help you strike a really important one off the list: sort finances!
With no trips anywhere beyond the supermarket and the fridge on the horizon, now is the perfect time to get your finances in shape, so you're ready to grab any post-lockdown opportunities with both hands.
Join financial adviser and enable.me founder Hannah McQueen for a FREE webinar full of information about how to give your finances a lockdown spring clean.
Hannah will also be answering as many questions as possible after her presentation.
The webinar will cover:
- How to Marie Kondo your money
- Mortgage considerations with interest rate rises on the horizon
- Dealing with debt
- Reviewing your KiwiSaver
- Creating your financial buffer
- Subsidies you might be eligible for
Simply register to attend. All those who register will receive a recording of the webinar after the live event.