Description
About the Workshop
Have you ever wanted to draw and express your creativity, but don't know where to begin, or get overwhelmed by all that white paper ? Then this workshop may be for you.
We spend Day 1 experiencing and learning basic skills, such as using line,shading/tone, texture and composition. You begin from where you are and slowly move forward from this.
Providing the weather is good we will be outside drawing the beautiful plants that abound in the grounds of Tushita Ashram, or otherwise we will be inside with the still life and observing the female model. We learn to overcome the 'head talk' which creates nervousness and tension to relaxing into capturing the fluidity and life of what we see. Using a variety of media from pencil, charcoal, pastel and paint we note the different effects each time the media is changed.
Day 2 pulls all these skills together and we'll move on to construct an art piece which will reflect something of who we are. This will entail spending a little time thinking about what it is which inspires you, and what is it that makes you who you are. You may think of family, childhood, your personal environment, poetry, the natural elements etc. The ideas are endless and very individual for you. Begin to collect things which may be glued on to card. Things like old photos/photocopies, coloured paper, string, wool, shells, lace, textured paper and so on.
An example is provided, by NZ artist, Claudia Pond- Eyley in the 1980's. She has used her natural environment, her home, garden, female symbols etc. Note how simply she has worked,and the composition she has used. This way of working will allow you to take something with you which is meaningful and reflects something of yourself.
Price
This workshop is $240 plus dana/koha for the facilitator. The $240 covers all your meals and accommodation. Sally's fee is not set and consists entirely of your Dana offering. Dana (meaning generosity) invites each person to offer according to their means and what the retreat has been worth to them. Dana payment is given at the end of the retreat. This can be in cash, cheque or by internet banking – an account number will be provided. (Please note: there is no Eftpos at Tushita Ashram)
Workshop Facilitator – Marie Greeks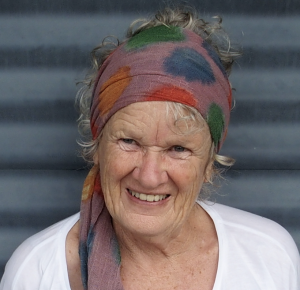 Hello there. Just a quick summary of my own art experience.
I taught in secondary schools for over 25 years, including the NZ Correspondence School and then later Upper Hutt High and St Oran's in the Hutt Valley.
There was always drawing and painting classes, print making, design and sculpture and later photography was added to the curriculum. I found myself specialising in painting and some printmaking, but was also taken with sculpture.
Teaching was fun but at times exhausting especially at end of year exam time. At the Correspondence school, where we had students from all over NZ, even in yachts at sea! We had folders of art for the old School Cert., 6th form and Bursary Art with anything up to 200+ folders to mark and evaluate. There was and still is a lot of talent in NZ.
My own work was mainly painting. I remember falling in love with the McKenzie Country and Central Otago – the hills and lakes, and these are what became my theme, always trying to get beneath the surface of what was apparent. What was light and how did light reflect or not at the meeting point of land and water. Mountains rearing up and eroding away again – always in a state of change. I did exhibit and sold back home which was Wellington, but it wasn't so important to me. more the doing really. I also loved teaching art watching kids reach into some of their potential was exciting!