Sales Have Ended
Ticket sales have ended
Rawe - thanks for registering! Look out for further information on downloading the ShowGizmo app
Sales Have Ended
Ticket sales have ended
Rawe - thanks for registering! Look out for further information on downloading the ShowGizmo app
Description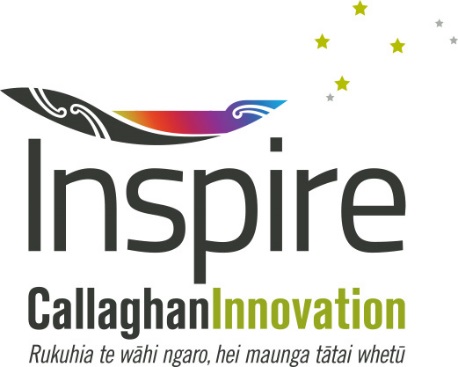 Callaghan Innovation's second Māori Inspire Event "Matariki X" is coming to Rotorua. This event will bring together up to 350 ambitious, innovation-minded Māori entrepreneurs and selected rangatahi (young people) from across the country to explore the importance of innovation and the opportunities and role it plays in the Māori economy.
Callaghan Innovation's General Manager Māori Economy, Hēmi Rolleston says Matariki X will facilitate collaboration.
"This event is a great opportunity to celebrate Matariki by bringing together a group of very successful Māori in their respective fields, to meet and learn from one another, build connections and be inspired.
"We are also excited to be partnering with Takiwai (Rotorua Māori business network), GHA (Rotorua-based Māori accountancy and consultancy firm) and Poutama to bring this event to Rotorua".
Following the theme of 'Innovation, Inspiration and Overcoming Failure', Matariki X will feature an impressive and diverse line-up of inspirational Māori sharing the stories of their success and also the challenges they've encountered on their innovation journey to explore the unknown and take their business to the next level.
Speakers include:
Robett Hollis, ColabNZ
Rangimarie Hunia, Ngāti Whātua Ōrakei Trust
Bailey Mackey, Pango Productions
Wetini Mitai-Ngatai, Mitai Māori Village and Snooze Cube
Takurua (Tak) Mutu, Multi-Day Adventures
Tawera Nikau, Team One
Dr Lance O'Sullivan, Navilluso
Dr Anna Rolleston, The Cardiac Clinic
Steve Saunders, PlusGroup
Heather Skipworth, IronMāori
Miriana Stephens, Wakatu Incorporation
Ian Taylor, Animation Research Limited
Mana Vautier, NASA Aerospace Engineer
Jason Witehira, New World Victoria Park Auckland
There will also be presentations by the Māori Development Minister, the Hon Te Ururoa Flavell, and Callaghan Innovation's Chief Executive, Dr Mary Quin.
Click here for a snapshot of the Inaugural 2015 Māori Inspire Event.