Actions and Detail Panel
Masterclass for Leaders
Mon, 17/07/2017, 9:00 AM – Tue, 18/07/2017, 5:00 PM NZST
Description
What if you could learn how to effectively "lead AND manage" from one of New Zealand's most successful leaders of business improvement and transformation?
Now you can. This two day "Masterclass for Leaders" with Bruce Cotterill can best be described as a crash course in what you really need to know about leadership, management AND business.
Bruce "cuts through the clutter" to help you be an effective and engaging leader in a fast paced and unpredictable world. He only includes "the stuff that works"; and teaches leaders to focus on the simple things. Bruce's messages and tools are people centric, concise, simple, and communicated in a way that everyone can understand and use.
"Most businesses are too busy complicating things and supporting that complication with bureaucracy. Simple stuff works because it's easy to understand, and most importantly, easy to communicate". Bruce Cotterill

Did you know that as you read this – just 5% of people are turning up to work each day clear on what the organisation is trying to achieve, and their role in helping to achieve it? This is a reflection of the opportunity and need for better leadership at all levels.
Good leaders are the key to ensuring better business outcomes, and improved experiences for your customers and your people. Good leaders give your people purpose, create a healthier workplace, and as a result - happier customers and a stronger, more resilient business.
About Bruce Cotterill
Bruce is a results driven transformation leader. For over 30 years he has been connecting with employees and customers, keeping things simple; and doing the basics well to successfully lead organisations through periods of change, turmoil, and disruption.
During his distinguished and very successful career Bruce
Started his own business at the age of 23, which he successfully grew and sold

Led dramatic business turnarounds at companies such as real estate giant Colliers, Kerry Packer's ACP Media & sports and apparel company Canterbury International.

Took a single product from losing $600,000 per year to a $2.2m profit in just six months
Led a $110m profit turnaround at an international telecommunications company over just nine months
Oversaw the largest debt restructure in NZ corporate history - $1.8 billion at Yellow Pages Group
Has led consultancy projects across industries as diverse as Financial Services, Information Technology, Franchising, Banking, Telecommunications, Media, Retail and Government
Has, in addition to his executive and advisory roles, operated in senior governance roles across a range of organisations, including as Chairman, Noel Leeming Group, MOVE Logistics, and Swimming New Zealand
Saved numerous businesses and 1000's of jobs in the course of his career
Relevant To You If
This masterclass is relevant to you if you are a leading a team, and want help with any of the following
a more inclusive and engaging approach to leadership than the traditional command and control method
driving actions which improve profitability
getting strategic planning right and executing with success
being clear about what you are trying to achieve
keeping it simple
communicating with your people and your customers
setting clear goals for the team/organisation and getting those messages through to the people who are interacting with your customers
effectively managing your people
getting the most productivity out of your day
identifying succession options and implementing them
understanding your customers (and getting them to understand you)
You could be
new to management, OR
an owner or leader of a small to medium sized business OR
a mid level manager


Course Overview
The programme uses storytelling and interactivity to facilitate learning, with guest appearances from engaging and insightful guest speakers, guaranteed to inspire and educate.
Using his 7 Principles of Profit as a base, Bruce will focus on the following:
Dealing with Change
Leadership
Finance and the Back Office
Product &/or Services
Sales & Marketing
People
Customers
… And much more including case studies, stories and over 500 questions to help you to improve your business or team. (Please see below for more detailed information.)
You Will Learn To
Have improved capability and confidence to become a better leader
Understand the role of the leader and how to better interact with your team
Put the 7 Principles of profit to work in your business
Develop a clear and engaging set of aspirations for your team
Implement business plans and meaningful project activity to enable successful execution of your strategy
Enable your people to share your enthusiasm to create an outstanding customer experience
Access new tips and tools that you need to ensure that everybody on your team knows why they're there and what they're there to do
Use simple tools to keep your various initiatives uppermost in everyone's mind and on track to deliver
Develop your own personal plan to become the leader you want to be over the next 90 days, and identify a buddy to help you get there.
… and finally, we would like to invite you to participate in our ongoing support programmes to help you use what you've learnt.


The Benefits of Learning Together
Yes, it's true - there are significant advantages to many of your managers attending Bruce Cotterill's Leadership Masterclass together. You and your colleagues will leave the Masterclass on the same page, talking the same language, able to support each other, compare notes, keep the conversation alive, and hold each other accountable.
To make your collaboration more accessible, we have a group booking option for 10 or more people. And remember, as much as a team benefits from attending together, you and your colleagues will also gain from the diversity and experience of others in the room.


Your Leadership Project
You have the option to continue Your Leadership Project to become a better leader with Bruce Cotterill's weekly video based learning programme, comprising:
A weekly video – just 5 or 6 minutes in length – discussing a leadership or management topic - featuring Bruce Cotterill and sent to your inbox every Sunday in time for your weekly planning
Your video will be accompanied by a one pager of notes to support your learning process
A monthly Q&A webinar where you will be invited to ask questions and Bruce and his team will answer them online
In addition we will send you occasional bonus videos, and new tools and tips as we continue our learning process.

NZTE Capability Development Voucher Scheme
You may be eligible for up to a 50% subsidy as this masterclass has qualified for the NZTE Capability Development Voucher Scheme. Please enter your voucher details when making your booking. We will verify your voucher with the Issuing Regional Partner before confirming your place on the course.
For more information on the NZTE Capability Development Voucher scheme or to find your local Regional Business Partner go to: http://www.nzte.govt.nz/en/how-nzte-can-help/programmes-and-services/regional-business-partners/
Other services
If you'd like to learn more about other services such as:
Bruce's Keynote conference presentations;
The "Leading Millennials" programme;
The "30 under 30" workshops designed to get your Millennials more engaged with the goals of the organisation;
Facilitation of strategic planning;
Governance workshop
Other speaking, workshop and consulting projects,
Please contact Lisa McCarthy on 027 895 7403.
"In 2012 I asked 50 people in leadership roles across a range of organisations the following question: 'If you could do one thing to improve the performance of your business,what would it be?' Their answers highlighted a broad spectrum of management challenges. However 42% of them said:'Become a better leader.'
BRUCE COTTERILL
Move ahead... by registering now. Click on the button at the top of this page.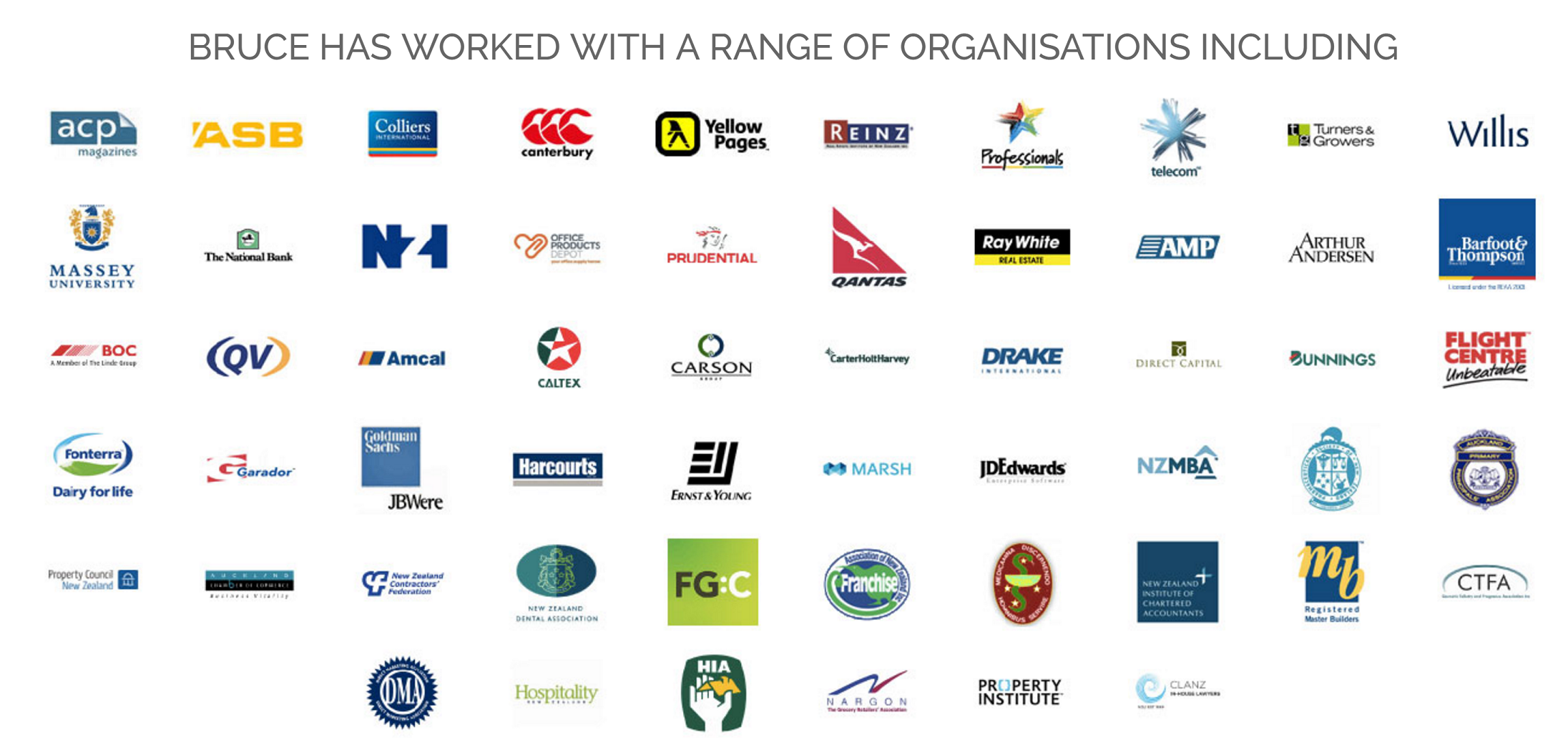 Course content
Dealing with Change

The opportunity offered by change
Why you have to be 20% better every year, just to maintain your existing position
Watching expectations change and how to respond
The 80 / 20 rule – how to evaluate what's important
The competitor we can't see

Leadership

The role of the leader
Why organisations fail and what to do about it
My Leadership Rocks - Clarity / Communication / Consistency / Commitment / Care
Getting your people to work, ready to work
The importance of purpose, culture and values
Managing the Millennials
'Smartcuts' to developing your Business Plans
Executing the plan through Project Plans
Making meetings work
How to lead and prepare a presentation
Why training fails, and what to do about it

Finance and the Back Office

What to look out for now
What you need to know about monthly accounts
Why revenue is great but costs can kill you
Managing relationships with bankers and other stakeholders
The budget process
Leading your unsung heroes in the back office
Aligning incentives to performance

Product &/or Services

Why every business is a service business
Five things to consider in presenting your product to the market
Knowing your customer (internal or external)
Remembering who's selling you
How to ensure that you're meeting everyone's needs
Does today's product suit tomorrow's customer need

Sales & Marketing

Do your people understand what they're selling?
How to grow your business
How to make first impressions count
Who are your most important customers?
Covering your marketplace effectively
Seven steps to successful sales management

People

Getting the right people doing the right things right
Why it's important to become a good employer
The 11 R-words that make you a better people manager
How to take a simple approach to performance reviews that means more to your people and benefits your business
Becoming the Visible, Accessible leader they all want
Why you should care about your people and 4 simple steps to get you started

Customers

8 things that customers want
Recognising that great customer service is a revenue opportunity not a cost
How many customers do we really need?
How to run your own customer experience improvement programme
How to recognise what's important to your customer
Breaking the mould
… And much more including case studies, stories and over 500 questions to help you to improve your business.