Description
What if you could learn how to effectively "lead AND manage" from one of New Zealand's most successful leaders of change and business improvement?
Now you can. This two day "Masterclass for Leaders" with Bruce Cotterill can best be described as a crash course in what you really need to know about leadership, management AND business.
Bruce "cuts through the clutter" to help you be an effective and engaging leader who is capable of embracing and driving change and business improvement. He only includes "the stuff that works"; and teaches leaders to focus on the simple things. Bruce's messages and tools are people centric, concise, simple, and communicated in a way that everyone can understand and use.
"Most businesses are too busy complicating things and supporting that complication with bureaucracy. Simple stuff works because it's easy to understand, and most importantly, easy to communicate". Bruce Cotterill

Course Overview
In this highly interactive programme Bruce shares stories from his experiences and applies them to the challenges that leaders and managers take on every day. Things like:
- Dealing with and driving change
- Effectively leading your team
- Getting the right people doing the right things right
- Managing the millennials
- Turning customers into advocates
- And getting the important stuff done
The programme will also include two special guests, both world class New Zealand based leaders who have excelled on the world stage in the most challenging of environments.
Cocktail Hour
There will be a cocktail hour from 5pm-6pm on Monday, 17th July for those who wish to attend.
About Bruce Cotterill
Bruce describes his career as a vertical learning curve. He is a results driven transformation leader. For over 30 years Bruce has been successfully leading organisations through periods of change, turmoil, and disruption.
During his varied and successful career Bruce
Started his own business at the age of 23, which he successfully grew and sold
Led dramatic business turnarounds at companies such as real estate giant Colliers, Kerry Packer's ACP Media & sports and apparel company Canterbury International.
Took a single product from losing $600,000 per year to a $2.2m profit in just six months
Led a $110m profit turnaround at an international telecommunications company over just nine months
Oversaw the largest debt restructure in NZ corporate history - $1.8 billion at Yellow Pages Group
Saved numerous businesses and 1000's of jobs in the course of his career
He is now a full time Company director, and advisor to business leaders working throughout the Asia Pacific; specialising in advancing leadership and business performance improvement. He's also one of New Zealand's leading conference keynote speakers, a wonderful storyteller who adds humour and inspiration to his presentations.
Relevant To
You will find this "Masterclass for Leaders" immensely valuable if you are either new to management, or looking for inspiration and ways to take your team to the next level. You may be a business owner, entrepreneur, or non-executive manager.
You Will Leave With
Improved capability and confidence as a leader
A better understanding of the role of the leader, and how to better interact with your team
A solution to a problem you have personally been struggling with
Your own personal plan to become the leader you want to be over the next 90 days, and identify a buddy to help you get there.
… and finally, we would like to invite you to participate in our ongoing support programmes to help you use what you've learnt.
The Benefits of Learning Together
Yes, it's true - there are significant advantages to many of your managers attending Bruce Cotterill's Leadership Masterclass together. You and your colleagues will leave the Masterclass on the same page, talking the same language, able to support each other, compare notes, keep the conversation alive, and hold each other accountable.
To make your collaboration more accessible, we have group booking options for 5 & 10 or more people. And remember, as much as a team benefits from attending together, you and your colleagues will also gain from the diversity and experience of others in the room.


NZTE Capability Development Voucher Scheme
You may be eligible for up to a 50% subsidy as this masterclass has qualified for the NZTE Capability Development Voucher Scheme. Please enter your voucher details when making your booking. We will verify your voucher with the Issuing Regional Partner before confirming your place on the course.
For more information on the NZTE Capability Development Voucher scheme or to find your local Regional Business Partner go to: http://www.nzte.govt.nz/en/how-nzte-can-help/programmes-and-services/regional-business-partners/
Other services
If you'd like to learn more about other services such as:
Bruce's Keynote conference presentations;
The "Leading Millennials" programme;
The "30 under 30" workshops designed to get your Millennials more engaged with the goals of the organisation;
Facilitation of strategic planning;
Governance workshop
Other speaking, workshop and consulting projects,
Please contact Lisa McCarthy on 027 895 7403.
"In 2012 I asked 50 people in leadership roles across a range of organisations the following question: 'If you could do one thing to improve the performance of your business,what would it be?' Their answers highlighted a broad spectrum of management challenges. However 42% of them said:'Become a better leader.'
BRUCE COTTERILL
Move ahead... by registering now. Click on the button at the top of this page.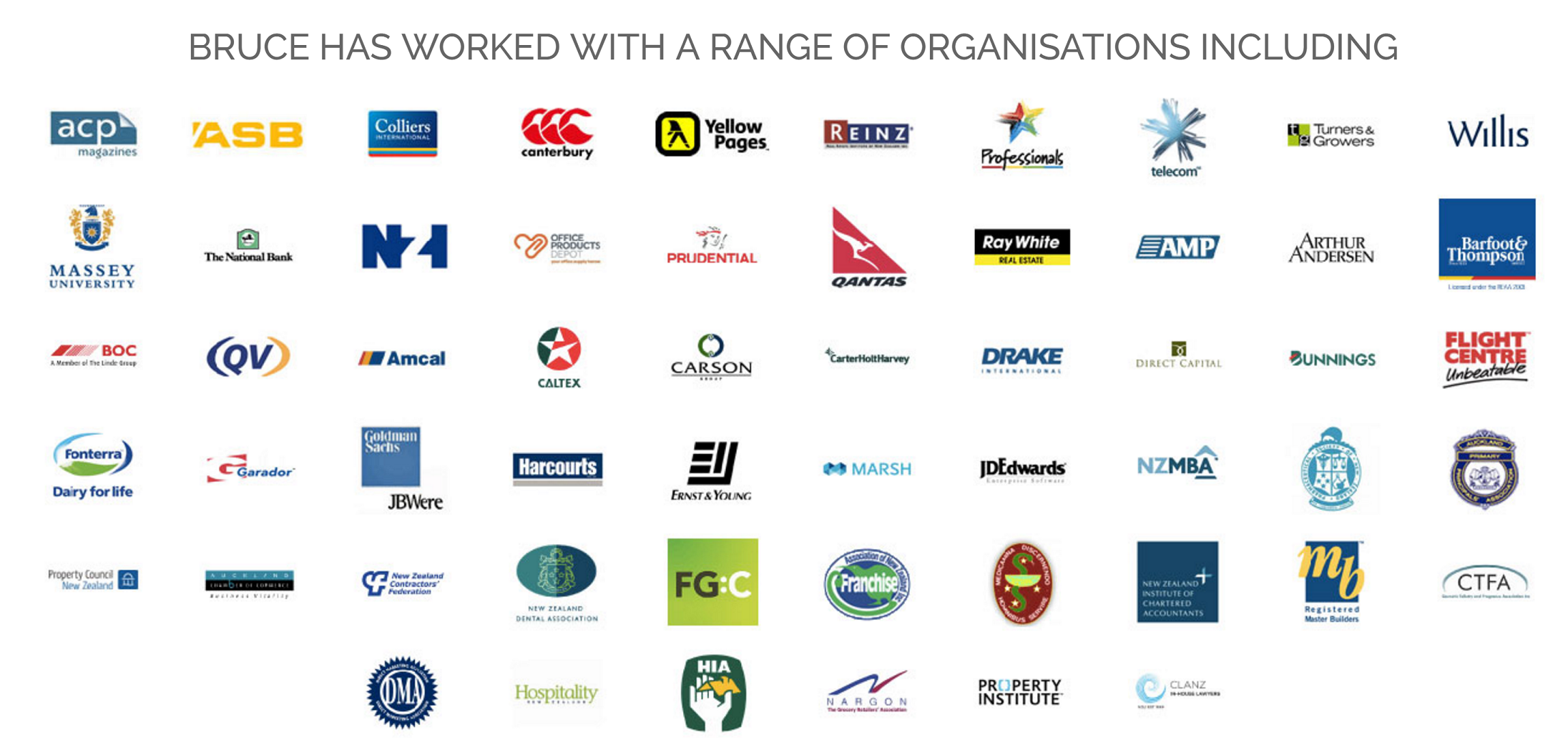 FAQs
What are my transport/parking options for getting to and from the event?
The venue is about a 15-20 minute from Britomart, and if you're travelling by car we suggest parking at the Civic Car Park.
What's the refund policy?
Refunds will be provided for cancellations 30 or more days prior to the event, and on a case by case basis.
Do I have to bring my printed ticket to the event?
There is no need to bring your printed ticket to the event. We will have your details at the registration desk.
Is my registration fee or ticket transferrable?
Yes, you can transfer your ticket and registration fee.
Is it ok if the name on my ticket or registration doesn't match the person who attends?
Yes, we simply ask that you notify us of the change.