Mastery in Team Leadership - Accelerate your career through extraordinary t...
Description
Mastery in Team Leadership – advanced tools, techniques and processes for creating greatness in yourself, your team and your organisation. 12 week program
This programme is designed for experienced leaders who are looking to advance their leadership and create extraordinary team performance. It includes the following advanced skills and techniques;
In depth analysis and understanding of your personal Emotional Intelligence Quotient

Creating your

professional strategic leadership framework

Observe, diagnose and create high performance action plans

Facilitate group process for improved performance

Ability to execute strategies beyond the barriers
What's it all about?
This programme is designed to challenge what you know about leadership and creating high performance teams. It teaches you the skills to observe like a corporate psychologist, introspect like a Buddhist monk and execute high performance like the greatest CEO you've ever seen.
How it works:
This is a 12 week intensive programme held only once a year. It is limited to only 16 senior leaders, by application, who are committed to creating greatness. The programme utilizes the best of world learning learning methodologies including flipped classroom, on-line video's, storytelling from inspirational thought leaders and group mentoring.
Programme Outline:
Week 1-3: Building the Context for Greatness
Who are you? What makes you great? What holds you back from reaching your full potential? In the first week you'll meet with either Sarah or Michael from The Performance Team and review your career history, aspirations and current challenges.
You'll also complete the EQ-i 360. The Emotional Quotient 360 (EQ 360) is an emotional intelligence assessment that allows leaders to receive feedback from peers, managers, direct reports, and others on how you leverage your emotional intelligence.
At the end of week 3 you'll have a 1:1 coaching session to review your EQ360 results and explore insights and challenges relating to your context for greatness.
Week 4: The Power of Clarity
The 16 leaders will come together in a 3-day residential workshop. This first workshop is building clarity of leadership purpose and promise. You'll start by building a professional strategic leadership framework that gives full clarity and understanding of your purpose, vision, goals and values. Then, you'll explore the blocks to creating this and understanding how these blocks hold you back from creating all the things of greatest meaning in your life. You'll be challenged to show up for who you really are and experience the greatest challenge in leadership – the ability to confront the imposter syndrome and stand with courage and vulnerability for your leadership potential.
Weeks 5-7 The Power of Wisdom
This 3 week section of the programme is back at work where you'll be the corporate psychologist, reviewing and assessing your team's performance. You'll undertake 4 assignments all designed to use this new found clarity to observe with new wisdom and perspective the challenges and strengths of your team and team members.
Assignment #1: Relationship Mapping: Review the current internal dynamics of your team, understand how they relate to each other and you.
Assignment #2: Stakeholder Mapping: Review the current internal dynamics of your team, understand how they relate to each other an you.
Assignment #3: Capability & Capacity Review: Review each team members current operating capacity and capability and
Assignment #4: Stakeholder insights: Undertake a stakeholder insights review with your team and understand from their perspective what are the strengths and challengers facing your team currently and their view of your role and future in the organisation.
In addition to these 4 assignments. Each of your team members will also complete the TPT team performance on-line assessment confidentially so that they team members can express unreservedly their impressions of the team's operating dynamics.
You'll also be supported by a peer on the programme who is your primary support network along with check-ins with The Performance Team.
Week 8: The Power of Connection
The group of 16 leaders returns together for the next workshop. This is a 3 day programme (non-residential) designed to debrief, analyse and synthesize the results and formulate a bespoke team development plan that will move the team from it's current state to increased performance. The content of this 3 day programme will be designed based on the learnings and insights of the group, leaders will be required to facilitate the evolvement of learnings from the group and through the process they will build their mastery for facilitation design and group process.
Week 9-11: The Power of Action
Usually reserved for post programme implementation, this part of the programme is integral to success and over the 3 weeks the leader puts into action the first stages of their team development plan. Tracking as they do the barriers, successes and learnings that comes from putting this into action. Supported along the way by their mentoring group (group of 4) the group has a 1 hour weekly meeting to share these highs and lows and will be facilitated by The performance team.
Week 12: The Power of Completion
Endings are just as important as beginnings when you work with teams and the team of 16 returns for 1 final workshop. This is a 1 day workshop designed to debrief the learnings and challenges finalise the next steps and acknowledge the extraordinary growth and change that will have occurred. The day will end with a celebration dinner and drinks including significant others and presentation certificates of completion.
Post-course Support
Graduates will be invited to register for the group mentoring programme or the leadership coaching programme should they wish to continue with support and development facilitated by The performance Team
Who's this for?
This programme is for the type of leader who sees their legacy is to create something meaningful for the expressed benefit of serving the greater good. Maybe they have intuitive sense that something from their leadership is missing and the passion, spark that they once had has gone but a glimmer of hope recognizes that there's more to go. Or they have been steadily climbing the corporate ladder and know to reach that next step something profound in their leadership needs to transform for great leadership to be claimed and fully expressed. Already proficient in team leadership and the ability to create the basics of leading high performance; such as setting vision, strategy, building trust and accountability) this leader wishes to understand and build their capability to their leadership and the team's performance to the next level.
Transformation is not a comfortable process and this course is design for the courageous leader willing to step out of their comfort zone to experience themselves and their relationship to others in an authentic way to improve both personal and business performance.
Can you answer yes to these questions?
- Are you interested in the process of developing greater self-awareness for the purpose of generating greater leadership clarity?
Would you like to accelerate your leadership career to the next level?

Are you interested in learning new skills and techniques?

Would you like to be known for being a great leader or CEO – one that inspires and leads others and organisations to create greatness?



Programme Outline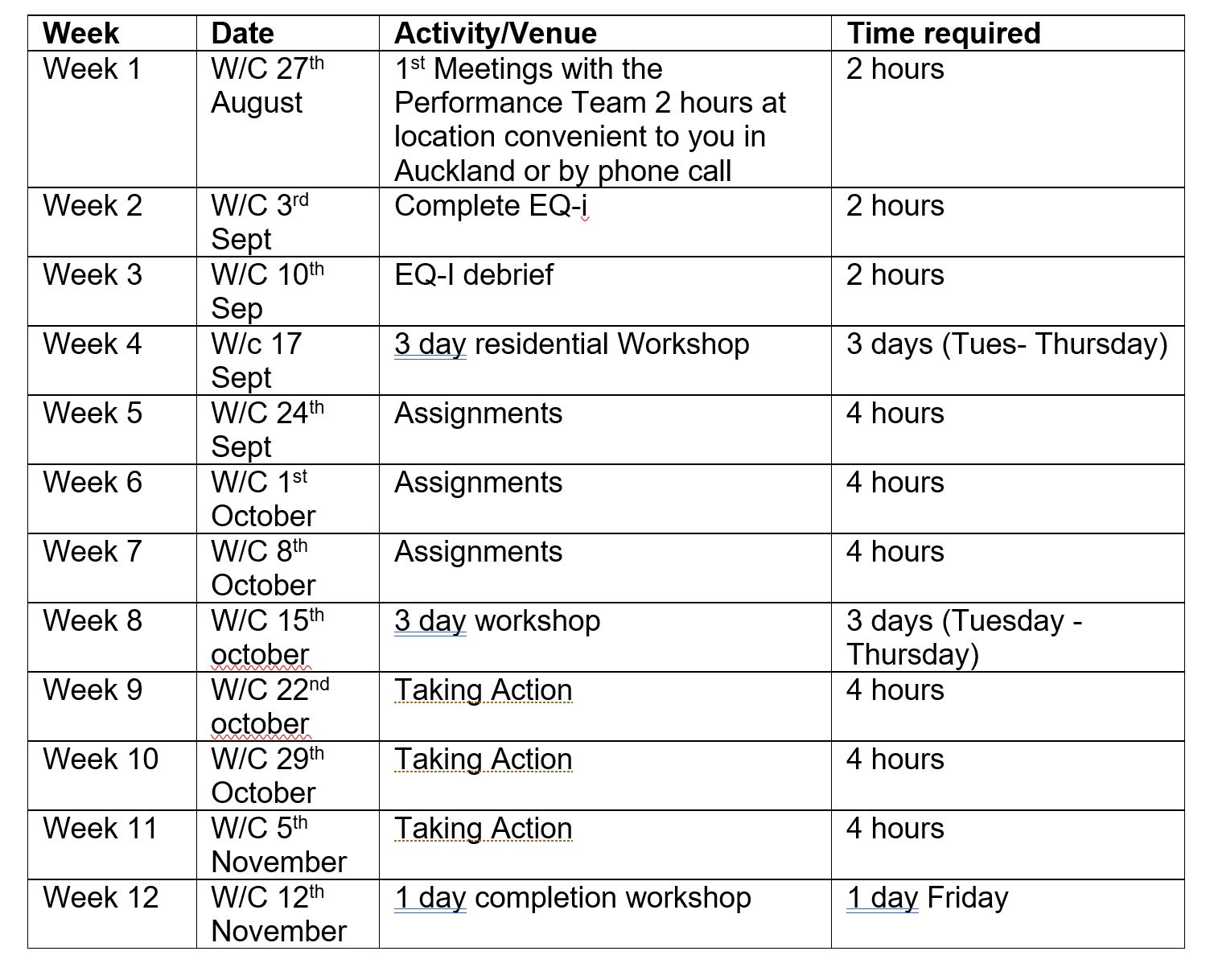 Each participant will also receive a complimentary copy of our book "The Power of Team".

Registration
Registration Monday 27th August –
Early Bird tickets - $5,995 plus GST ** Limited places available until 31st

May 2018 or when they sell out

Standard tickets- $6, 495 plus GST

Included in this price is

EQ-I 360 and coaching to the value of $1,000

7 days of facilitated workshops

Coaching by Expert Coaches throughout the 12-week programme

Mentoring group throughout the 12-week programme

Access to the on-line resource centre which includes video training and full-facilitation guides available only to graduates of this programme.
Refunds
We do not accept refunds within 1 weeks of course commencement date
Your Trainers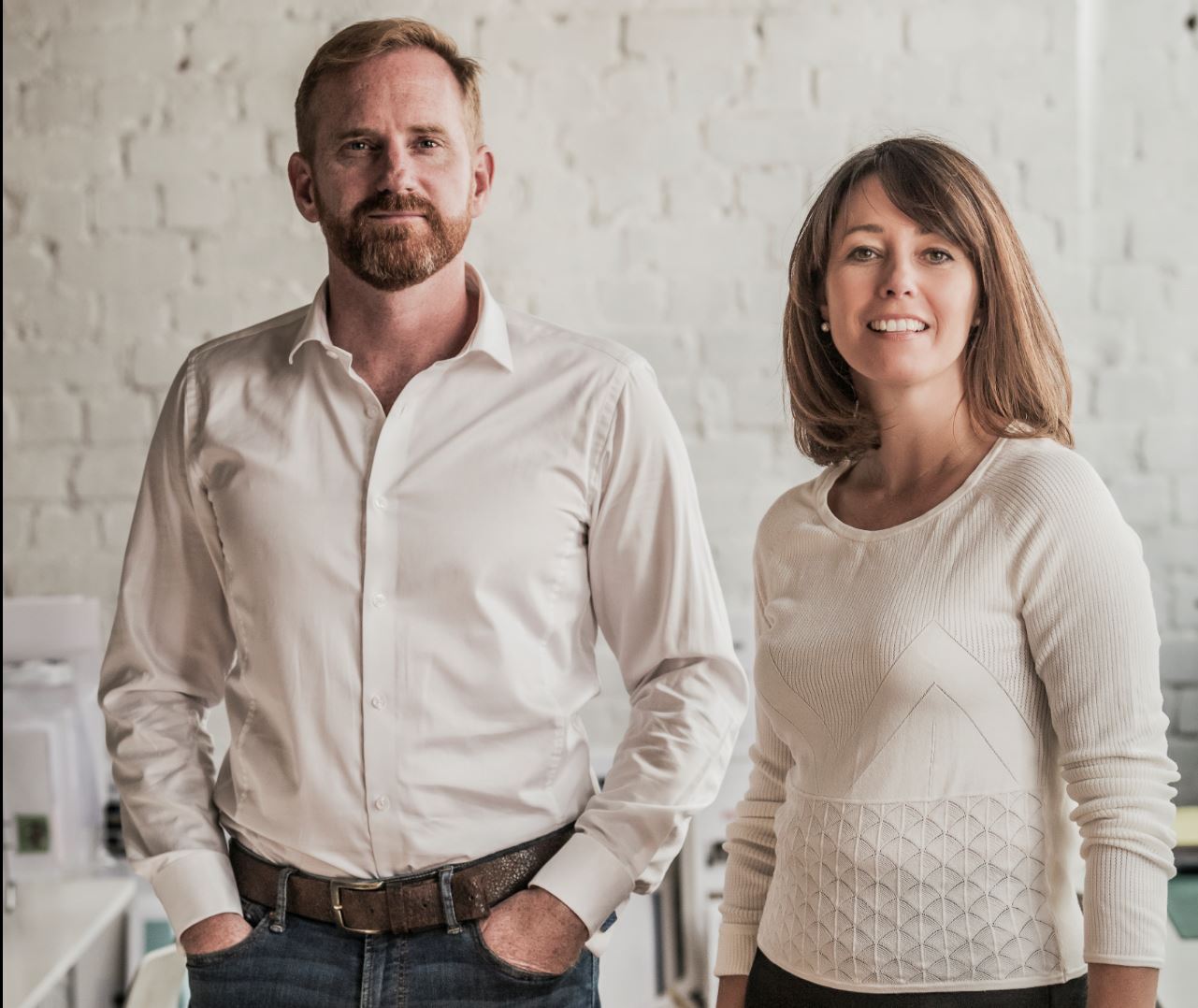 Michael Friis and Sarah Friis are co-founders of The Performance Team
The Performance Team is a leading New Zealand consultancy dedicated to unleashing the power of

team

.
The Performance Team was founded from the inspiration of over 40 years' expertise in leading, facilitating, and coaching collaborative high-performance teams. We have taken the very best of world-leading assessments and insights from customer success to create an innovative way of solving the business problems of today.

Our core purpose: To unleash the Power of Team

Our inspiring vision: The global thought leader in team performance

Our shared values: connected, real and impactful.
The Performance team has worked with leaders across a range of organisations and industry sectors including: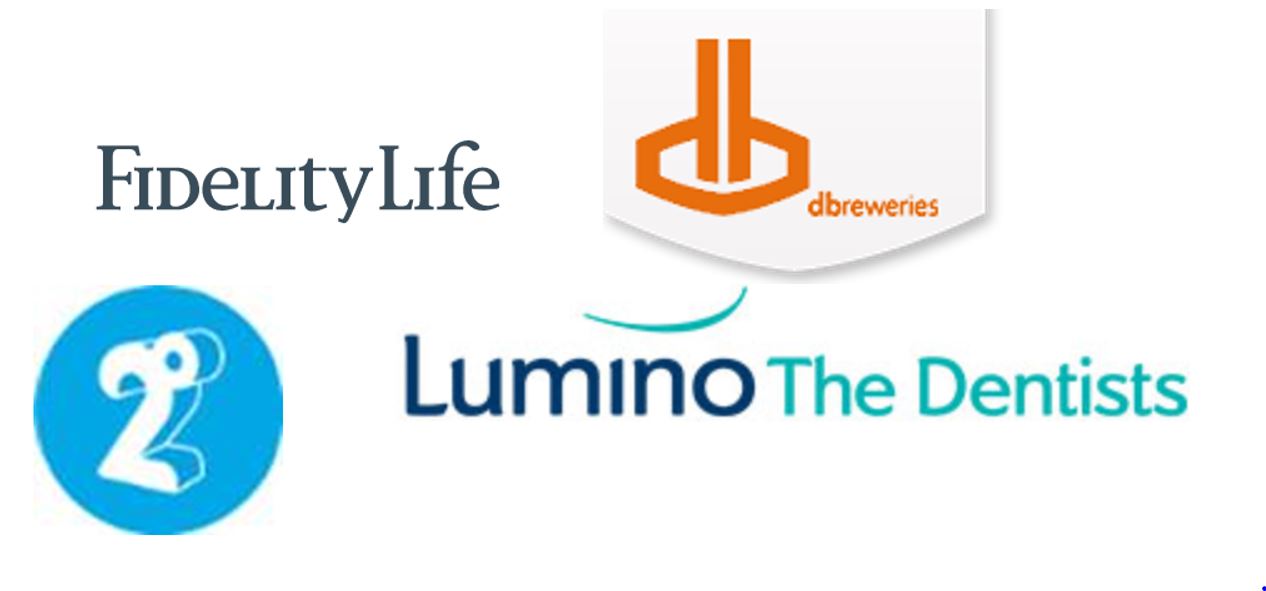 Sarah Friis
With a Masters in Psychology and over 20 years' experience as a team leadership facilitator, coach and inspirational speaker in New Zealand and abroad, Sarah is an expert at building high performance teams and cultures. Sarah's bold leadership style, coupled with high emotional intelligence and a sense of calm is a powerful package to move teams away from old patterns and to establish new and innovative ways of working.
Michael Friis
Michael Friis is an experienced facilitator and leadership coach. He has developed award-winning teams and built a sales and service business from startup through to multimillion-dollar turnover and, ultimately, successful sale. Experienced in the leadership challenges of small and enterprise business, Michael has the practical experience of team leadership with internal teams and external partnerships.
Any questions?
Give us a call! We are very happy to have a conversation with you about the course and to answer any questions you might have Please call Michael on +64222444333
Or see our webite for more information